The third in a series on what senators on the fence are thinking.
Sen. John McCain (R-AZ) had been like the Lone Ranger in the Senate working with his Tonto, Sen. Joe Lieberman (I-CT), to push for climate legislation. Suddenly, post the 2008 presidential race, he is on the fence.
Six Senate committees are working on the climate bill that will presumably hit the Senate floor for a vote sometime this year.
McCain sits on one of those committees -- the Energy and Natural Resources committee -- and so he'll be one of the senatorial cooks with his fingers in the climate-legislation pot. Not a bad idea since his support of the bill will likely translate into other Republican support.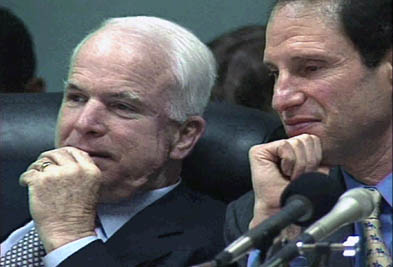 In 2003 Sens. McCain (left) and Lieberman (not pictured) cosponsored the Climate Stewardship Act. It has been the only Senate climate bill to date to get a roll call vote. They introduced similar legislation in 2005 and 2007. Where does McCain stand now?
As for McCain's thoughts on global warming legislation? The record is long, my friends. You might say he wrote the bill.
McCain in 2003: Co-Sponsored Cap-and-Trade Bill
In 2003, McCain with then-Democratic Senator Joe Lieberman brought the first comprehensive climate legislation to the Senate floor. The Climate Stewardship Act (S.139), which was defeated 43-55, called for the establishment of a cap-and-trade system that would limit U.S. greenhouse gas emissions to 2000 levels starting in 2010.
In many respects, the Climate Stewardship Act was quite similar to the Waxman-Markey American Clean Energy and Security Act that just passed in the House.
McCain delivered these opening remarks at a Senate hearing on his bill:
Temperatures are, in fact, rising.

The changes observed over the last several decades are likely mostly due to human activities, but we would not rule out that some significant part of these changes is also a reflection of natural variability. Clearly, it is time for the nation to demonstrate real leadership and make some notable progress on this critical issue.

Earlier this year Senator Lieberman and I introduced S. 139, the Climate Stewardship Act of 2003, which would establish a mandatory carbon dioxide reduction program, along with an emission trading system. A market-based approach offers the best chance for the nation to respond to a growing global environmental threat. (Read his full remarks.)
Pretty unequivocal, right?
McCain in 2005: Re-Introduced His Cap-and-Trade Bill
Two years later, Sens. McCain and Lieberman re-introduced their climate bill under the slightly amended name, the Climate Stewardship and Innovation Act (S.1151).
McCain in 2006: 'The Critical Issue of Global Warming'
On May 8, 2006, McCain told the crowd at the Clean Cities Congress and Exposition in Phoenix:
We also must turn our attention to the critical issue of global warming. Climate change is real and is having a major impact on our way of life. For many years, we have heard about the impacts of climate change. ... I have seen first-hand the impacts on the people of the Arctic region. As we speak, they are fighting against the impacts of climate change to maintain their way of life. (Source)
McCain in 2007: 'The Most Important Environmental Issue of our Time'
In a speech given in January 2007, McCain called climate change "the most important environmental issue of our time." Later that year, after McCain and Lieberman reintroduced their Climate Stewardship and Innovation Act (S.280) McCain said their bill "is designed to significantly reduce the nation's greenhouse gas emissions to prevent the dangerous impacts of climate change, enhance our national security and maintain the strength of our economy."
McCain in 2008: The World's 'Most Important Environmental Challenge'
On June 5, 2008 after S. 3036, the Lieberman-Warner Climate Security Act of 2008, was introduced, McCain released a statement that began: "Global climate change is the most important environmental challenge facing not only our nation, but the entire world."
McCain in 2009: 'A Supporter of a Strong Cap and Trade System' but ...
This year, while he hasn't been silent on the issue, he seems more apt to chat up his Twitter numbers than to speak of the urgent need to tackle climate change. (See here versus here.)
McCain's office did not respond to our request for comment before our
deadline. (If they do respond after this goes live, we will update the
post.)
In a Greenwire piece published last week, Sen. Lieberman suggested that he and McCain would again be rallying around the issue, and described McCain's role on the issue as "important": "It's almost a necessary role. And I know he cares. He accepts the reality of global warming and wants to see us do something about it."
This past April, McCain came out strongly in support of a cap and trade but not in the form originally proposed by President Obama. In an address to the Reform Institute National Energy Symposium he called President Obama's plan "an irresponsible, ill-conceived, and distorted version of a cap and trade system" because it included auctioning 100 percent of the allowances with $650 billion dollars of revenues flowing into federal coffers. Here's more of what he said.
The president's proposal of auctioning one hundred percent of the carbon credits is bad economic policy that would cost businesses billions of dollars and allow for little to no transition into a low carbon system.

Let me be clear, I am a supporter of a strong cap and trade system... I still believe that it is the time to address this critical domestic and international issue... It will take a combination of auctioning and allocating carbon credits -- giving enough credits away to accommodate the transition costs and allow businesses to stay open, and prevent drastic increases in utility rates for costumers." (Source)
McCain July 2009: 'I Have Not Lost My Zeal to Reduce Greenhouse Gas Emissions'
Things have changed considerably in the U.S.-climate-change-legislation world since last April. One hundred percent auctions are off the table. As if they'd taken their cue from McCain, the crafters of the recently passed Waxman-Markey bill included "a combination of auctioning and allocating carbon credits." (Read my post on this subject.) Will that take care of McCain's objections? Maybe.
According to the Capitol Hill newspaper Roll Call, no key Democrats working on the climate change bill have reached out to McCain, who is once again working with Lieberman on their own climate change bill. McCain is quoted as saying:
I have not lost my zeal to reduce greenhouse gas emissions,' he said. "But I don't think [Democratic leaders] have any Republicans.'" [sub rq'd]
Apparently, when McCain says the Democrats don't "have any Republicans," that includes him. And so, John McCain, the erstwhile hero of the movement to enact climate legislation in the United States for lo those many years, is now on the fence. (E&E Daily's fence-sitters analysis [pdf])
SUBSCRIBE TO & FOLLOW THE MORNING EMAIL
Start your workday the right way with the news that matters most. Learn more