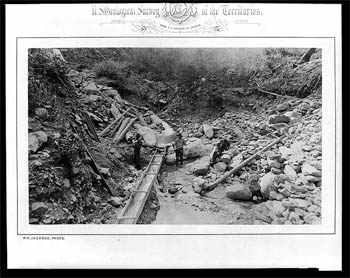 Three men in gulch with a sluice and placer mining for gold circa 1872. (W.H. Jackson, photographer, USGS/Library of Congress/The Evolution of the Conservation Movement, 1850-1920)
Golden Years in America's West
Today's High Prices for Gold Carry High Environmental Costs
Gold miners like John Stone (a fiddler and singer) pictured here in Tuolumne County, California, circa 1939, evoke notions of a romantic American past, but the environmental costs of artisanal gold mining then and now are far from romantic. (Library of Congress, American Folklife Center, WPA Sidney Robertson Cowell Collection)
Assessing the Environmental Price of Gold
By the Numbers: A Look at Some of Gold's Environmental Costs
More than 95 percent of all mercury imported to Peru is used in artisanal mining.
Between 2006 and 2009 mercury imports rose by 42 percent to about 175 tons per year. Imports are projected to increase to as much as 500 tons in 2011, assuming the rate of increase in the gold price stays constant.
Mining deforestation has increased nonlinearly alongside a constant annual rate of increase in international gold price of 18 percent a year over the study interval.
Between 2003 and 2009 approximately 6,600 hectares of land (the equivalent of more than 12,000 football fields) were converted from primary forest and wetlands to a vast wasteland of ponds and tailings. Over the same time period, the rate in deforestation increased six-fold from 292 hectares per year to 1,915 hectares per year (i.e., from the equivalent of 545 football fields per year to almost 3,600).
FOLLOW HUFFPOST