July 4th celebrations are synonymous with backyard barbecues, but with the price of many BBQ items soaring, Americans may want to watch what goes on the grill this summer. "More Cluck, Less Chuck" and BYOB could be the recipe for keeping the cost of Independence Day cook-outs in check.
Sizzlin' Prices
The cost of a typical 10-person barbecue has increased 28 percent over the past 10 years, according to the Rabobank BBQ Index, from $51.90 in 2004 to today's cost of $66.82. Most of that cost increase has come since 2007, when barbecue costs reached $55.62 -- 17 percent cheaper than today.
The Rabobank BBQ Index tracks the overall price of an average 10-person barbecue and the impact that rising -- or falling -- commodity prices have on each of the various consumer food items: a cheeseburger on bun with lettuce, tomato and pickles, chicken, chips and ice cream on the side, and soda and beer to wash it down.
Cost Drivers for July 4th BBQs: Beef, Dairy, Beer
While commodity price fluctuations are not always passed on to retail prices, this July 4th, American consumers will feel the impact of volatility in the commodity markets. Beef prices in particular have exploded recently, with retail ground beef prices -- the heart of the American barbecue -- rising 14 percent over the past year, and an astonishing 71 percent over the last five. Beer, which makes up 28 percent of the 2014 barbecue bill, is up 20 percent over the past ten years. Retail cheese and ice cream prices have both jumped 15 percent since 2009, with cheese prices up 11 percent in the past year alone.
Why are prices so hot in these core barbecue ingredients?
Beef Might Be For Dinner, But it Will Cost You: Cattle herds in the United States are the smallest in 63 years and beef exports have grown substantially, using a larger share of U.S. production. It's a simple matter of supply and demand, with the higher costs being passed on to the consumer. Beef is 14 percent of the 2014 barbecue cost.
Milk is in Demand -- Not Just in the U.S.: While U.S. demand for dairy has slowed in recent years, growing demand in China and other developing markets has kept prices rising. U.S. dairy exports rose 26 percent in the first quarter of 2014. It's supply and demand again: As supply comes under pressure, prices rise. Cheese is 4 percent of the 2014 barbecue cost, but ice cream is 15 percent.
Craft Brews are Lifting Beer Prices: The popularity of more expensive craft beers in the U.S. has helped push the price of domestic and premium beer upward as well. And the weeks leading to Memorial Day and July 4th see some of the heaviest beer sales of the year, regardless of price. Beer is a whopping 28 percent of the 2014 barbecue cost.
Lowering the Heat on BBQ Budgets
If you're on a budget, or simply don't want to break the bank this July 4th, you can still serve up a delicious barbecue that features all the time-honored traditions. Evaluate your budget, be choosy in your choice of meats and beverages, and consider these pointers:
More Cluck, Less Chuck: Although beef prices are sky rocketing, it doesn't mean you have to go meatless. Opt for grilled chicken -- prices for white meat are holding steady in the U.S. Or, offer a mix of hamburger and chicken, which also expands your menu choices.
Ask Your Friends to BYOB: Having guests bring the beer may be the smart route this summer as it will save you about 30 percent of overall barbecue costs. The good news is that beer companies will heavily promote their brands before the holiday, so there will be cost-saving opportunities to search out. And don't forget soda, 5 percent of the 2014 barbecue budget: Slowing consumer demand has increased discounting, and prices are down 4 percent over the past five years.
Green Keeps Budgets Lean: Tomato prices have risen 12 percent year-over-year due to the drought in Mexico, but vegetables are, as always, among the lower cost and healthier items. Lettuce, tomatoes and pickles combined make up only 10 percent of the 2014 barbecue cost.
Don't Hold the Bun: Pricewise, it makes sense to serve the burger with a bun, as costs for bread are basically flat vs. the past five years. While you might cut calories or glutens by skipping the bun, you're not cutting any significant price corners -- bread is just 4 percent of the total 2014 barbecue cost.
Go for Seconds on Snacks: Potato chip prices are down, likely as a result of more people moving towards healthier options. At 7 percent of total barbecue costs, you can serve up seconds on chips and other snacks.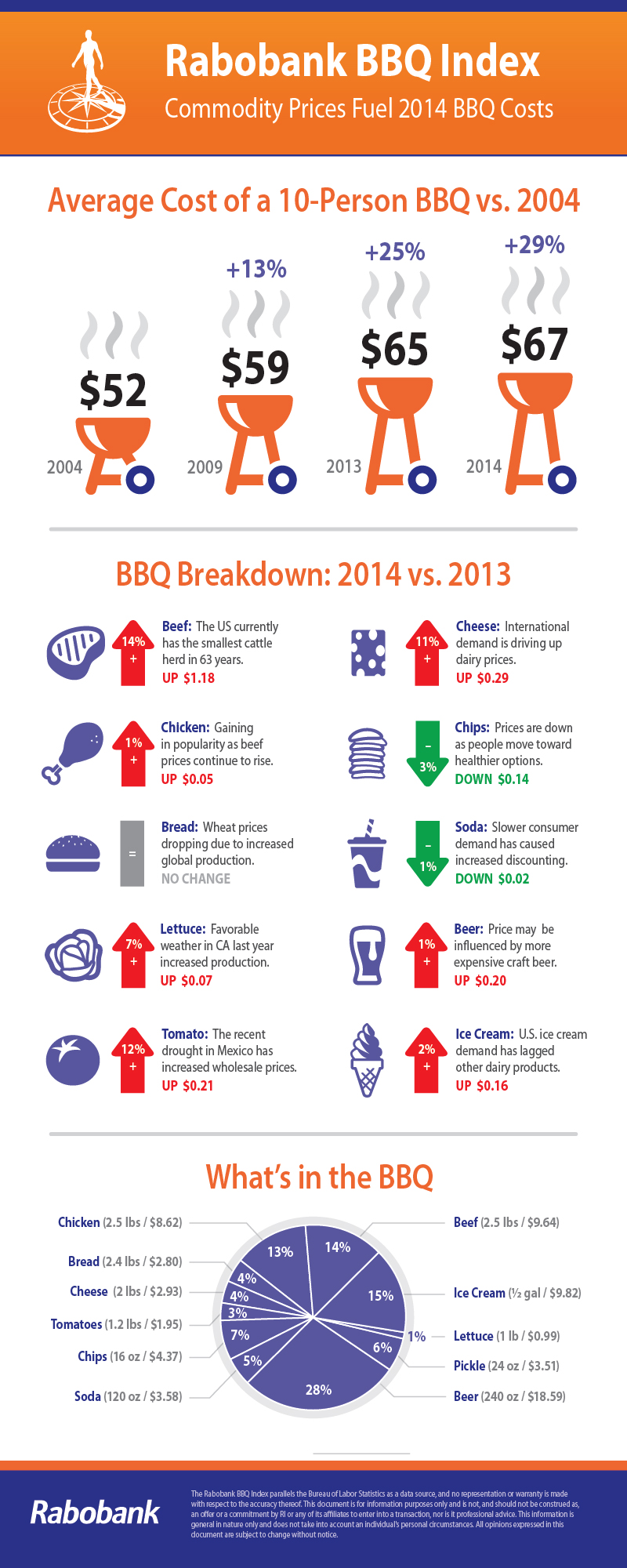 Infographic by Rabobank
15 Ways To Save On Eating Out
Restaurant.com sells $25 gift certificates for $10 or $50 gift certificates for $20. The site also has sales throughout the year, and I've snagged $25 gift certificates for $5. I keep a stack of these things in my wallet at all times. Most places have a minimum purchase requirement (from $35 and up) but you can generally use the gift certificates any time. But there are drawbacks: They're for dine-in only, they're nonrefundable, and they can only be redeemed once per month per restaurant. Still, the site has become so popular that you can double dip - buying Restaurant.com certificates through an airline's shopping portal in order to earn frequent flier miles, for instance.

If you're not already using Groupon and LivingSocial, start now. Both sites post daily deals that will give you 50 to 90 percent off at different restaurants. You'll have to act quickly, but you'll save a bunch. I just got a dozen cake pops (regularly $17) for $8 through Groupon. If you don't want to spend hours sifting through all the offers, Money Talks News deals diva Karla Bowsher has culled the very best on our deals page.

If you have a smartphone, some social networking apps will get you free stuff and discounts. Last weekend, I got free guacamole and a free flan for checking into the restaurant on Yelp. Here are a few apps that score you deals: Yelp Check-ins - After you check in, mention Yelp to your server to get the goods. Foursquare - Many places offer discounts and buy-one-get-one offers to people who check in. SCVNGR - Every time you check in, you accumulate points. You can redeem your points for a discount on your bill or a free item depending on the restaurant.

Every restaurant in town knows when my birthday is. Last year, I got three half-price meals, six free desserts, two free entrees, and about a dozen free cocktails - and all I had to do was sign up for a birthday mailing list and turn a year older. Many restaurants have a birthday or anniversary club. Signing up is free and they'll send you a coupon around the date. Ask your server how to sign up - and even if they don't have a mailing list, he'll tell you what you can get for free or cheap on your special occasion. There's even a site devoted to listing restaurants where you can eat free on your birthday: eatfreeonyourbirthday.com

Social media-savvy restaurants post special deals on Twitter. Some even post code words. If you tell your server the code word, you'll get a discount or a freebie. Last month, I got a free dessert for saying "Free Sean Payton" to my server. (I live in New Orleans, and the code words referred to our NFL coach who has been suspended by the league.) To find a restaurant's Twitter info, visit its website and look for the "Follow Us" links. One should be for Twitter. Another should be for Facebook. Speaking of which...

Here at Money Talks News, we take surveys, hold contests, and give out freebies on our Facebook page as a way to keep in touch with you. Many restaurants do the same thing. By "liking" the restaurant page, you'll get access to special deals not mentioned anywhere else.

I've made it a habit to open a few apps before I walk into a restaurant. There are several free apps that post deals to local and chain restaurants. Most places will apply the discount to your bill if you show them the app - no need to print the coupon. Here are a few apps worth downloading: Dining Deals LocalEats The Valpak App

Many restaurants in my area extend their lunch hours until late afternoon. By eating dinner early, I get the lunch prices, which are often 25 to 50 percent cheaper than the dinner prices for the same entrees. Before you try somewhere new, visit the restaurant's website and see if they have a lunch or early bird special.

It's uncommon, but some restaurants let you bring your own beer or wine, which is usually cheaper than the cost of paying per glass. Before you go, call ahead and ask if the establishment is BYOB. If they're not, skip the cocktail and have one somewhere else. Some places will charge a "corkage fee" if you bring your own wine, but even at $10 per bottle, it's still often cheaper than buying the same bottle in the restaurant. Most restaurants in my area overcharge for alcohol. For example, my local bar charges $3 for a mixed drink, but the restaurant next door charges $6. I save 50 percent stopping by the bar for my after-dinner drink.

Restaurant meals are over-proportioned, so split your meal in two. You'll eat dinner tonight and lunch tomorrow for one price. It may seem like obvious advice, but it's harder in practice. If you're not careful, you'll end up eating everything on the plate. To beat the extra calories and save money, I divide my plate in half before I start eating. I only eat from my "now" half of the plate and ask for a to-go box for the rest.

Knowing the different steak cuts and how they're prepared will save you money. For example, my friend always goes for the filet mignon because it's well known and tender. It's also one of the most expensive cuts you can order. Meanwhile, I ask if the hanger or flank steak was marinated. If it was, I order that. It's the cheapest steak on the menu, but it's also flavorful and tender - if marinated. MSN says sirloin, flank, skirt, and hanger steaks are really underrated. Give them a chance.

If I've learned one thing being a local in a tourist town like New Orleans, it's this: Tourist traps are alive and well. Many of the famous restaurants tourists want to visit are overpriced and not the best dining experience. If you want an authentic experience and a better price, check out a review site like Yelp or Urban Spoon before you visit a vacation spot. Pick a few places the locals rated highly and check their websites for menu prices. You can save a ton by planning ahead and skipping the hot spots.

I'm fortunate to have very cheap friends. "I don't care where we go as long as it's cheap," is a common refrain on a Friday night. But I also have some less-than-frugal friends who visit from out of town. Since I know they'll want to try that expensive five-star restaurant they heard about on the Food Network, I jump the gun and suggest a similar but cheaper place. If you're dining out with a group, suggest reasonably priced places ahead of time. It will keep you from having to choose between a $25 salad or a $30 piece of chicken.

Around here they call it lagniappe - the little something extra you get for being a great customer. Like the free cup of gumbo I've gotten every time I visit a diner in my neighborhood. I get that little something extra because I'm a regular. Trying new places is great, but you can get a discount (or a lagniappe) by building a relationship with the servers or owners of local restaurants.

With iDine, you can earn 5 to 15 percent back any time you eat out. Just sign up on their website. Within 30 days of your meal, sign on and complete a quick survey. For every survey you take, you'll earn cash back. When you reach $20, iDine will mail you an American Express gift card. It takes some effort, but it's free money. See? Dining out doesn't have to mean going all in - or staying in.
Follow Bill Cordingley on Twitter: www.twitter.com/bill_cordingley