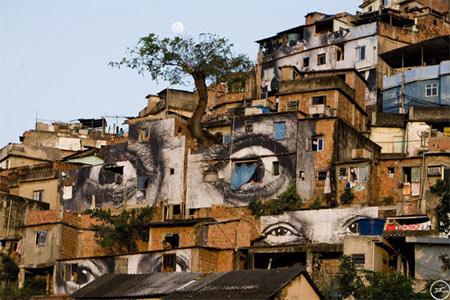 JR, "Women are Heroes," 2008, urban installation, Favea Morro Da Providencia, Rio de Janeiro.
While there has been a continuing push and pull between the presence of serious public art and graffiti vandalism for decades, at least one artist has taken it to the streets in a strikingly new way, JR. This Paris-based activist began documenting street art a decade ago, and after a few years decided to get into the act himself. The formal structure of his work is simple, but the execution is complex, the aesthetic mix is rich, and the ultimate results of his projects have proven nothing short of remarkable.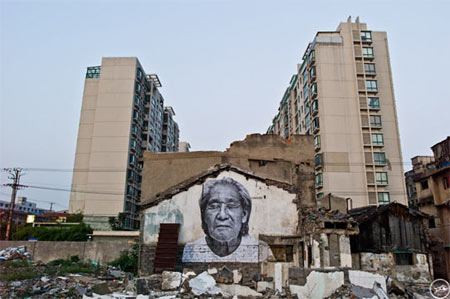 JR, "Wrinkles of the City," 2010, urban installation, Red Town District, Shanghai, China.
JR dispensed using his own name and identity because he mounts his projects, quite by intent and by his own description, illegally. He neither seeks nor obtains appropriate authorization for the posting of the supergraphics he creates from black and white portrait photographs. People, often making faces, are shot close up with a 28 millimeter lens ("28 Millimétres" serves as another name for JR's operation). Much as Robbie Conal used to do, off goes the artist and his associates, urban guerrillas operating in the middle of the night, to paste up the cheap posters in the area they have targeted. Obviously there is no concern for permanence, and ironically the notoriety gained from projects in Paris ("Portrait of a Generation"), Jerusalem ("Face2Face," which covered eight Israeli and Palestinian cities), Rio de Janeiro (Women are Heroes"), and Shanghai (the newest project, "Wrinkles of the City") has catapulted JR to something like celebrity status. If this is noteworthy, it is the radically different kind of "celebrity" that JR has become that catches and holds my attention, and the reason I want you to know about him.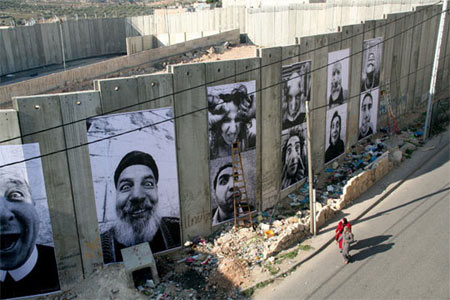 JR, "Face2Face," 2007, urban installation, Israel.
Most of the art world, rooted as it is in the broad tradition of the avant garde, has gravitated towards the economy of the elite, sustaining itself by pandering to the plutocracy. JR panders instead to the poverty-stricken, the dispossessed and the marginalized. They do not merely serve as his subject matter, bringing difficult lives into the discourse of the gallery environment in the manner of Alfredo Jaar. They are mounted where the subjects are located, in the slums and shantytowns of the world. Unauthorized they may be, but in this context they are more than welcome, they are more than provocative, they are empowering, even transformative.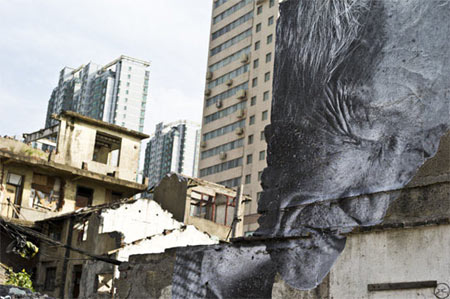 JR, "Wrinkles of the City," 2010, urban installation, Red Town District, Shanghai, China.
Rather than melting into their environments, JR's projects surprisingly enliven them; his black and white format activates contrasts of indigenous color and urban decay around them. We suddenly desire to see much of what we otherwise prefer to avert our eyes and attention away from. If we normally think of murals affixed to the walls of buildings, how about putting them on trains, on roofs, on The Fence that politically segregates two territories? This echoes the piecemeal impulse that drives the much smaller actions of taggers or ordinary folks motivated to leave their mark of protest, but with a coherent visual plan fully alert to the possibility of where and why the images of faces or eyes are placed, all then recorded for broad dissemination.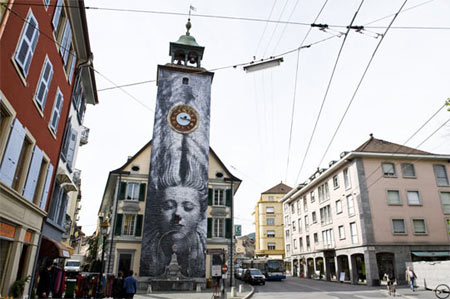 JR, "Unframed," 2010, urban installation, Vevey, Switzerland.
Perhaps most surprising is the tone JR's work projects, which is all optimism and good humor. How this is achieved is worthy of its own essay, but it is clearly central to the intent and responsible for much of its impact. The process of realizing each project is both collaborative and social. The boundary separating the artistic team, the subjects of his imagery and viewers/participants is encompassing rather than discreet. By disarming the threatening posture of rage and injustice these projects better convey the condition of poverty for what it is while conveying the message that, yes, we can do better.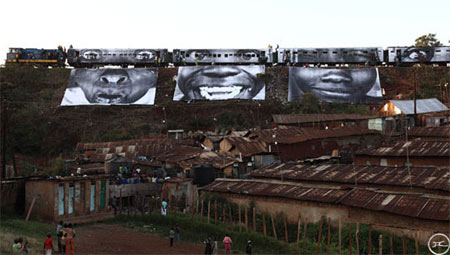 JR, "Women are Heroes," 2008, urban installation, slum of Kibera, Nairobi, Kenya.
Additional note. JR was recently named as recipient of the 2011 TED Prize. TED, which stands for Technology, Entertainment, Design, is, as they say devoted to Ideas Worth Spreading. This unique organization, known mainly for its lecture series that amounts to high entertainment for nerds, is worth familiarizing yourself with if you are not already aware of it. Visit http://www.ted.com
SUBSCRIBE AND FOLLOW
Get top stories and blog posts emailed to me each day. Newsletters may offer personalized content or advertisements.
Learn more