THE BLOG
Tolerant Squares
Phase two of three in the remake of the Los Angeles County Museum of Art campus evinced talk of squares from among the museum principals who have moved and shook the western end of the Miracle Mile. And the accumulated changes have surely lifted that stretch of Wilshire Boulevard east to La Brea. And so happy talk about the place becoming the central square of Los Angeles' mushy sprawl at this week's press opening managed to resonate a bit. Particularly if you can warm to the image they were selling of masses of people heading down there on the Metro Rail yet to be for family jazz concerts, the coming new restaurant and, oh yes, a side order of priceless art for those willing to hoof it into one or another imposing box.


Lynda and Stewart Resnick Exhibition Pavilion at Los Angeles County Museum of Art. Photo ©2010 Museum Associates/LACMA.
At the time the May Company building went up as the keystone to the Miracle Mile in 1940, highlighting twenty years of development dedicated to A.W. Ross' paean to the rising culture of the car, the mid-Wilshire district entered into a generational stretch as the place to head to in L.A. The 1964 opening of LACMA did not ultimately prevent its gradual slide towards dowdy irrelevance that has now been arrested, and possibly even begun to reverse.
At the press podium under the kind of pristine sky practically invented by Los Angeles, architect Renzo Piano unsurprisingly revealed the beginning of his process was to draw LACMA Director Michael Govan a square. Of course it's not that simple, he explained to the relief of all present, and proceeded to wax poetic about light much as I can imagine A.W. Ross rhapsodizing about the coming importance of the automobile. In conclusion, his big box would be a tolerant space for art. And here I was daydreaming what a grand space it would make for a big box store such as Costco, or a magazine distributor's warehouse. I appreciated his language.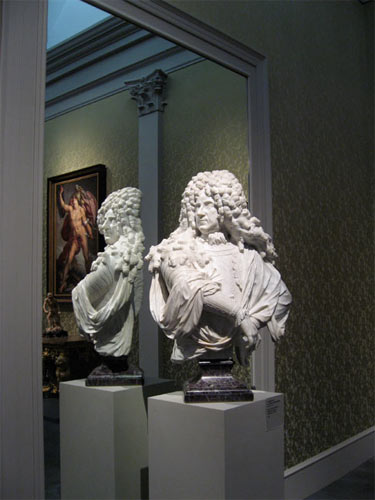 Attributed to Barthelemy Blaise, "Bust of Geoffroy Chalut de Verin," circa 1787, marble, 34 3/4 x 22 3/4 x 17". Photo: Diane Calder
The Resnicks and their collection of 17th to early 20th century Western European decorative art and paintings may together be the squarest element of this elite circle gathered at the town square. Stewart Resnick sat politely and silently throughout with a smirk nearly worthy of Dick Cheney. And like Cheney, this powerful man doesn't need to say a word at meetings. Wife Lynda, a born entrepreneur who launched an ad agency before turning twenty, is the front woman of this enterprise. Coiffed and poised to the nines, one would hardly recognize her as a former friend and cohort of Daniel Ellsberg. Thank God for some irregularity in these perfect squares.
The artifacts of civilization carted over from their Beverly Hills manse is hyperinflated fluff that is laid out in a series of temporary enclosures that feel like a forced march, as back and forth you go. The entire effect is so unremittingly repressive that when it finally spits you back out into the open central space in which the superb "Olmec: Colossal Masterworks of Ancient Mexico" exhibition holds forth, the spirit is immediately lightened, the mind ready to read lots of labels instructive on the subject of ancient Mexico. The contrast makes a sage of Mr. Piano. This is a tolerant square indeed.

Installation view of "Colossal Head 5," 1200-900 BC, basalt, 73 1/4 x 56 11/16 x 49 1/4". Base by Michael Heitzer. Photo: Michael Buitron