I have told the story many times since Sunday, a little over a week now, about Peace Lutheran Church, a congregation of the Evangelical Lutheran Church in America (ELCA) in Joplin, Mo. The church building was completely leveled by a tornado there May 22.

I have been told by a therapist-pastor that sharing that story is a way of living with guilt over what happened in Joplin and to me.

As the interim pastor of Peace Lutheran, I stay in Joplin only three days a week, commuting from my home in Kansas City, Mo. So I rode out the tornado in the motel basement. The motel was south of the storm's path.

But my therapist-pastor friend was right. I was experiencing what I had only often heard about and always thought I would never do: feel guilty about being alive.

I kept wondering, "Why did I decide not to go back to the church building?"

After seeing the destruction of the church, I am absolutely positive that I would not be writing this reflection today if I had gone back.

I'm dealing with this guilt. But as the days continue, I find that there are many things that just need to be done.

The Monday morning after the storm, as a number of us were walking through the rubble of the church building, we wondered: "Where are we going to hold worship on Sunday (May 29)?"

We decided to meet in the parking lot to let the world know what the people of Joplin know: we are still a congregation.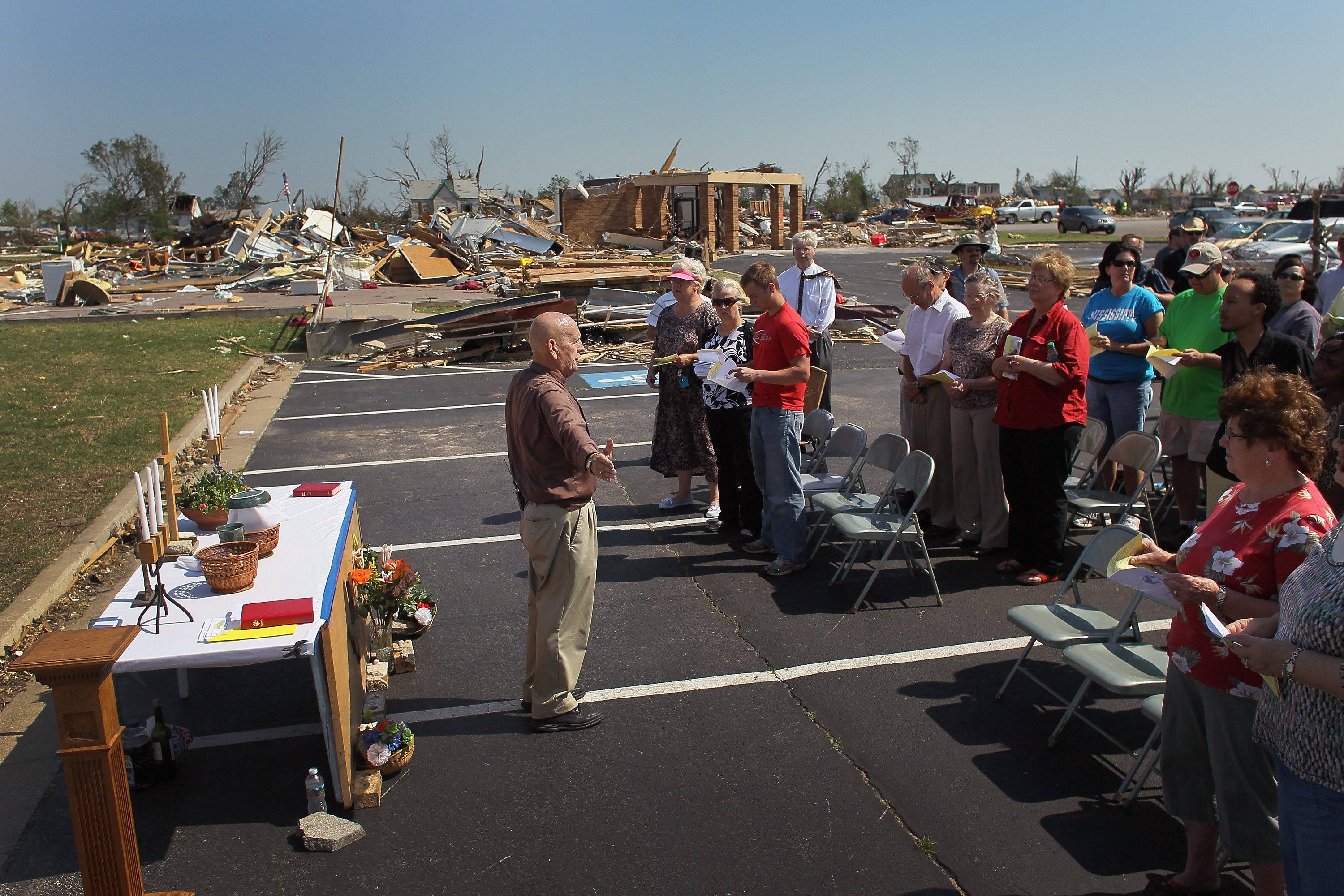 God is and will always be with us.

The service was chaotic, and it was spiritual. A number of newspapers, magazines, radio and television stations -- local and national -- came. I was wired up to six different stations. I don't even know who they all were, although I knew ABC, NBC and CNN were now part of my body.

The rains had finally left, so the weather was beautiful except for the 35-mile-an-hour winds.

But most importantly, God was there. You could just feel it among the 100 people who attended worship that Sunday morning.

The service itself, along with music (we had a keyboard loaned to us, hooked up to a battery, and a flutist), the prayers, the sermon and Holy Communion gave people a chance to celebrate and weep over lost homes, lost jobs, lost friends and families.

God was there.

Where does Peace Lutheran Church go from here? At this moment, we still don't have a place to worship for Sunday, June 5.

We know the parking lot is not going to work Sunday after Sunday. We have had two congregations offer to let us worship with them. But we have not yet had the time to sit down and decide where or how we might accept one of these generous offers. We are meeting tonight to begin the process.

We have no hymnals but have been offered some. No musical instruments, although we have been offered an organ. We have no risographs, copy machines, etc. We have lost all the past bulletins that would help us remember how we did certain worship services.

We have lost many other things that we just took for granted would be there every Sunday morning for us.

But what we do have are committed and dedicated members who are ready to do whatever is necessary for us to move forward.

What we do have is the ELCA Central States Synod in Kansas City, Mo., and ELCA members and congregations from all over the United States who have pledged to help us recover.

And, what we do have is the power and love of our God, Jesus Christ, and the Holy Spirit.

How can you not make it all happen when you have that kind of back-up team?

To God be the glory! Amen.