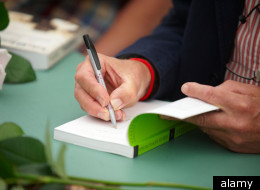 Why insults?

I'm still not entirely sure, and I don't have a quick, simple answer. There are a few reasons, however, that stand together to make a rambling explanation.

First, it's a way to prolong the moment during a reading where the audience has a chance to interact, one-on-one, with the author. I figure that the self-effacing portion of a humorous inscription request helps disarm some of the concerns that might ambush someone considering whether or not to insult a stranger in writing.

Second, these guys write stories about imaginary people for a living. I can't envision anyone outside of comedians and toll booth operators who could come up with a more biting, uncommon, or prescient zinger for a stranger. I wonder also if the way in which they insult might butt up against how they write. I'd think an insult from Joyce Carol Oates could go to some pretty dark places. Or that Salman Rushdie might have something to get off his chest. Would E.L. Doctorow have some antebellum abuse to unleash? The possibilities seem endless.

Third, it's pretty funny. To me, at least.

Last, and probably what's kept me coming back for more, I get to pretend that they're my buddies, my peers. If only for a few minutes. I grew up wanting to be the next Steinbeck, then the next Carver, then the next anyone. I did and do idolize many of these authors; I love keeping a memento of the day we met unique enough to hopefully overcome whatever memory problems I eventually develop.

Anyway, their novels are already works of art. For me, the insults are the real signatures.
Mark Svartz is the first published author to both disparage me and spend more than the briefest of moments talking with me in person about books, insults, life, writing, and alcohol. His new book, I Hate You Kelly Donahue, was conceived during a conversation with work-friends. Each had to choose a coworker to fight to the death, and explain why. Mark began a daily journal chronicling the various ways he'd dispatch his unknowing target, compiling a strangely compelling story of hate and imaginary murder. The journal bulged as he filled his death-journal with momentos salvaged from her trashcan, printed emails from HR, and hand-drawn pictures outlining death battle strategies. The project evolved and expanded, and, with the real-life Kelly's confused blessing, was published in winter of 2011. The final product is like nothing else out there right now: a comedy-journal pastiche of Mark's strangely legible handwriting, Photoshopped pictures of Kelly performing depraved acts, and an MTA card stolen from her desk. Just creepy enough to be hilarious.

Rick Moody is one of the authors with whom I'd like most to spend a day, following him around, seeing how he approaches writing, that sort of thing. He, Karen Russell, and Sam Lipsyte all seemed to be most in-tune with Insulted by Authors, so I imagine we'd get along well enough. Maybe one day I'll get a chance to hang out with one or all of them. Anyway, the evening I received this particular insult, Rick was reading at Greenlight Books in Williamsburg, Brooklyn. I brought along a stack of first editions that happened to include a copy of his first novel, Garden State. As I was soon to find out, Rick doesn't sign this book any longer for a couple reasons. One, because of the re-sell market that springs up around first editions of established or famous authors' first published works; and two, because, as he said, he doesn't particularly like that book. I'll admit to being a little crushed. I actually enjoy Garden State, and I wasn't out to "flip" the book for money. I took the un-inscribed Garden State from the stack of books as he continued signing. But then! Maybe he liked the insult idea, maybe he noticed my dopey Whoville eyes rimmed with tears and his heart grew three sizes, or maybe he saw in me the fervor of a true believer, but he snatched the copy of Garden State back, wrote what you see across the top, and said, "I'm signing this, but now I'll know if you ever sell it." It was another transcendent moment of connection in which I ended up knock kneed, a tweeny girl sharing a soda with the Biebster.

Amy Sedaris as an author was new to me, but I knew her from the cult classic, Strangers with Candy, and I liked her weird, vaguely discomfiting portrayal of Jerri. Besides, anyone with a brother like David Sedaris had to be able to "get" the Insulted by Authors thing. I'd been told that her readings were more like performance pieces, but whatever I'd been expecting wasn't enough to prepare me for the audience-participating, free form associating, craft-time demonstrating fun that Ms. Sedaris pulled off. And her fans! Up until the point she came on stage and the crowd reacted like their seats were step-ladders; up until the audience began screaming out lines from Strangers, apropos of nothing; up until it felt like there might be a scrum for the right to help Amy demonstrate an exercise from her new book, Simple Times: Crafts for Poor People; I ranked myself amongst her loyal fans, but now I know the type of devotion one has to show to become a card-carrying member of that club. Anyway, as her insult shows, Amy is a master of screw-you-fu. This insult has withstood the test of time to become the most popular disparagement on Insulted by Authors.

Adam Ross, author of Mr. Peanut and Ladies & Gentlemen, became my first repeat-insulter when I showed up for a reading at Book Court last year. Mr. Ross claimed to remember his first insult, for the excellent Mr. Peanut, and dropped another on me here, in his first collection of short stories. Like many other authors whose subjects and plots are dark, it was somewhat a mild surprise to discover a congenial, pleasant person behind the curtain. As many others have discovered, seeing the author as a person, chatting about the book or whatever happens to come up -- if only for a few minutes, is a large part of the enjoyment in going to these readings.

Gary Shteyngart is up there with Rick Moody in my star-studded pantheon of authors over whom I fawn. Russian Debutante and Absurdistan were great reads that proved he deserved his place in the conversation about the best of the up-and-coming authors of his generation. I remember this reading more for my having been a jerk to my girlfriend than for reactions from Gary, which is a bummer. The lesson I took away is to never take for granted the people you love, or else you'll spend brainpower on apologizing when you should be taking notes.

Chad Harbach, first-time author and co-founder of the literary magazine, n+1, wrote a fine novel that revolved around my favorite sport: baseball. I walked into the reading hoping for an extension of that joy, but stumbled over something that nearly ended my search for insults. While I was attempting to ask Mr. Harbach for an insult, someone immediately behind me in line announced that he, too, was there to ask Mr. Harbach for an insult. He proclaimed this very loudly. There's more useless soul-searching on my blog, but I'll say here that I reacted strongly to this guy. The whole situation made me rethink the execution of Insulted by Authors. It's what kept me from attending readings or updating my blog for a few months. My thinking was: if I wasn't the only one out there doing this, if I was just one more jerk asking authors for insults, then what I'd hoped was a (mostly?) mutually enjoyable activity was instead one more annoyance in an author's day. In one way, I suppose, he held up a mirror to what I was doing, and how I was doing it. Since then, I've returned to the insult-seeking world with a more careful process. If it's not fun, it's a worthless exercise.

Jennifer Egan - I've come to find out that many authors are simply uncomfortable with the idea of insulting a stranger. The best you can hope for, in a case where the author isn't exactly jumping at the chance to compose a couplet to a lackwit, is to calmly explain the idea, try to show them you're not out to ruin their careers, and always have your smart phone open to your webpage. Once they see a fairly substantial list of established authors and their insults, the reluctant tend to relax. Mrs. Egan was among those authors who initially appeared reluctant but nevertheless gave an excellent insult after I proved to her satisfaction my lack of obvious asshole genes. For that, I'm glad. Like so many others, Mrs. Egan's A Visit from the Goon Squad was among my favorite books of last year.