I squinted and looked closer at the Facebook photo my friend Caroline had posted -- rows and rows of glistening colors, lined up on white shelves, from one end of the color spectrum to the other. What are those things? I wondered. Rods of colored glass? I couldn't quite tell. Caroline's cryptic caption was just one word: glassybabys.
"What the heck is a glassybaby?" I commented on her photo. Impatient for a reply, I turned to Google -- typed in "glassybaby" and was transported to a gorgeous web site. Ahhh, beautiful blown glass. I smiled as I clicked from page to colorful page. Glass votives in virtually every color in the rainbow -- and then some. Colors with names you won't find on any Pantone chart: Friendship, Wet Dog, Whisper, Root Beer, Dad, Love, Happy Birthday, Seattle Sunset, Wingman, Sand, Surf, Peter Pan, Comfort, Cherish, Dream, and more.
I flipped back to Facebook, where Caroline had posted a second photo: a blurry woman's hand reaching for a glassybaby among a dozen or more glowing with tea lights inside. "Pilgrimage to the glassybaby mother ship," read Caroline's caption.
I couldn't help wondering, Caroline and Maria traveled all the way from California to Seattle to visit a glass blowing place?
The next day, Caroline posted a third photo -- a row of four illuminated beauties -- three soft pastels and one bright orange.
"You bought some?" I typed.
"Just a few," Caroline typed back. "Maria bought 28."
I was shocked. Twenty-eight candles! What on earth could be so special about these little glass candle holders?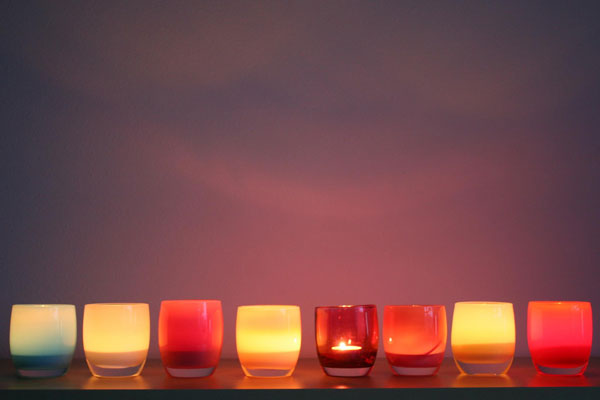 So I called glassybaby to find out, and Valerie Waltz was happy to tell me more about the company, the candles, the stories, and the charities.
Valerie: We have a team of 70+ artists creating glassybaby seven days a week at our Seattle studio, producing about 500 a day. It takes four artists and three layers of glass to create each glassybaby -- they are individually hand-made works of art. glassybaby are made in 400+ colors and each with a unique name, like Angel, Joy, Faith, Hope, Believe, Remembrance, Cherish, Comfort, Dream, Gratitude, Heart, Hugs, Peace.
Take me back to the beginning. How did glassybaby start?
It started back in 1998 in Seattle, when the glassybaby founder Lee Rhodes bought a series of glass blowing classes for her husband. Lee was recovering from lung cancer at the time -- her third bout with cancer -- and raising three small children. Her husband came home from one his classes with colorful, glass cups.
One night at dinner, Lee was lighting candles and dropped a tea light into one of the cups. What she saw was magical. The flame danced inside its cozy container, it threw off a warm, wonderful glow that she found very comforting. Lee says the color and light helped her heal and encouraged her to take that "deep breath we all forget to take."
Lee decided to find local glass artist to make more glass cups. She had a mold made and soon had candle holders to give to her friends. Some of them would light their candles for Lee, as they supported her in her healing journey. Others wanted a glassybaby to light a tea light for others who were sick or going through their own battles.
Soon, Lee opened a glassblowing studio and glassybaby was born. That was in 2003.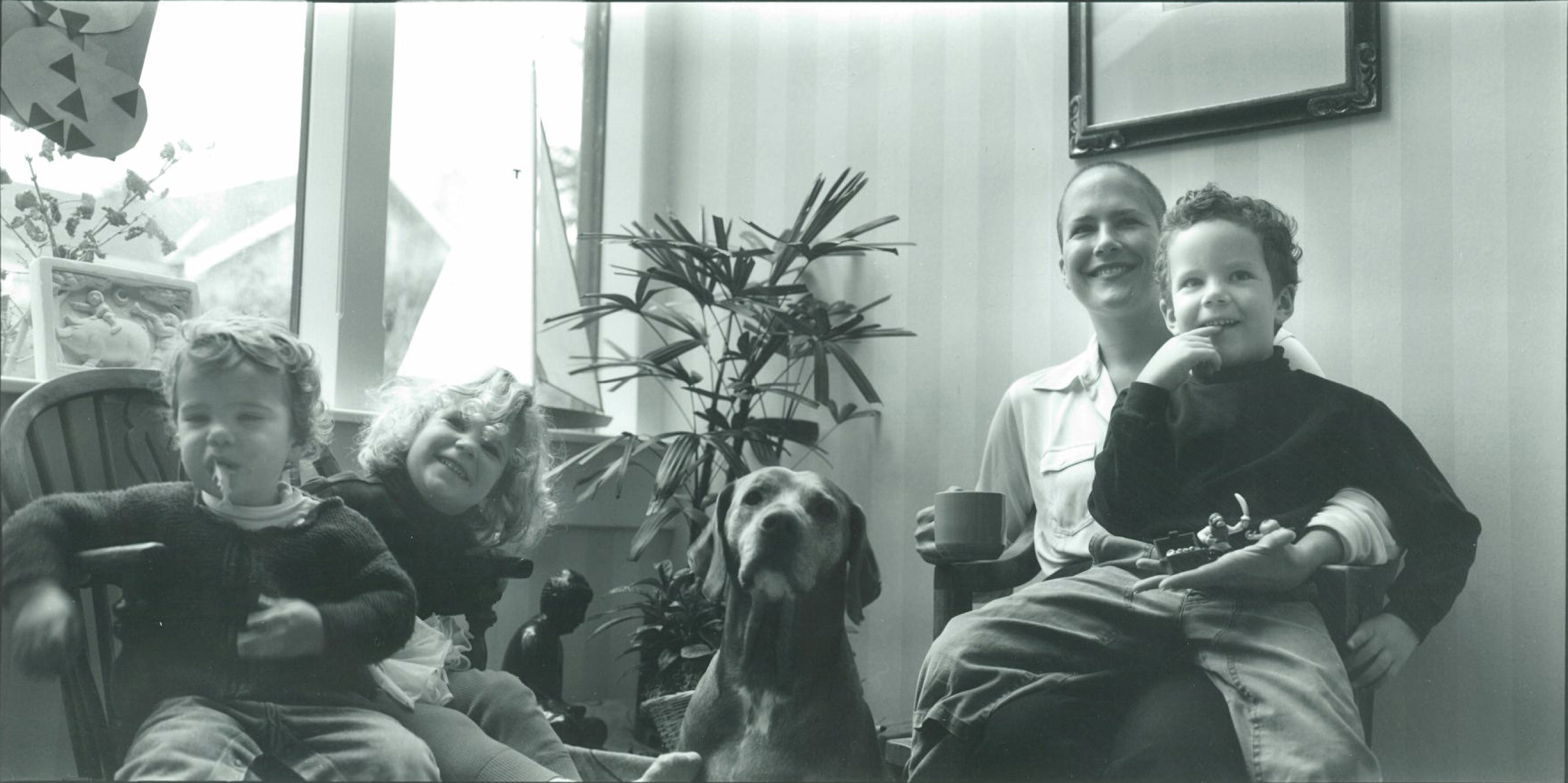 Lee Rhodes recovering from cancer; photo courtesy glassybaby
I see from your website that you donate money from each of your candles to various charities. Tell me about that.
When Lee was going through chemo, she met many patients who could not afford basic costs like bus fare and groceries -- the costs that are not covered by health insurance -- and she wanted to help. So she started glassybaby with the mission to help cancer patients who could not afford day-to-day needs during treatment. From the very beginning, glassybaby donated money from sales to charities dedicated to helping with those costs. As of March 2013, we've donated more than $1.3 million to charities meeting those needs. We expect to hit the $1.5 million mark in the next couple of months.
Wow, that's impressive! And even more impressive is the caring community you've created around glassbaby. My friend Caroline recently traveled from California to Seattle to visit glassybaby and she told me: "When Maria and I were in the store, many regular customers came in with lists of what they 'needed' for themselves or as gifts. Glassybaby are more than pretty objects. People are attracted -- and then committed."
Word has spread organically -- we hear from people all over the world who have been touched by our handmade product and our mission of giving to help people heal. Lee is touched that glassybaby still means to others what the first glassybaby meant to her when she was sick. Everyone who works at glassybaby is part of that mission. And our stores are in Seattle, but our community is everywhere.
Speaking of stores in Seattle, I understand you are growing and planning to open in California and that Jeff Bezos is an investor.
Yes. In 2008, Jeff Bezos, the Amazon.com founder, came into the studio. Jeff wanted to be part of glassybaby and reached out to Lee. He ended up buying 20 percent of the company.
Even in a down-turned economy, glassybaby has grown 30-40 percent each year since 2009. We are planning to open in San Francisco next. As Lee always says, "The more we grow, the more we give away!"
Thanks for making time to talk to me, Valerie. I'm inspired by what you've shared with me, and by what my friend Caroline says about her experience with glassbaby. I see now that these aren't just candle holders -- they're healing talismans. You've created a unique product and a wonderful company - along with a caring community -- that is, as the glassybaby motto says, truly "one of a kindness."
For more information, visit www.glassybaby.com
SUBSCRIBE TO & FOLLOW MUST READS
The internet's best stories, and interviews with the people who tell them. Learn more