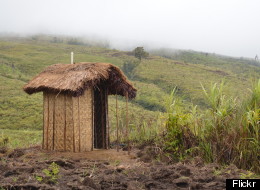 This year, Sir Arthur Conan Doyle's classic adventure novel "The Lost World," celebrates its centenary.
Recalling the vivid and exotic images Doyle painted of South America has got us thinking about the places in today's world that still hark back to an age of strange, unexplored lands.
For those of you who yearn to wander back in history and venture somewhere steeped in mystery and intrigue, these are our Black Tomato picks for Doyle-esque modern day adventuring. Minus the dinosaurs.
Those who choose to venture further afield from the blissful beaches of Indonesia's more popular holiday spots should prepare to be rewarded with views of quiet, mist-swathed lands dotted with crumbling temples and hidden deep in the island's interior. Dusk gives Lombok's Mount Rinjani's cratered top an altogether more prehistoric feel as its pools turn to flames of orange, red and gold in the fiery setting sun.

Truly a place set back in time, Papua New Guinea is home to tribes and landscapes that remain as they have been for hundreds of years. The island's unique inhabitants may seem like characters from a mystical book, but they are true masters of their environment. One of the most fascinating and welcoming, are the Hulis, who don short skirts, traditional, feathered wigs and colorful face paint every day.

The whispered sounds of the jungle's native residents, strange bird calls, unseen rustles in the branches nearby and glimpses of unformed shapes moving through the trees. Borneo is blessed with the oldest, virgin rainforests on earth. To this day they remain mysterious and untouched. Home to a phenomenal amount of exotic wildlife, the jungle comes alive at night time as the residents creep and crawl through their dark, sylvan home.

One of the world's most magical, mythical old cities, preserved under dense vegetation for roughly 500 years Machu Picchu was officially discovered in 1911 by American explorer Hiram Bingham. The old citadel is cloaked in Inca legends that describe a hidden city where enormous quantities of gold and precious stones were hidden. Although the archaeological discovery came nearly one hundred years ago, historians are still unsure of the function of this ancient Inca citadel. The Inca had no system of writing and left no written records, leaving archeologists to piece together bits of evidence what purpose Machu Picchu served.

Deep in the Guatemalan forest, the haunting Mayan ruins of Tikal jut up into the clouds. There is a variety of wildlife wandering around the base of the steep temples, which will be very familiar to Star Wars fan. The views here are spectacular and, at the right time of day, it is easy to feel like you're visiting an alternative universe in which the Mayan empire never crumbled.
Follow Black Tomato on Twitter: www.twitter.com/Black_Tomato