The Department of Transportation (DOT) is investigating a number of airlines because they are not reporting fees prominently on their Web pages as required by a new rule that took effect on August 23 this year.
Bill Mosley, a DOT spokesman confirmed the investigation, but said that he could not provide the names of the airlines until a civic penalty is issued.
For years air travelers have been fuming about rising and hidden fees for things that used to be free (e.g. American Airlines is charging up to $450 per bag internationally for bags over 71 lbs).
Meanwhile, airlines continue to resist the government's calls for transparency while they earn billions in fees, some $5.7 billion in fees last year, up half a billion from 2009.

Most airlines are flouting the new rule that requires air carriers to disclose all fees for optional services with a prominent link on their homepage, according to our investigation (See above chart).
DOT officials admitted that many foreign airlines are not as compliant as they could be.
Moreover, American, Delta, United and U.S. are resisting reporting their overall fees to the DOT, according to documents obtained exclusively.

The Air Transport Association, representing over 19 airlines, argues in their court filing that each item would cost a major carrier over $1 million dollars in accounting system programming costs. They do not specify how many carriers, but considering the number of items which require reporting (16), and the number of major airlines involved (15), the airlines collectively claim they would incur costs of approximately $240 million. Files are here: Download file
However, the DOT estimates that this should only add $150,000 to the airlines' collective administrative costs. Quite a difference.

In July, the DOT provided a detailed list of known fees which the airlines should be able to provide reporting for. This proposed rule came after three consecutive years of escalating ancillary fees, coupled with dropping ticket sales; this would require airlines to disclose fee revenues across 16 categories, as well as baggage and reservation-change fees.

Southwest Airlines is the only airline to applaud the DOT for proposing this rule. Members of "Flyers Rights," make up a majority of the rest of the docket's comment, serving up benign at best copy-pasted praises for fee transparency.
Fees are helping airlines stay solvent in these difficult times, according to a comment from Standard and Poor's.
Fees Have been Growing Quickly

American Airlines is spearheading the baggage carnage with its $450 fee for bags on flights to Asia, with Continental a close second at $400 for luggage 71-100 pounds.
With proof of death, United/Continental airlines will refund a ticket of a deceased passenger, but will keep $50 for their trouble. It is unclear how much money they make by charging their dead passengers, but it can't be very much.

If you are flying domestically, charges vary from $20 for each checked bag, to $60 or more for overweight bags. For a family of four, the extra charges can run over $200 for a Christmas trip home.
If baggage fees are escalating because of purported fuel price increases and security price increases, how difficult is it to itemize this or at the very least make it transparent?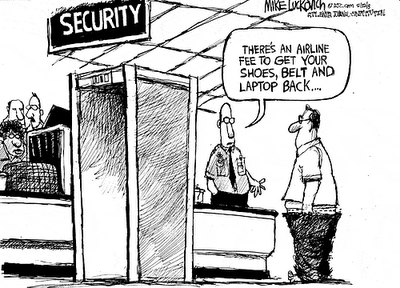 This escalating fee trend has travel bloggers and flyers wondering whether the Ryanair phenomenon is coming to America. Low cost carrier Ryanair, a British carrier, charges practically nothing for tickets, but makes its money from outrageous fees. For example, recently a US couple reportedly paid $19 for their flight and over $1,500 in overweight baggage charges for a flight from Brussels to London.

"Ryanair: Coming to America?" is the headline of a recent Travel Mole piece which wrings its hands over the prospect of more and more US carriers turning into Ryanair drones.
So although Ryanair is not coming to the states any time soon, its trail-blazing pricing models are definitely materializing in the strategies of American carriers: too-good-to-be-true ticket prices, and a plethora of fees for everything else. Since when did flying become an a-la-carte experience?

Ryanair CEO Michael O'Leary -- who has made history with 9 Euro flights ($12) and fees up to 100 Euro ($140) -- has suggested standing-room-only flights, the "tinkle toll" and even a fee for cranky babies; and what was once thought to be a PR stunt, has flyers in the US wondering if exorbitant baggage fees are just a harbinger for more stealth "convenience" fees.

"Why not just give the tickets away and charge everything through ticket printing fees, check-in fees, and boarding fees?" Asks Julie Barsamian a NYC based travel agent Cook Travel.

A resounding credo among savvy inter-European travelers is to use Ryanair and even Easy Jet as a last resort, according to Alan Colville, a travel blogger and author of "Flyer Beware: Real Cost of Flying Ryanair."

Bloggers commend O'Leary's ability to manipulate the ticket pricing scheme so artfully. This type of discounting, according to Colville, could be contagious, and is bad for the brand and consumer in the long run.

"The British Advertising Standards Authority, which monitors ads for accuracy, decency and fairness, recently said that Ryanair had been misleading consumers about the availability of low fares... A spokesman...cited Ryanair's "unwillingness and apparent inability" to comply with British advertising codes."

Most savvy European travelers are aware of the advertising and fee tricks. They pack lightly, unlike most Americans.

While this may seem ghastly, perhaps what is more ironic is that rather than rolling back exorbitant and hidden fees, Ryanair has shown its sensitivity to criticisms of their pricing models by putting together a book for clients about how to navigate and avoid some fees (such as paying with a proprietary Ryanair pre-paid MasterCard.)

Airlines in the U.S are not quite there yet, but they're moving in that direction.
Spirit Air charges $16.99 for booking online. The alternative is driving to the airport in advance and buying your tickets, something few passengers will do.

Southwest is now making a big deal of their no fee flights, and the fact that they don't charge for the first two bags. Jet Blue lets customers take one bag for free, while Spirit does charge for carry-ons.

Airlines in the U.S. collected $1.38 billion in fees for checked baggage and reservation changes during the first three months of this year, according to the Bureau of Transportation Statistics (BTS) report on September 13, and $5.7 billion in baggage and reservation change fees in 2010.
Note: This post has been updated from its original version.
SUBSCRIBE TO & FOLLOW LIFESTYLE
HuffPost Lifestyle is a daily newsletter that will make you happier and healthier — one email at a time. Learn more