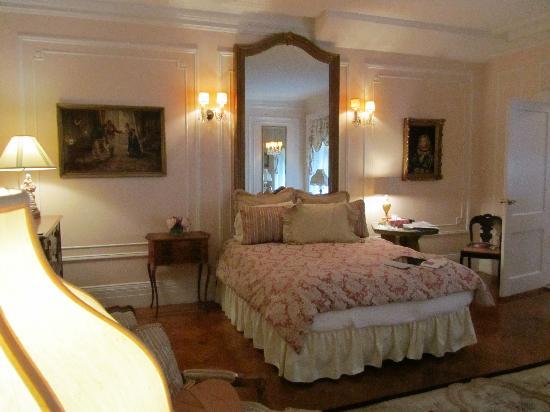 A luxury room at the Wyman House in NYC, which offers vacation rentals to travelers.
The July/August issue of the Washington Monthly explores the idea that hard-up Americans can capitalize on their assets to provide a much-needed boost to both their personal finances and the economy as a whole.
Many people have taken this to heart by capitalizing on one long-forgotten asset right under their noses: the spare bedroom.
Stephanie H.* is subletting her apartment on West End Avenue for two weeks in August while she goes to San Francisco to visit her mother.
She owns her condo and the money she gets, $1,500, helps her cover the monthly mortgage fee. She advertises on Craig's List and has easily found renters for a number of years.
But this year she is terrified that City inspectors will find out and levy huge fines if, on the odd chance, one of her neighbors complains.
She is right to be worried. Technically, she could be charged with operating an "illegal hotel." Last May, New York City started enforcing a law that makes it illegal to rent out your own home for a period of less than 30 days.
Most likely, nothing will happen to Stephanie, unless she has a neighbor with a grudge. But the consequences for many other New York City homeowners who rent out bed-and-breakfast style apartments in New York have been much more severe.
Police, fireman and city officials often inspect and confront bed-and-breakfast hosts with fines and penalties that can cost hundreds of thousands of dollars.
One particularly sad case involves Ronald and Pamela Wyman, who have a beautiful townhouse facing the Hudson River at 36 Riverside Drive. They live on the first floor and rent out gorgeously decorated apartments upstairs; they have for more than a decade. Last fall, police and firemen showed up at their home and issued a slew of violations. As a result, the Wyman's were forced to vacate their own apartment on the first floor of their historic brownstone.
A Legal Battle With Economic Consequences
These violations all came about because, last year, the City started enforcing a new state law making bed-and-breakfasts with kitchen facilities and other temporary vacation rentals illegal in New York City when rented out for less than 30 days.
The new law was widely touted and sold as a way to prevent overcrowding, dangerous SROs, unsafe, makeshift hotels, and Internet scams.
These are certainly admirable goals, but the new law casts way too broad a net and has already ensnared many legitimate vacation rental owners, bed-and-breakfasts, and ordinary New York renters who want to sublet their apartments for a short time.
Perhaps most worrisome is the fact that full implementation of this law could have unanticipated, costly consequences for the city's financial engine by discouraging a booming, entrepreneurial form of tourism -- vacation rentals are part of a $100 billion plus world-wide industry that has become a phenomenon in the last few years.
An Emerging $Multi-billion Tourist Market
Major online booking and reservation sites like AirBnB, BedandBreakfast.com, VacationRentals.com, Craig's List, TripAdvisor, and Expedia.com, make it easy for homeowners to connect with far-off, would-be renters.
Powered by the Internet, the high-tech -- low-tech multi-billion dollar vacation rental business has exploded in the last six years. Internet middlemen are reinventing the traditional tourist industry by providing new forms of accommodations with novel products and innovative ideas.
In terms of numbers of accommodations for rent and an overall tourist demand, it is natural that New York City has become the nexus of this world-wide activity. Vacation rentals are already helping to power the city's thriving tourist industry.
It is no secret that tourism, with 50 million visitors flooding in each year, is a major engine of job growth in New York City. According to city records, overall city visitors have a $47 billion impact annually, attending Broadway shows, eating at restaurants, visiting museums, and shopping like crazy all over town.
Even though job growth in the financial services sector has all but disappeared since the financial meltdown, employment is on the rise in New York City in industries that are impacted by an influx of tourism. Hotel construction is up and retail stores in New York City offer 12,800 more jobs in 2012 than they did when the recession hit in 2008.
The economic boost of bed-and-breakfast and vacation rentals -- in jobs created, and billions brought to the local economy -- should far outweigh the fears of tenant activists and the hotel lobby. If NYC continues to ban vacation rentals, it will cost our local economy up to two billion dollars in tourist spending and up to 20,000 jobs. Bottom line: the more tourists come to the city, the more unskilled jobs there are for local residents.
AirBnB, one of the larger Internet booking sites, claims it books more rooms per night than any of the big hotels in New York City. It has listings for almost 14,000 rooms, for which it spends hundreds of millions of dollars promoting tourism in NYC via Google advertising all over the world. Air BnB, which started in 2008, has now booked over 10 million rooms and reports a 500 percent growth rate in the last year alone.
No one can quote numbers with absolute certainty, but, based on more than 5,000 vacation rental listings (compared to about 90,000 hotel rooms), it is a conservative estimate that, each year, some 4 percent of tourists (just under two million) [1] stay in vacation rental apartments and bed-and-breakfast accommodations in more than 300 buildings.
Much evidence and common sense suggest that these new vacation apartment rentals are drawing discretionary travelers: families, young people, retirees, and other visitors who would not -- perhaps could not -- otherwise come to New York City.
In fact, a recent survey of 5,000 vacation rental guests to NYC found that 94 percent of tourists who have rented bed-and-breakfast vacation rental apartments said that they would not have come to New York City if they had had to pay for a hotel room costing more than $250 per night.[2]
And given these figures, the financial impact to the city from these vacation rentals will be close to $2 billion (out of a $50 billion total) in 2012.
"The prices I charge are less than a third of what hotels would charge for the same suite accommodations," said one bed-and-breakfast owner. "Try to book a hotel room with a kitchen in the fall. They are not available, and those that are cost more than $500 per night. Many families and young people cannot pay that."
Not Just for "Budget" Travelers
It's not only the budget-conscious who are looking for more authentic accommodations with kitchens and other home amenities when they travel. President Obama shelled out more than $80,000 for a two-week luxury vacation rental in Hawaii a couple of years ago. An illegal rental. President Clinton did something similar in Martha's Vineyard.
The trend to book homes over hotels has even extended to small businesses, said Bob Milne, president of Wyndham Vacation Rentals North America.
An article in the New York Daily News noted, "Consumers are coming to understand the incredible value a rental offers with such conveniences as a full kitchen, washer/dryer and ample space." And even large companies that send employees on business trips, corporate per diems have not risen with inflation, which increases the desire to cut costs.
Bottom line: the more tourists come to the city, the more unskilled jobs there are for local residents. "We can't afford to lose theses jobs, we can't afford to lose the tax income, and we can't afford to send away budget tourists," said David Satnick, an attorney for vacation rental owners.
_______________________________________________________
[1] 4,000 vacation rental accommodations works out to 1,448,000 room nights at double occupancy totals nearly three million visitors, which, allowing for vacancies, makes the figure of two million vacation rental visitors reasonable.
[2] Poll of Vacation Renters by STRAHA
*Much of the research for this post was done for a related article in the July/August issue of 'Washington Monthly,' which will be available online later this month.
Write to: jfleetwood@aol.com.
SUBSCRIBE TO & FOLLOW THE MORNING EMAIL
The Morning Email helps you start your workday with everything you need to know: breaking news, entertainment and a dash of fun. Learn more