Michael O'Leary, the cavalier leader of European discount air carrier Ryanair, is garnering worldwide press, yet again, for his plans to offer in-flight porn via handheld devices on its flights.
The low-fare airline, the largest in Europe, carrying more than 7 million passengers per month, plans to develop an app which passengers can use on their iPads or smartphones to pull up gambling and pornographic websites.
Offering porn sites in hotels for a fee is one thing, Bob Atkinson of Travelsupermarket told the Sun, a London based tabloid. "But that's in the privacy of a room. Anyone could see it on a plane. It's wrong."
As to whether it is a step up or down from his years-old promise to offer free "blow jobs" in business class, the jury is still out, (the translator said there was no German word for "Blow Job" and O'Leary replied that Germans must have terrible sex lives).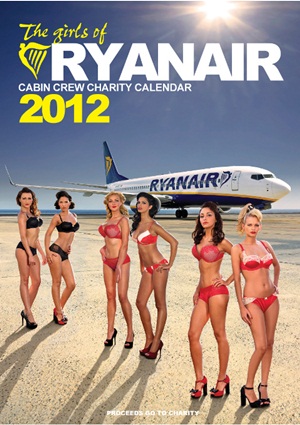 Readers of the Sun and USA Today have offered mostly comedic opinions on the subject. Lionel13, a Sun reader, offered a predicament: "What if the plane lands on time and the film hasn't ended...extra baggage charge?"
"When the plane is crashing, You can still get off," joked a USA Today reader, Phil Bender.
"Trays raised or lowered? I hope that the passengers have to put the tray down while accessing it........but let's not go there!" commented Martin Higginson on the Travelmole blog.
O'Leary may be the trailblazer of porn in the skies, but the public viewing of pornography is a right of the first amendment, according to various news reports. New York public libraries have recently been confronted with the issue of threesomes and toys on reading room computers because of rather unrestricted Internet access, the New York Post reports.
Some libraries do provide private viewing screens, much like cubicles, for instances of personal or mature computer use. Perhaps Ryanair can take a cue. Extra-large blankets for sale?
Still, O'Leary has not lost his diehard audience of passengers, according to a comment from Gary Boland, in the Travelmole blog: "He's brilliant! No, I don't agree with in-flight porn for obvious reasons but you've got to hand it to Mr O'Leary -- he's brilliant at coming up with ideas to keep us all talking about Ryanair." While others were still skeptical: "If you believe this, you're an idiot," writes Alex Thomas in a USA Today message board related to the piece.
Unfortunately, excited passengers will have to wait a year before they can access steamy scenes on the plane, or at the very least, until Ryanair can figure out how to provide access to enough broadband to support their app.
Ryanair operates 1,400 flights per day and has been consistently profitable over the last decade, even when the global airline industry collectively lost nearly $50 billion. In the 2010 fiscal year Ryanair earned $431 million.
O'Leary is planning to bring the airline to America, although, it seems that some of their a-la-carte fees and ticket tactics have already landed here.
O'Leary is the leader of a drastic reassessment of the commercial airline industry. "At the heart of the O'Leary philosophy is the idea that commercial air passengers are not delicate creatures whose repeat business depends of free pillows, blankets, and tea. Rather, they are hardy beasts --parsimonious when buying a ticket, profligate once in the air ... The question... is not whether the O'Leary Way will be further adopted by airlines scrambling for survival but how far and fast his paradigm will spread." This, according to BusinessWeek.
O'Leary's dream is that all passengers will fly free on Ryanair and that all income will come from baggage fees, ticketing fees and in-flight sales including porn and gambling fees.

O'Leary's epiphany was realizing that Herb Kelleher and Richard Branson's flamboyance were generating loads of free publicity for Southwest Airlines and Virgin Atlantic.
He once dressed up as the Pope to launch a new route to Rome, insulted high-ranking government officials, vowed to make passengers pay for toilet breaks, and fly in standing compartments.
O'Leary has said that the major airlines have been confusing their customers, treating cheap budget travelers as though they were "One-percenters" and hauling them with a level of courtesy that they would never get anywhere else.
O'Leary's ultimate validation for these strange and insulting ideas is that more and more people are flying Ryanair. "The customer is not always right, "O'Leary has said repeatedly, "The customer is usually wrong."