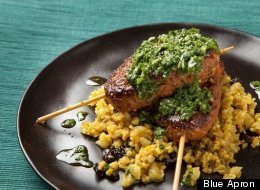 When it comes to getting dinner on the table, we turn to quick-cooking ingredients that yield the tastiest main courses. For meat, we love how ground turkey, lamb, beef, and chicken turn into the base of incredibly flavorful, surprisingly easy meals. They remind us of home, too.
We prize quality in our ground meats, and with news of lesser ground meat afoot, you should put that high on your list. The best option is to have your local butcher grind the best-quality meat right there in front of you. If you own an electric mixer, you may be able to get a grinder attachment and grind brisket, short rib, or boneless chicken thighs at home.
What ground meat dish makes you think of home?
Ground Beef, Turkey, Pork, and Chicken Recipes
This Thai Chicken Burger is flavored with lemongrass, ginger, hoisin-sriracha mayonnaise and fresh cilantro. Get the recipe!

Our meatballs bake up in the oven, saving lots of fuss. Doused in tomato sauce and topped with melted provolone, they're simple and incredible. Get the recipe!

Coriander, cumin, and turmeric play a huge role in Moroccan dishes - and they make this excellent beef tagine the star of the dinner table. Get the recipe!

Mini brioche buns turn classic burgers into completely adorable bites. We garnish our burgers with a yummy Russian dressing. Get the recipe!

A twist on the traditional warming Italian pasta is reminiscent of Western Italy and finished with chopped fresh basil. Get the recipe!

Merguez-like kebabs of ground lamb and beef are spiced with a North African-style combination of cinnamon, fennel, coriander, and paprika. Get the recipe!

Comfort food like mom made back in the 1950s becomes an easy, healthful dinner when we use ground turkey instead of beef. Get the recipe!

We turn sliced cucumbers into homemade quick pickles, taking these luscious short rib burgers to the next level. Get the recipe!

The tasty chili made with ground turkey is delicious. Go big on the toppings--avocado, cilantro, jalepeños, and cheese add to the flavor. Get the recipe!

Greek comfort food at its finest, layers of eggplant, a meaty sauce, and bechamel make this moussaka filling and delicious. Get the recipe!
Follow Blue Apron on Twitter: www.twitter.com/BlueApron