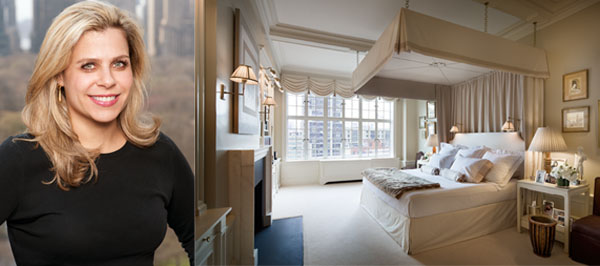 The interior designer Alexa Hampton takes time off from her busy schedule (decorating projects, running her father's design firm Mark Hampton LLC, creating product lines for the likes of Kravet, Circa Lighting and Hickory Chair and raising a family) to talk about design legacies and being mistaken for a Park Avenue Princess when in fact she would rather have the moniker Queen of the Flush Mount attached to her name.
When I wake up... I check to see which of my children has snuck into my bed overnight and then I go in for a cuddle. Nothing is better than a warm, sleepy child.
Before I go to bed... I put on my Revitalash, set my alarm on my Blackberry and make sure all my devices are charging. Then I kiss my wonderful husband goodnight.
A well-dressed man/woman... wears their clothes and doesn't let their clothes wear them.
Women should always... refuse to let others dictate who they need to be.
Men should never... try to tell a woman who she needs to be. (Or wear short sleeved button downs).
The best thing that's been said about me... when asked in class to name his hero, my son Michael said "my mommy because she loves me and is always nice to me." However, I think he must not have realized he could say anyone. If he had, he likely would have named the soccer player Lionel Messi.
The biggest misconception about me... is that I am a Park Avenue Princess. If only!
If I weren't doing what I'm doing today... I would do it tomorrow. (Or I would be an unsuccessful artist).
My legacy... is my family. I hope I don't mess up my children too horribly. I also hope some of the products I have designed will stand the test of time. Currently, I like to think of myself as Queen of the Flush Mount (has a sobriquet ever been quite so glamorous?).
A great idea... is something that really makes sense and serves a purpose, no matter how big or small that purpose is.
Botox is... pretty fabulous.
My mother... is loving, smart, beautiful, reads everything and has an amazing vocabulary. Not too shabby.
The soundtrack of my life... is Stevie Wonder, without question.
The future... is exciting and filled with endless potential.
Happiness... is my children, my husband, my friends, cheese on a baguette, completing and installing a beautiful project, reading a great book, Star Wars episodes 4,5, and 6, red wine, sleeping late and Souvenirs of the Grand Tour.
There's a time and place for... kindness and civility and that time is now.
There is too much... intolerance and small mindedness. And, while we're at it, rudeness and bad grammar.
In the end... we all have to live our lives. Why not do that while being kind and having fun? Optimism is a wonderful thing.
All photos courtesy of Alexa Hampton.
Follow me on Twitter: @bluecarreon
Read more from me on Style Intel