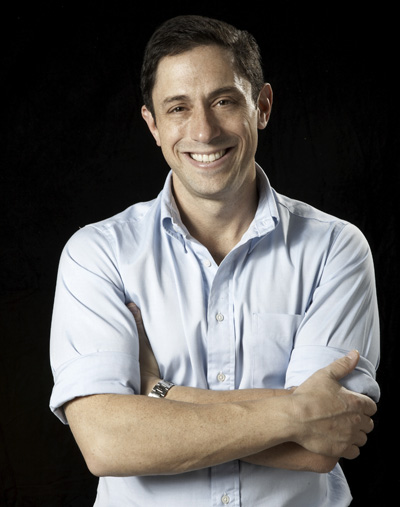 Is there anything that Jonathan Adler doesn't do? His list of day jobs stretches a mile long: decorator, potter, reality television star, author, shop owner, furniture and accessories designer, Lacoste collaborator, purveyor of all things groovy and wacky, ad infinitum.
Below, the sought-after decorator, who combines bold patterns and unexpected styles with the dexterity of a race car driver, talks about fat-free apple pies, Ke$ha and, of course, his perpetually floral print-clad husband, Simon Doonan.
When I wake up... I pretend to still be asleep in the hope that my hubby, Simon, will wake up and take our Norwich Terrier Liberace out for a walk.
Before I go to bed... I look in the mirror and tell myself that I'm good enough, I'm smart enough and people like me.
A well-dressed man/woman... is quirky. Style innovation is driven by outliers.

Women should always... smile.
Men should never... whine.
The best thing that's been said about me... My employees tease me by calling me "America's most famous potter." What more could a guy ask for?
The biggest misconception about me... is that I'm wacky. I'm very serious about what I do and I strive to make beautiful and well-crafted objects. Sadly, we seem to live in a world where the only way to be taken seriously as an artist or a designer is to be dour and obscurantist. I want my work to be serious and fun and communicative at the same time.
If I weren't doing what I'm doing today... I'd be unemployed. I was fired from every job I ever had because I was surly and inappropriate and engaged in all kinds of PG13 office hijinks.
My legacy... is, I hope, great design that will be appreciated in the future. My motto is "If your heirs won't fight over it, I won't make it".
A great idea... would be for someone to make really good apple pie that is fat free.
Botox is... fine. Whatever gets you through the day. BUT, men shouldn't do anything to their faces. Never a good idea.
My mother... taught me to never be banal. She has never said, "I find you can't have a bad meal in Italy" or "Your parents must be very proud" and she never uses euphemisms. It's not "passed away", it's "dead." She's direct and unexpected and I adore her.
The soundtrack of my life... is embarrassingly Top 40. Ke$ha, Ke$ha, and more Ke$ha.
The future... is, I hope, as happy a time for me as the present.
Happiness... is going to sleep in my bedroom on Shelter Island with my husband and my dog, listening to the waves and watching the dying embers in my preway fireplace.
There's a time and place for... vulgarity. The time is always and the place is right here.
There is too much... negativity and vitriol on the Internet.
In the end... I hope the stuff that I've made brings people joy for generations to come.
Photo courtesy of Jonathan Adler.
FOLLOW HUFFPOST