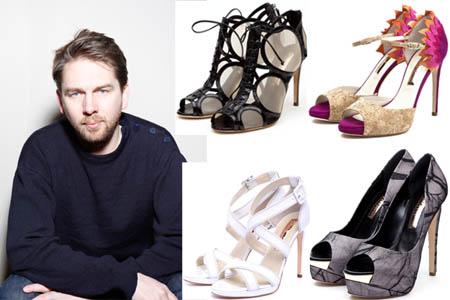 For Rupert Sanderson, designing a shoe is not about making a pair of ridiculously over-designed and stratospheric high heels that no woman can comfortably walk in. What he does is create shoes with the aim of flattering a woman's leg. "Shoes are meant to complement women. Not dominate them," he told me when I interviewed him before. "I design shoes for women to wear rather than design shoes that wear the women."
Below, Sanderson explains what it feels like when a great idea hits him and how the future looks like. At least to him.
When I wake up... I check the pistol is still under the pillow.
Before I go to bed... I check my children are in their respective beds.
A well-dressed man/woman... exudes self-confidence.
Women should always... that's not for any right thinking man to say.
Men should never... laugh during the sad bits.
The best thing that's been said about me... I'm a great tennis player.
The biggest misconception about me... I'm not really a very good tennis player.
If I weren't doing what I'm doing today... I'd have to ask someone to do it for me tomorrow.
My legacy... too soon to tell.
A great idea... hits you like a frying pan in the face.
Botox is... a horrible sounding word I don't think I've ever used.
My mother... thinks I work in a bank.
The soundtrack of my life... English birdsong mashed up with some big brass funk.
The future... looks shoe-shaped.
Happiness... is where I am this second.
There's a time and place for... Morris dancing.
There is too much... of the stuff that we don't really need.
In the end... you've got to make sure it was all worth it.
Portrait of Rupert Sanderson and images of his spring 2012 shoes all courtesy of Rupert Sanderson.
Read more from me at Style Intel.