First, a little geography: Check out a map of the Caribbean, and you'll spot the island of Hispaniola about 650 miles southeast of Miami, wedged in between Cuba and Puerto Rico. Two countries share the island, the Dominican Republic on its eastern two-thirds and Haiti on the western third.
Next, a few facts: The Dominican Republic, or the DR as the locals call it, hosts some 4 million visitors a year -- making it the top vacation destination in the Caribbean. Punta Cana, the country's most popular resort area, runs along 70 miles of powdery beaches on the eastern shores of the DR.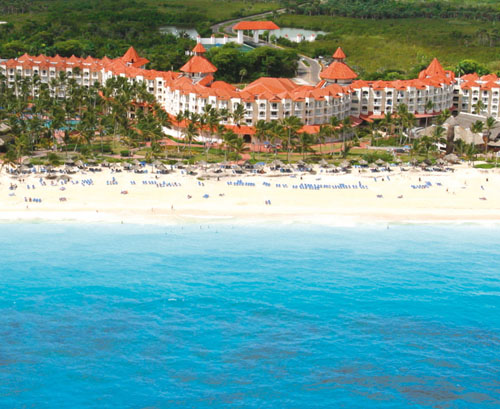 My stay there started with a pleasant surprise at the airport: The terminal looks much like an oversize grass hut, creating a mood of the old-time Caribbean. It gets even better inside, where passengers are greeted by bands batting out peppy merengue tunes, the DR's own music.
When I got to my hotel, the Barcelo Punta Cana, a Ricky Martin double at the pool was teaching guests how to shake their booties to that infectious beat.
Picking up the dance's simple one-two, one-two step was a snap. In a few minutes, I was out there shaking it up with the rest of the merengue newbies to Martin's "left, together, left, together, right, together, right..."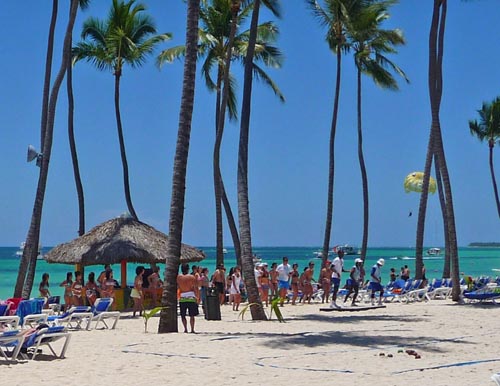 Down on the beach, I found the same dance steps worked (more or less) to a Caribbean version of country and western line dancing called "Follow da Leadah." The dance lines look similar, but you'd hardly find Willie Nelson or Carrie Underwood kicking off their boots to hop around in the talcumy sand singing, "The room, the room, the room is on fire... follow da leadah, leadah, leadah... up... down... left... right... do it again..."
The tune, a pumped-up Trinidadian soca, seemed to go on forever, leaving out-of-shape boomers (including myself) piled up on the beach like limp noodles.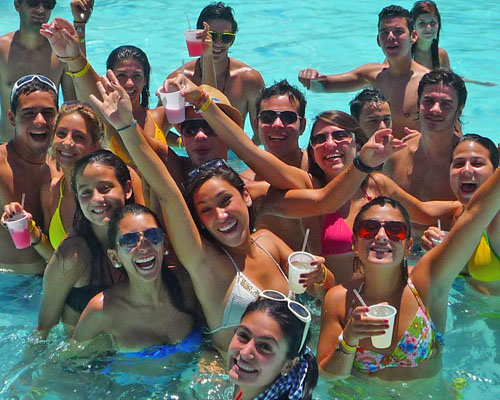 Things to see and do: Tours of the country range from a three-hour drive to explore the colonial treasures of the DR's capital city of Santo Domingo (once Spain's capital of the New World) to snorkeling with stingrays and nurse sharks on a "marinarium" cruise of the DR's reefs.
I found these and nine other tours including dolphin encounters and cultural outings in a brochure by Turissimo Caribe Excursiones D.R., the tour operator of Delta Vacations. Tour prices run from $89 to $168 per person
I finished off my stay in the DR at a nightclub. The DJ mostly played the latest merengues mixed with some bachatas (another local dance), a few compas tunes from neighboring Haiti and -- of course -- Follow da Leadah line dances. I was getting pretty good at it by the time I hit the sack.
Getting there: Many of the major airlines fly nonstop to Punta Cana from their U.S. mainland hubs and from Puerto Rico. Delta, for example, schedules nonstop hops to Punta Cana from Atlanta and New York-JFK.
Staying there: Punta Cana's beaches are dotted by four dozen or so mega-resorts. Among the top hotels, the 798-room all-inclusive Barcelo Punta Cana (www.barcelopuntacana.com), one of six Barcelos in the area, features seven international restaurants, a nightclub, a beachside wedding area and an 800-seat theater with live nightly entertainment.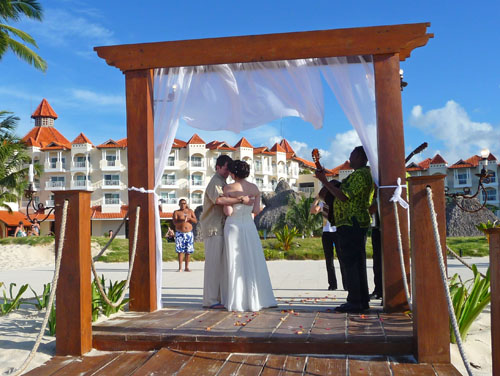 More info: Visit the Dominican Republic Ministry of Tourism at www.godominicanrepublic.com. For money-saving vacation packages, call your travel agent or visit tour operators such as Delta Vacations at www.deltavacations.com.
Photo of beach dancers by Christine Loomis
SUBSCRIBE AND FOLLOW
Get top stories and blog posts emailed to me each day. Newsletters may offer personalized content or advertisements.
Learn more