Townsfolk claim the mysterious German writer who used the name B. Traven wrote his famous novel Treasure of the Sierra Madre in the village of Alamos out in western Mexico's Sonoran desert.
It's easy to see how this old Spanish mining town might have inspired a book about the lure of riches waiting to be ripped from the hills.
A stroll along Alamos' cobbled lanes, porticoed walkways and Andalusian courtyards takes you back to the 17th and 18th centuries, when the silver mines of the nearby Sierras made this city one of the richest spots on Earth. You half expect to see mining barons in silk shirts, velvet breeches and knee-high leather boots strutting off to count the day's take. You can imagine ladies in hooped skirts and white petticoats heading to afternoon teas. Silver-plated carriages, it's said, once lined Alamos' cobbled lanes like Rolls-Royces along Beverly Hills' Rodeo Drive.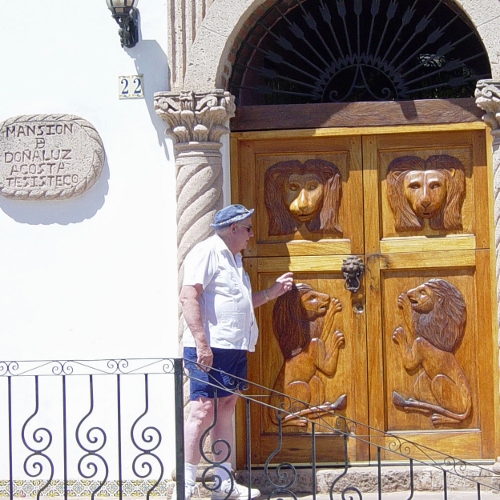 Tourist at doors to a fabulous mansion.
The mines gave up so much silver that the town had its own mint (the building is now a schoolhouse). From there, the shiny stuff was loaded on mules, which went plodding off to Mexico City on a segment of the Royal Highway specially built to carry the loot from Alamos. The city also had its own silk factory -- even silver barons had to dress for success -- the worms having been cultivated in white mulberry trees imported from Japan along with gardeners and silk weavers.
The city sprung up in the 1680s as a bedroom community for the fabulously wealthy mining jefes (bosses). Their mansions were handed down from generation to generation and until a few years ago were one of Mexico's best bargains, even after the cost of a facelift. For example, not too long ago an American expatriate snapped up an aging villa for $300,000, with plans to turn it into a hotel. In on-the-beaten-track colonial cities such as San Miguel de Allende, the tab to buy the same building could easily have topped a million dollars.
Centuries-old homes in this town of 13,000 are still said to be a good deal, but prices have been heading upward. In part, that's come from the "discovery" of Alamos by expats from across the globe, including a hefty number from the U.S. and Canada. More than 300 of them have moved in so far.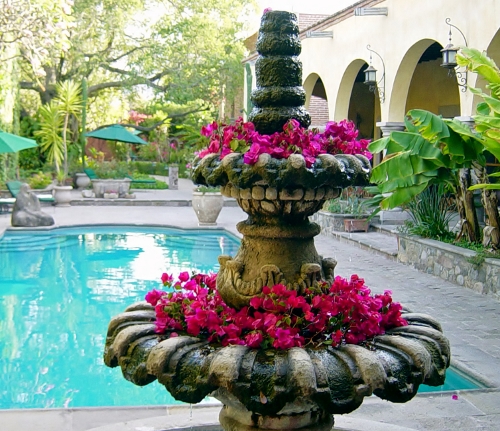 Pool at the Hacienda de los Santos.
The dons and donas may be gone, but tourists can enjoy their legacies in 188 preserved buildings in Alamos -- everything from mansions and mills to the local jail -- tagged as national historic monuments.
Wander around the city (you can walk from one side of it to the other in 20 minutes) and you'll find historic gems such as the Museo Costumbrista, a museum where exhibits make Alamos' golden age come alive. Other displays take you through the mining process, complete with vintage equipment and aging photos.

Keep walking, and you'll run across the home-turned-museum of Mexico's old-time movie queen and Alamos' most famous daughter, Maria Felix, known as "The Mexican Marilyn Monroe." Elsewhere in the city are the former homes of American stars Mary Astor and Carroll O'Connor.
Sooner or later you'll end up in the zocolo (the town square), the village's most popular spot. Here, families drop by for picnics or to catch up on the latest gossip. At night, you might hear the sweet strumming of Mexican guitars from the square's bandstand -- mixed now and then with loud, thumping sounds.
Look close, and you'll likely see the thump-a-thumps are coming from boom-boxes in the vintage jalopies of teenagers cruising the zocalo. The kids probably don't know it, but they're re-enacting a centuries-old mating ritual once done with carriages circling the country's zocalos.
At Alamos, perhaps in silver-plated carriages.

Alamos looks much like it did centuries ago.
Getting there: Check out a map of Mexico and you'll see the state of Sonora just below Arizona. Now, look for a tiny speck down at the lower end of Sonora, literally at the end of the road. That's Alamos.
Airline flights from U.S. gateways can take you most of the way. Passengers typically fly via Los Angeles or Phoenix to Sonora's main international terminal at Hermosillo, then connect to a commuter flight to Ciudad Obregon, Alamos' closest commercial airport. From there, it's a little over an hour's drive to Alamos in a taxi or hotel van.
Many visitors opt to drive down from the U.S. and do some sightseeing along the way. The highway from Tucson takes you across the border at Nogales then down Sonora to the state capital at Hermosillo then to the beach resorts at Guaymas and San Carlos on the Sea of Cortes. When you get to Alamos you'll have driven close to 500 miles.
Whether you travel to Alamos by air or ground, chances are it'll take you a long, long day or a couple of days to get there. But most visitors agree, the town is worth every minute of the trip.
Staying there: Alamos offers a dozen or so tourist-class hotels, inns and guest houses, mostly once the mansions of mining moguls (and now mostly owned by American and Canadian expats). Among the favorite spots of foreign visitors are the Hacienda de los Santos and
the Casa de los Tesoros.

More info: Visit the State of Sonora's tourism office or the Mexico Tourism Board.
About B. Traven: That was the pen name of a German writer who came to Mexico in the 1920s. Beyond that, not much is known about him for sure, not even his real name. Among his literary works were 12 novels, including some in which his main characters were German political activists who fled to Mexico in the '20s. He departed from that theme in his 1927 masterpiece, Treasure of the Sierra Madre.
Photos by Bob Schulman
SUBSCRIBE TO & FOLLOW LIFESTYLE
We're basically your best friend… with better taste. Learn more