The music swells, the pirates -- the good guys in the movie -- let out a great hurrah and Captain Blood (Errol Flynn) gives us a boyishly handsome grin as his guns blast an enemy galleon into toothpicks.
I've seen Michael Curtiz' old movie Captain Blood maybe a dozen times, and if there'd been a pirate recruiting desk anywhere close, I'd have signed on in a heartbeat.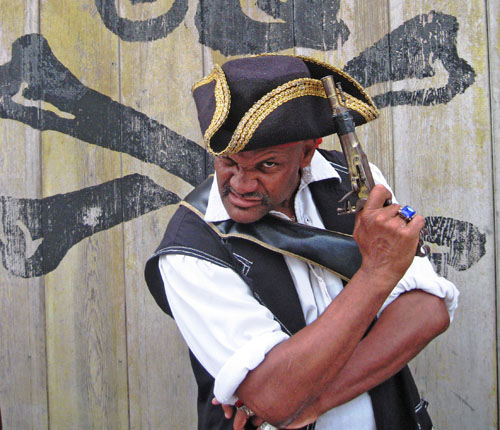 More recently, Johnny Depp stoked me up with his series of widescreen swashbucklers, Pirates of the Caribbean. Ditto for the late Michael Crichton's new page-flipper, Pirate Latitudes, complete with the motliest of motley crews, an Errol Flynn-ish buccaneer captain and his heroic rescue of a fair damsel in distress (the Jamaican governor's daughter).
I almost felt like slipping on an eyepatch and saying "argh."
Maybe there's a little Captain Blood in all of us, just itching to feel the salt air slapping us in the face as we weigh anchor for yet another adventure on the Spanish Main.
Ironically, the bloody Main runs through some of the most gorgeous islands on the planet. Take the U.S. Virgin Islands -- principally St. Thomas, St. Croix and St. John -- about 1,000 miles southeast of Miami. They were once a sort of rest and relaxation haven for brigands of the likes of Bluebeard, Blackbeard, Sir Francis Drake, Henry Morgan and Captain Kidd.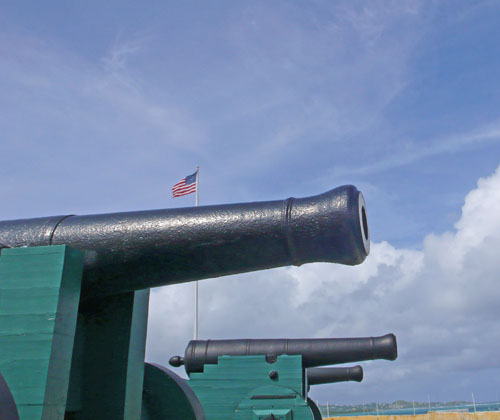 The legacy of the scofflaws' heydays of the 1600s and 1700s can be seen around the three islands today at beaches and coves named after their adventures and in the names of hotels, bars and restaurants. For example, you can tee off on a championship golf course at the Buccaneer Resort on St. Croix. You can chow down at "Morgan's Mango" on St. John. You can take a "Pirate Cruise" around the bay of St. Thomas. And you can finish off the day with a wickedly potent "Swashbuckler" cocktail at bars all over the islands.
Two of the most popular tourist sites on St. Thomas are the stone, tower-like castles of Edward Teach, called Blackbeard, and of a storied rascal known only as Bluebeard. Perched on hilltops overlooking the harbor, both castles have been converted to hotel-restaurants complete with bars and swimming pools.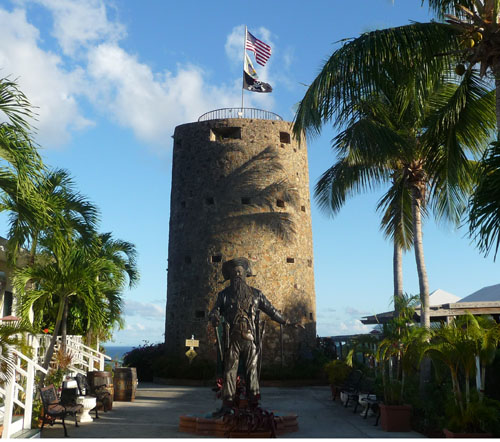 At Blackbeard's, you'll hear tales of how local governors gave him safe harbor in return for a split of his loot. Another yarn tells about the 14 wives he was supposed to have had -- all at the same time. Why so many? Because they didn't last too long. His favorite after-dinner entertainment, it's said, was to encourage the ladies to dance by firing his pistol at their feet. And he had a terrible aim.
Bluebeard -- presumably a better shot -- settled for a mere eight wives. Stories say his prize catch was island socialite Mary Mercedita, who wasn't aware that she was sharing his favors. One day, while hubby was off plundering, she opened his trunk and found papers revealing that she had seven co-wives. That would never do, especially for a socialite. So she got rid of the others by inviting them to tea -- laced with poison.
Convicted of murder, Mary was sentenced to be burned at the stake. But just in the nick of time, the story goes, Bluebeard showed up and rescued her. They sailed away, never to be seen again on St. Thomas.
Legend has it Bluebeard turned up later on (without Mary) on an island today called Dead Chest in the nearby British Virgin Islands. Here, after his men buried a big load of treasure, he is supposed to have marooned them with only a sword and some booze. Hence, the song, "Fifteen men on a dead man's chest, yo ho ho and a bottle of rum."
Back on the U.S. Virgins you'll find a different kind of booty up for grabs these days: duty-free shopping bargains, sought by millions of tourists a year, many from cruise ships regularly seen packing the bays of St. Thomas and St. Croix.
Wall-to-wall shops lining the islands' cobbled lanes offer a breathtaking array of everything from Swiss watches to exotic liquors. Best buys include top-name perfumes, designer clothes and hand bags, cameras, jewelry, china and fine crystal -- at prices way below what you'd pay back home.
You can bring back $1,600 worth of purchases per person without having to pay U.S. customs taxes.
Staying there: The U.S. Virgins list some 100 lodging spots with tourist-class accommodations including two dozen large resort hotels. Prices vary by season.
More information: Check out the U.S. Virgin Islands Department of Tourism's site, www.visitusvi.com.
Photo credits:
- Photo of pirate by Rich Grant.
- Photo of cannons on St. Croix by Bob Schulman.
- Photo of Blackbeard's Castle on St. Thomas by Rich Grant.
- Photo of cable car over St. Thomas courtesy of U.S.V.I. Department of
Tourism.
SUBSCRIBE AND FOLLOW
Get top stories and blog posts emailed to me each day. Newsletters may offer personalized content or advertisements.
Learn more