Ann Mah, photo by Marcus Nilson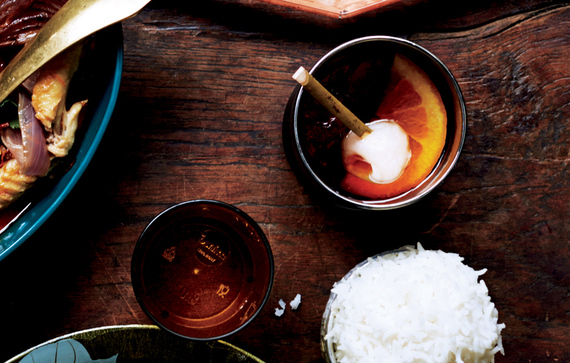 The next best thing to lounging on a Phuket beach is throwing a Thai dinner party, redolent with the exotic flavors of Southeast Asia--that perfect balance of sweet, sour, spicy, bitter, and briny. But maybe you don't have time to cook a three-course Thai meal. Why not try the next best thing? A Thai cocktail.
Created by Uncle Boons--one of New York's favorite Thai restaurants--the Bolan cocktail is made to pair well with Thai cuisine, but it drinks pretty darn delicious on its own, too. Start by muddling orange slices, bitters, and palm sugar in an Old Fashioned glass. Don't have any palm sugar in the pantry? No problem, a pinch of the regular stuff will do. Fill the glass with ice and Mekhong (or other) whiskey. Garnish with a canned lychee--or not, the choice is yours. Before you take a sip, consider phoning in an order from your favorite Thai delivery place. Phuket just came to you.
BOLAN
This cocktail from Uncle Boons in New York is made to pair well with Thai food.

Ingredients:
2 slices orange slices
2-3 dashes Angostura bitters
1 teaspoon palm sugar or ½ teaspoon granulated sugar
3 oz. Mekhong or other whiskey
1 lychee from a can (optional)
Preparation:
Muddle orange slices, bitters, and palm sugar in an Old Fashioned glass. Fill with ice and add whiskey. Garnish with lychee, if desired.
See more from Bon Appetit:
SUBSCRIBE AND FOLLOW
Get top stories and blog posts emailed to me each day. Newsletters may offer personalized content or advertisements.
Learn more