"Knocked Up" isn't just a hit movie, it's the state of the hottest fashion magazine cover girls now and, I predict, for the foreseeable future. It struck me this week when I checked out the newsstand and there was gorgeous pregnant Halle Berry smiling and glowing, draped in a body-clinging Donna Karan gown and holding her very obviously pregnant belly on the cover of In Style. And she wasn't the only pregnant celebrity cover girl. Beside her, J. Lo, the expectant mother of twins, was looking fabulous on the cover of high fashion, Harper's Bazaar.
Yes, I know that they aren't the first pregnant celebrities on the covers of the monthly style mags, but they are the first who are pregnant — in Halle's case, very obviously so — and they're NOT NAKED! These were not Demi Moore (Vanity Fair), Britney Spears (Harper's Bazaar), or more recently, Christina Aguilera (Marie Claire), shock value covers.
The mags weren't using nudity to sell.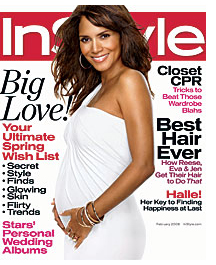 This is a different and entirely new phenomenon. Hollywood has broken the bump cover barrier. The fact is that us women think it's so hot to be pregnant today that an actress or other performer is even more A-list and cover-worthy if she happens to be sporting a bump. And that bump can be beautifully dressed — not bared — and can still propel newsstand sales.
This was not always so. In fact I can remember that it was only a few years ago that #1, most celebrities wouldn't shoot a magazine pregnant if their life depended upon it, and #2, most magazine editors wouldn't want them anyway. Or if they did shoot them, it was only from the neck up, which hopefully wouldn't give away any of their extra poundage. I remember having some tense moments myself, years ago, when I was editor-in-chief of Flare, Canada's fashion magazine, and I first committed to shooting supermodel Kim Alexis before learning that she was five months pregnant. Did I or any of my team ever imagine shooting her full figure and announcing the pregnancy on the cover — not a chance. Pregnancy was simply not chic. It sure is now! And I'm not the only editor thinking this way. I checked in with some of my colleagues to see if they had noticed the sea change.
"You definitely used to be worried if you thought someone you were going to shoot was pregnant, particularly if your magazine's audience was single women. You'd want to hurry up and shoot them before they were showing," recalls Cosmopolitan editor-in-chief Kate White. "Now, pregnancy is sexy. And you don't have to be married to be pregnant, like Halle Berry. Hollywood has led the way in making different lifestyles accepted."
Glamour's Cindi Leive believes, "pregnancy can make an actress more saleable and appealing. It humanizes actresses. They aren't just skinny and perfect. Pregnancy adds pounds, making their bodies more like yours and mine." Good point.
Kate White remembers having to pick up a friend at the airport when she was heavily pregnant and she was late. "I was running, carrying my two-year-old at my hip and people were staring at me as I ran. I thought maybe they thought I was cool, but when I stopped, I realized that the elastic in my pants had slipped down and people were really just staring at my big, bare pregnant belly."
Now of course, celebrities bare their bumps deliberately even if they aren't at the beach. Madonna started it with her first pregnancy -walking around in tight and often midriff-exposing tops even into her ninth month.
Why should stars try to hide their pregnancies with a huge bag these days, asked Charla Lawhon, editor-in-chief of In Style. "They're thrilled that they're pregnant and they know that the coverage of celebrities is so pervasive, so why not go with it. We knew Halle was pregnant when we booked her for the cover and we also knew our readers would want to see her glowing and radiant, as they would want to be, if they were pregnant"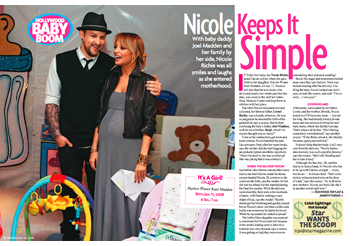 I know she's right. Star like some of our celebrity weekly competitors, long ago discovered the allure of the bump to our female audience. Some of our bestselling covers in the past two years have featured highly pregnant celebrities from Jen Garner, to Katie Holmes, to Angelina Jolie and Nicole Richie. And our readers want to know every last detail about them from virtually the conception, to their fitness routines, wardrobes, nurseries, baby showers, relationships with the baby daddy, to the blow-by-blow of the birth and then their lives at home afterward, with baby.
Then there's the first photo frenzy, with pics of Brad and Angelina's baby Shiloh taking this phenomenon to a whole new level of insanity by instigating a bidding war that ended with People magazine supposedly paying over $4 million to publish the photos.
Lesley Jane Seymour, the new editor-in-chief of More magazine and former editor-in-chief of Marie Claire recalls shooting Gwyneth Paltrow at Marie Claire when she was heavily pregnant and then having to digitally slim her down because the issue would come out after she delivered. "We all agreed on doing it," she recalls. "But now pregnancy is such a badge of honor in Hollywood, if you don't have a baby dangling on your arm-you're underdressed. Pregnancy is a status symbol today."
Lesley is convinced that Angelina Jolie has had a huge amount to do with making being pregnant cover-hot! "I remember photos of her on a movie set (it turned out that she was pregnant at the time). She was holding baby Zahara and she had the most handsome guy on earth, Brad Pitt, following behind her and toting a baby bottle. Who wouldn't want to emulate that?"
As for celebrity publicists, those gatekeepers of the stars, even they are all for endorsing the new pretty pregnant covers. "Being pregnant in Hollywood is no longer a stigma, women wear it and wear it proudly," says Cindi Berger co-CEO of PMK|HBH, who counts Jessica Simpson as well as Sharon Stone and Rosie as clients. "Listen no one wants to be on a cover if they're looking anything but gorgeous, in this body conscious age particularly," says Leslee Dart, CEO of The Dart Group which reps Berry, Penelope Cruz, Charlize Theron, Hilary Swank, and new mom Maggie Gyllenhaal. "However, actresses work and work out very hard to maintain their beauty and health while pregnant today, so why not do a cover? I've always thought that pregnant women were beautiful. And the other thing is that magazines are willing to photoshop a little here and there, if things aren't absolutely perfect."
"The name still sells whether the actress is pregnant or not," adds publicist Alan Nierob of Rogers & Cowan.
So will all women's monthly magazines soon be featuring the likes of pregnant Jessica Alba, Cate Blanchett, or Nicole Kidman? Glenda Bailey, editor-in-chief of Harper's Bazaar, is certainly open to more bumpalicious cover girls: "Everyone wants to be pregnant, it's a very desirable situation to be in and if we want to shoot someone and they happen to be pregnant, then fine."
Cindi Leive would consider it. "I think for readers to be interested in a star's pregnancy they have to have liked her and care about her unpregnant."
However, Kate White doubts there will be a pregnant Cosmo cover: "They're too iconic and it would be too out of left field."
As for me, I forsee a bumper year of bump covers. And since it is so in vogue to be expecting, I suspect Vogue — usually the home of the skinny model — will have one of those covers!
SUBSCRIBE TO & FOLLOW TRUMP'S FIRST 100 DAYS
How will Donald Trump's first 100 days impact YOU? Subscribe, choose the community that you most identify with or want to learn more about and we'll send you the news that matters most once a week throughout Trump's first 100 days in office. Learn more