Now that Hillary has taken Ohio and Texas, could a subtle fashion makeover make her even more electable? I say yes and I say this seriously, Hillary and her handlers may have given hours and hours of thought to her positions and platforms but they haven't focused enough on perfecting her look. And they need to...PRONTO!
Consider the competition. Not only is 46-year-old 6' Obama a great orator but when "you're young, tall and thin everything looks good on you," points out top American designer and "Project Runway" star Michael Kors. Plus, Obama has the added advantage that he is A MAN! He doesn't have to make a choice between a skirt or pants, flats or heels, bright colors or neutrals, red lipstick or pink. He could wear the same suit every day of the week and no one would ever notice. He doesn't have "bad hair" days. For Hillary, it's like what "someone" once said about Ginger Rogers &madsh; "she had to do everything that Fred Astaire did, but backwards and in high heels."
Hillary has a whole perplexing bunch of decisions to make every morning that Obama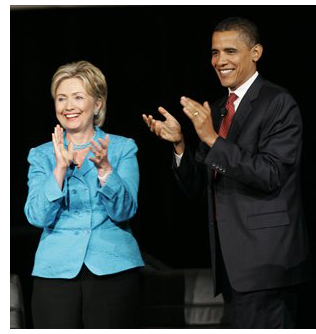 doesn't need to contend with, even before she appears at her first breakfast meeting. No one is ever going to look at his ankles, let alone make a nasty comment about whether they are slim enough. It is absolutely not fair!
And if Team Hillary thinks that how she dresses doesn't matter all that much, then consider what celebrity stylist and television personality Robert Verdi points out — "we don't always hear what people say, but in our flash image society we make flash judgments based on what they look like — images are very powerful. And if clothes didn't matter, then we'd all be walking around naked. Besides, the first people I hear saying fashion doesn't matter for Hillary are the first to say, I hate her in pants."
All the fashion pros I talked to about the Hillary situation agreed — it may be silly but realistically everything that the 5' 6" 60-year-old woman wears will be scrutinized.
"She's walking a tightrope," says Kors. "If she comes across as too soft or feminine, then people wonder 'is she powerful enough?' and then, if she's too tailored...'is she butchy?'"
Her strategy right now seems to be counterintuitive — "I'm the first woman running for President, but I don't want to look like a woman," believes Members Only designer and creative director, Kelli Delaney. In her mannish pants and long boxy jackets, Hillary is trying to wrongly take her physicality off the table, believes Delaney. "If we're modern enough to consider a woman for president, shouldn't she be allowed to be a lady and dress like a chic, gorgeous woman?" she asks.
So what's candidate Hillary to do? Listen up advisers — I think Kors, Verdi and Delaney have some excellent style advice.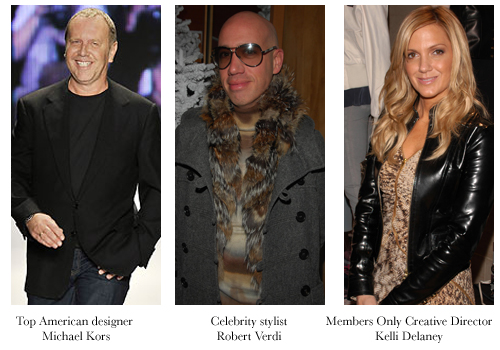 "She needs to dress to inspire and command," But also softer and more approachable says Verdi. "If she looks more likeable, she'll be more electable," believes Delaney.
Yes! It is a tightrope but I agree and I think Hillary can walk it.
Now here's a plan from this style trio:
Drop the 80s Super Bright Designing Women Jacket Colors
"When I see Hillary in a yellow jacket, I'm seeing Sponge Bob," says Verdi.
Bright red and blue are too First Lady, points out Kors — Nancy Reagan owns red, Barbara Bush, blue.
Campaign Big in Warm Colors
Kors likes Hillary in russety brown, caramel, honey colors and coral.
Verdi wants her in "ishy colors" like brownish/grayish, which he says are softer.
Use Diane Sawyer and Barbara Walters as Inspiration
They don't look "fashiony" says Kors, but they look fabulous and authoritative. Looks that look good on them and can work for Hillary, according to Kors — white or black silk shirts with a gold chainlink necklaces. "Gold smacks of success. And we want to feel she's a winner."
Softer, More Fitted Suits Will Suit Her
Shorter herringbone, boucle, or cashmere knit jackets that show off her waist. Small shoulder pads, shorter jacket sleeves..
And Finally Don't Be Afraid to Dress in a Dress
"A dress will not diminish her power," says Kors. Delaney recommends a sleeveless dress with a matching jacket.
So will a more stylish Hillary strike electoral success with both men and women?
"Let's be honest, we don't need any man to say Hillary is 'hot' even though women are looking at Obama and saying 'he's hot,'" points out Kors. "But a man likes a woman who looks successful and feminine."
As for us women, we didn't like Jackie Kennedy any less because she dressed beautifully. We loved her for it and we copied her, says Delaney.
I've met Hillary myself and she was totally smart and friendly. Those who know her well like publicist Ken Sunshine tell me that she is funny and a wonderful mother and friend.
I believe it. And I think she could be a wonderful president. So, while I don't think anyone wants Hillary to morph into a full-time fashionista, she can take what celebrities, stylists and even women's magazine editors have come to know — a style makeover can have a magical effect. Even in an election!
Photo credits, clockwise from top right: AP, Patrick McMullan, Patrick McMullan, Style.com