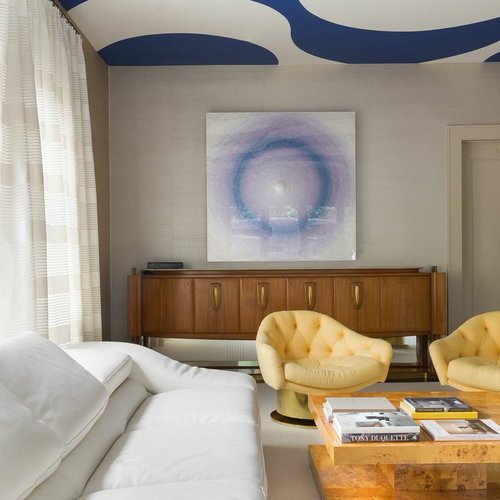 Michelangelo did it in a church. Marie Antoinette did it with mirrors -but somewhere along the way the rest of us forgot to look up --and paying attention to ceiling design faded mostly into history.
San Francisco designer, Benjamin Dhong of Benjamin Dhong Interiors blames the abandonment of what he calls the "fifth wall" on finances. "We became the victims of cost cutting budget painters," says Dhong, "there's nothing easier for a painter than to paint the same trim color and the same ceiling color throughout the entire house. It's time for home owners to say no...It's like wearing the same hat with every single outfit in the closet."
Grey plank faux bois wallpaper on the ceiling by Benjamin Dhong Interiors.
It's also a missed opportunity. "It's a great way to add texture," says Dhong, "nothing is more boring than a white ceiling." He adds, "It's a way of injecting visual interest and pattern without overwhelming the room."
For a recent client seeking to introduce color into a sophisticated, monochromatic living room Dhong took inspiration from the wavy, graphic design of a Rio de Janeiro beach path and painted the ceiling with a similar pattern in blue and white. "When you walk in [to the room] it's bold, it gives you energy," says Dhong, "but it's still very calm, because everything at your eye level is calm. It doesn't intrude on the room."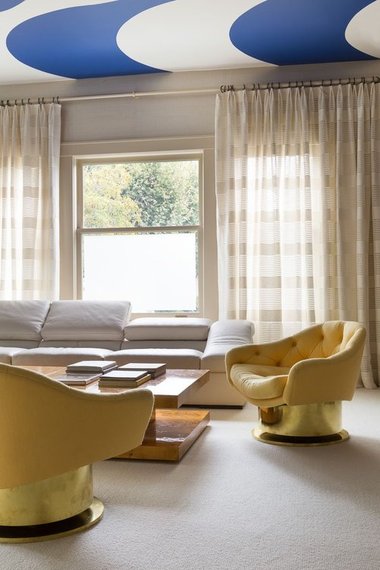 Hand-painted ceiling design by Benjamin Dhong Interiors.
Designer Stephanie Laney of Surfaces USA used a similar approach to create a focal point for the family room inside this year's Pasadena Showcase House of Design. "We took everything off the ceiling and put up the panels," says Laney of the dramatic 3D tiles installed overhead, "they gave the room movement and some nice shadowing."
"I'm big on ceilings," she admits, "I always seem to wallpaper them, paint them a different color -do something that really draws the eye up in the space."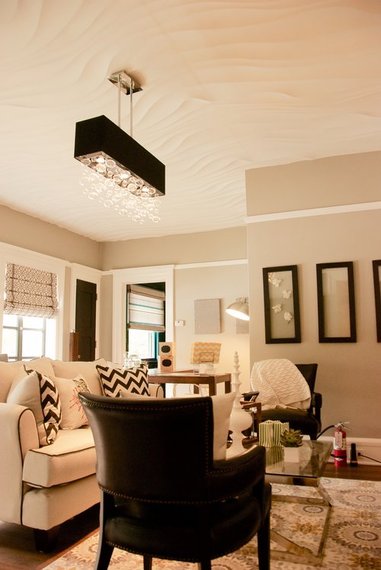 Dramatic ceiling paneling by designer Stephanie Laney.
For those of us hesitant, or downright fearful, of channeling our inner Michelangelo, Dhong has this advice, "I would say, paint your trim and your ceiling the same color as your walls. So if you have dove gray walls, don't call attention to the trim and the ceiling, just make this wonderful cocoon...use flat [paint] on the walls and then a shinier semi-gloss finish on the trim and you'll get that sort of velvety change of tone."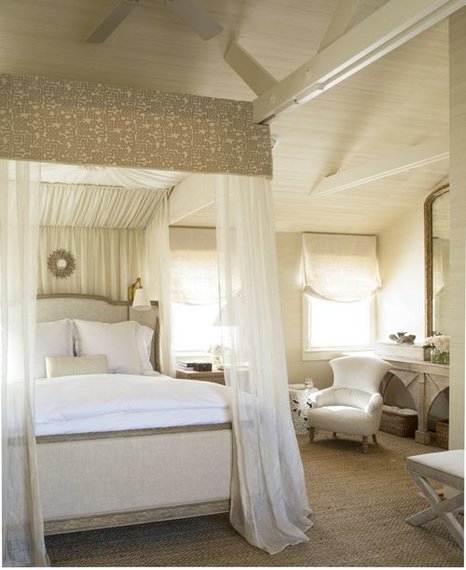 Light wood faux bois wallpapered ceiling by Benjamin Dhong Interiors.
Dhong warns the approach doesn't work for all colors, "but for most colors it does." The idea is not to call attention to the trim and a wide, contrasting expanse of ceiling when you really want the focus to be on what you have chosen to put in the space. "You want to walk into the room and focus on the art, or the beautiful furniture, and even the molding," he explains. "It's not like the molding disappears, instead it unifies the room and makes it part of the architecture -the trim and the ceiling become part of the wall and it all becomes part of a glorious architectural space."
Dhong says wallpapering the ceiling with the texture of linen or faux bois designs also creates a sense of coziness. "It's baby steps," he says of getting homeowners to consider the fifth wall, "think about the high bar, but start out slow."
Photography credits: Wavy ceiling images and boy's room photo by DavidDuncanLivingston.com; Canopied bed beneath a faux bois ceiling image by Lisa Romerein; image of living room with ceiling panels by Bonnie McCarthy.
SUBSCRIBE AND FOLLOW
Get top stories and blog posts emailed to me each day. Newsletters may offer personalized content or advertisements.
Learn more