5 Dive Spots In Unexpected Places Around The World (PHOTOS)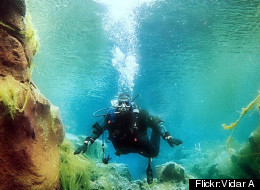 Think about going on vacation to go diving or snorkeling and chances are you're imagining tropical locations -- or at least places that are known for having warm weather nearly year-round. Yes, places like the Caribbean and South Pacific have great opportunities for diving, but they aren't the only places you can explore an exceptionally cool underwater world.
Whether you're an experienced diver or you're hoping to learn, whether you're on an epic around the world trip or just want to add some adventure travel to your vacation, here are five unexpected places around the world where you can go diving.
5 Dive Destinations in Unlikely Places
The American and Eurasian continental plates meet at Iceland's Thingvellir National Park, where they are forming a rift in the land as they slowly move apart. At Silfra Lake, the rift runs underwater. The water, which comes from melting glaciers, takes thousands of years to filter down through volcanic ash into the lake and is unbelievably clear. Though you won't see fish in the ice-cold water, you will be treated to the vertigo-inducing sight of the deep fissure far below. Snorkelers will view it from above, while divers can actually descend into crack and explore the very depths of the earth. Read about ten reasons to visit Iceland now Search for flights to Iceland Find hostels in Iceland Photo: Vidar A

A politically unstable semi-desert country in northern Africa isn't the first place that people think of for world-class diving, but that's part of the appeal of diving in Sudan. It's so far off the beaten path that you'll encounter few other divers, so you'll be able to explore its many intriguing dive sights with no crowds. Encounter reef and hammerhead sharks, manta rays, moray eels and sea turtles at the Sha'ab Rumi reef, explore Jacques Cousteau's old stomping grounds at the Precontinent II or explore the wreck of the Blue Belt cargo ship. The ship sank in 1977 after being stuck on a reef. It's upside-down position and the presence of all its sunken cargo now makes it an exciting challenge for experienced divers. Find flights to Sudan Search for accommodation in Sudan Photo: Rob Hughes

The ruggedly beautiful Orkney Islands are home to the shallow Scapa Flow harbor. Fifty-one German ships were sunk here at the end of World War I (with no loss of human life) and now the wrecks are popular diving spots. Most of the wrecks are 110-160 feet down where divers can float in and around them and explore their various nooks and crannies. Drivers are free to enter the sunken ships but cannot remove artifacts from under the sea. Visibility varies from 6-60 feet so the ships cannot be seen in their entirety, but for most divers the chance to explore these antique warships up close is an unforgettable experience that makes up for the lack of crystal-clear water. Find cheap flights to Scotland Book hostels in Edinburgh Photo: piesgardiner

Like Sudan, Egypt is another North African spot that offers surprisingly good diving. From Sharm El Sheikh, divers can descend into the warn waters of the Red Sea and explore sunken ships and underwater caves or dive among some of the most beautiful coral reefs in the world. Among the bright, colorful coral and further out in the sea, you might also encounter sea turtles, manta rays, tuna and barracuda. The Red Sea is also home to several varieties of sharks, including reef sharks, hammerhead sharks, nurse sharks and leopard sharks, making it a great destination for those looking to get up close to these marine predators. Look for hostels in Egypt Find airfare to Cairo Photo: Derek Keats

The underground topography of the Italian island of Sardinia is just as diverse as the land above. From a sandy seabed covered in seaweed to reefs surrounded by brightly colored fish, you'll see a wide variety of underwater life diving in the waters of the Mediterranean Sea. There's ample opportunity for wreck diving too, with over 100 boats lying beneath the surface around the island. One of the most beautiful features of the sea around Sardinia is the abundance of underwater caves and unique coral formations that divers can swim over, under and through. Whether you are an avid diver or just beginning your certification process, you'll find exceptional dive spots all over the world. Escape the crowds and check out indigenous sea life and unique underground scenery by getting off the beaten dive path and visiting some less obvious spots for underwater exploration. Read about getting from Italy to Sardinia Find things to do in Sardinia Photo: gaspartorriero
Further reading:
Follow BootsnAll on Twitter: www.twitter.com/bootsnall