"Fear is not an option." This is what Diane Von Furstenberg was always told growing up.
In Harvard Business School's auditorium filled with eager fans and admirers of Diane Von Furstenberg, she told the captivating story of her life and path to success in the world of fashion and beyond. We were fortunate to attend the 14th Annual Harris Center Public Forum that benefits the Harris Center for Education and Advocacy in Eating Disorders at Massachusetts General Hospital held at Harvard Business School where DVF was the keynote speaker.
Diane is a resilient, strong, beautiful woman with an eye for trends and wearable fashion. She always wanted to be a woman who was in charge of her life; and we can all attest that she definitely became that woman and inspired millions in the process...
Diane and her honesty were very refreshing as she sent love and words of wisdom to the audience. Her cheerful outlook on life and determined mindset touches everyone, which explains why she was named the President of CFDA (the Council of Fashion Designers of America) in 2009. Diane reminds us that "dreams are achievable and you can be who you want to be." She says with true believe in her words, "the relationship you have with yourself is the one that matters the most."
Diane has come a long way from her famous wrap dress she designed in 1974. As she was just starting out, she interned for a designer in Rome, to whom she attributes all of her knowledge about the industry and the craft. She started to design her line with scraps she found on the floor of the factory driven by the ultimate goal to sell in America. Diane's keen sense of style got her into the doors of Vogue to show her garments to the editor-in-chief, iconic Diana Vreeland, at just 21-years-old.
With comfort, sensuality, and innovation of wrap dress, Diane Von Furstenberg became a household name almost over night. However, her success didn't come without its setbacks along the way. Diane says, "terrible moments become your best souvenirs... when they're over of course," sharing her bright smile warmly with the audience. She is able to poke fun at herself and the setbacks she faced many years ago. She loved dressing women and transforming them with her designs, so she knew she couldn't give up. Now, Diane brings a whole new spin on the industry while staying humble and easily approachable.
She created her new line, DVF, just 12 years ago and it is now sold in over 71 countries across the world. She advises all women to "be the Wonder Woman you can be," and to dream big while never losing who you are as a person. Beauty is something very important to Diane who says, "it is who you are, we are all perfect in our imperfections." Diane Von Furstenberg is a fashion mogul with a big heart, no doubt, but she also definitely is an inspiration.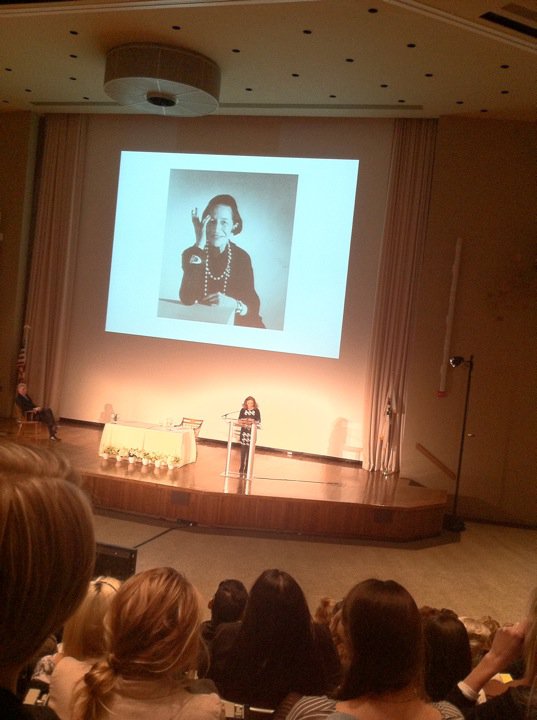 (Photograph courtesy of Alisa Kapinos)

Follow Boutique Week on Twitter: www.twitter.com/theboutiqueweek