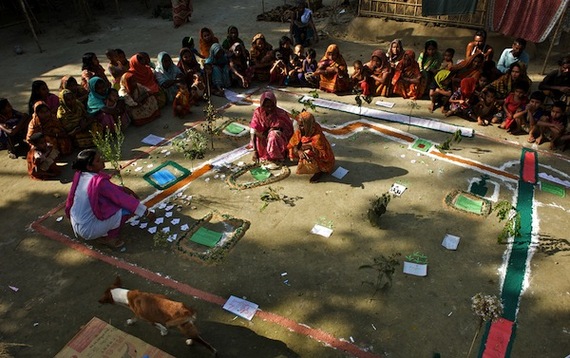 Villagers participating in identifying the ultra-poor in Kaposhatia, in Pakchanda union, Hossanipur upazila, Bangladesh. (Photo: BRAC/Shehzad Noorani)

By Oscar Abello
The ultra-poor are global development's last mile – the last remaining households that have yet to reap any benefits from widespread economic growth, or from existing development interventions like microfinance, community health workers or community-based schools.
Exactly who and where these households are, as well as whether and how to engage with them to improve their circumstances, are frontiers of impressive progress according to some experts, while the focus is a distraction that "reduces attention to the legitimate and pressing need" of billions according to others. Over the course of several weeks this fall, the Development Pathways blog served as a battlefield for this ongoing debate.
BRAC, formerly the Bangladesh Rural Advancement Committee, began exploring the idea of graduating households out of extreme poverty in the 1990s. Founded in 1972 as a small relief organization in a remote corner of northeastern Bangladesh, BRAC had since grown into one of the world's largest non-profit organizations, whose work included one of the world's largest microfinance programs. But in the 1990s, thanks largely to BRAC's Research and Evaluation Division – an in-house unit independent from BRAC program staff established in 1975 – BRAC realized systematically that its microfinance programs were not reaching the poorest of the poor.
Determined not to leave them behind, BRAC began experimenting with ways to identify and work with the 'ultra-poor', as defined by a holistic set of ten socioeconomic indicators combined with a participatory process that involves whole villages in mapping out who are the poorest among them. Recently at the Clinton Global Initiative, BRAC's graduation program targeting the ultra-poor was singled out as a rare example of real success at the bottom of the economic pyramid by MIT economist Esther Duflo, co-author of Poor Economics and renowned for her work in evaluating the effectiveness of development programs using randomized controlled trials.
Rabeya Yasmin, the director of BRAC's graduation program targeting the ultra-poor, recently took a round of questions via Twitter about ending extreme poverty and BRAC's graduation programs targeting the ultra-poor (check out the Storify of the chat below). Rabeya joined BRAC in 1995, right as BRAC was beginning to contemplate how to reach those that its already massive microfinance, health and education programs couldn't reach. She obtained her master's degrees in political science from the University of Dhaka and in poverty and development from the Institute of Development Studies at the University of Sussex.
So what do you think? Is a refocus on the ultra-poor warranted? Is there an effective and efficient way to systematically put them on an upward economic and social trajectory? Is it worth attempting to further adapt BRAC's model through others?
Oscar Abello is marketing and communications associate at BRAC USA, an independent affiliate of BRAC, created in 2006 and located in New York City.