TWITTER: @GreenNewsReport.
The 'GNR' is also now available on your cell phone via Stitcher Radio's mobile app!.
IN TODAY'S RADIO REPORT: Crunch time in Cancun as the UN climate summit races to a close; Major moves in the US over coal, oil and emissions ...PLUS: More WikiLeaking: from Nigeria (who loves both Shell and Dick Cheney!) to Canada to BP ... All that and more in today's Green News Report!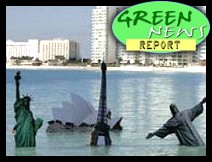 Listen online here, or
Download MP3
(6 mins)...
PLEASE SUPPORT TODAY'S 'GNR' SPONSOR:
Grace Institute for Democracy & Election Integrity
Got comments, tips, love letters, hate mail? Drop us a line at GreenNews@BradBlog.com or right here at the comments link below. All GNRs are always archived at GreenNews.BradBlog.com.
IN 'GREEN NEWS EXTRA' (see links below): Now hiring: Craigslist ad for a coal baron; Parking lots a major cause pollution in US lakes; Sec. Chu announces Renewable Energy and Energy Efficiency Export Initiative; "Opportunities and Challenges" in nuclear energy: report; Clearing the air: Is your house making you ill?; Report: Global Clean Power: A $2.3 Trillion Opportunity; Improved car batteries 5 years off ... PLUS: US v. China: Building a Skilled Clean Energy Work Force -- a Tale of Two Countries ....
'Green News Report' is heard on many fine radio stations around the country. For additional info on stories we covered today, plus today's 'Green News Extra', please click right here...