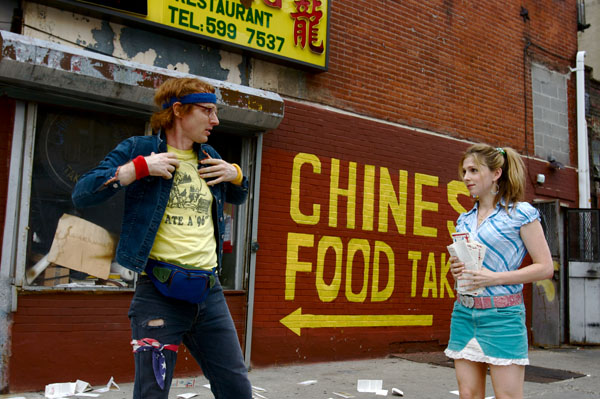 [Adventures of Power]
Much is made of the films that get picked up for distribution each January at the Sundance Film Festival in Park City, Utah. If you read the trades, there are updates on who has ponied up and how much they've shelled out for the films. There are many films that don't make it to Sundance. They don't garner a high price tag -- or a price tag of any kind. They are films that are beat out by the hundreds of others offered to Sundance programmers and their very life -- via eventual film distribution -- remains in doubt after the Festival winds down.
Unabashedly family fare, but hilarious nevertheless, Adventures in Power is the brainchild -- accent more on child -- of director-writer-star Ari Gold. He sends up every underdog story ever told with the titular Power (Gold), an uber-geek obsessed with air drumming and Neil Peart of the rock group Rush. Leaving behind his father (Michael McKean) who works in a New Mexico mine, Power winds up falling for a deaf girl (Shoshannah Stern) who lives with a Chinese family. Their love is part of the goofy but fun action, as Power winds up competing against talentless country music star Dallas Houston (Adrian Grenier of Entourage). There's a zany obsession with breakfast cereal that deliciously winds up saving the day for our hero in this off-the-wall, feel-good satire.
The Flaw, a documentary by David Sington, is in the mold of Michael Moore's Capitalism: A Love Story and Charles Ferguson's Inside Job. Here, with unerring logic, clearcut charts and statistics and welcome comedic counterpoint from old 1950s films, Sington lays out how the financial sector, using debt culled from a real estate boom that had to eventually bust, has contributed to our current fiduciary nightmare. Rather than relying on quotes from the usual suspects from the Fed, Wall Street and the White House, Sington finds brilliant economics experts and a New York Times financial columnist who foreclosed on his own home. While there is also responsibility of individuals in such a crisis, not dealt with here, The Flaw is valuable for its primer on how America shifted from a manufacturing to financial-driven economy, in the process widening the gap between the very rich and everyone else.
Co-directors Paul Mariano and Kurt Norton pay tribute to film preservation in These Amazing Shadows, a doc that while clearly an advocacy piece, also pays tribute to so many wonderful films. They assembled, among many, Barbara Kopple and Steve James to talk about documentaries, Christopher Nolan and Gale Ann Hurd to wax rhapsodic on great science fiction, D.P.'s like Allen Daviau and Caleb Deschanel and Hollywood names like Rob Reiner and John Waters to hold forth on some seminal works in film history. When one realizes that 80 percent of all silent films ever made are gone forever, the doc takes on an even greater significance and the clips are a continual delight.
One aspect to the indie film movement -- one which this writer does not particularly support -- is the tendency for some indie director-writers to agonize over naturalism, mumbled lines, throwaway scenes and atmosphere, in favor of stronger narrative. Uncle Kent, directed by Joe Swanberg and co-written with lead actor Kent Osborne, is about a nice enough character who is without love in life. When he hooks up with a girl online, she stays at his house, a chum, not interested in sex. But defying logic, our hero winds up in a clumsy three-way with another woman they find online, although that incident is never fully discussed. The actors are in fact quite believable but in the end, with no real change in the lead character and all drama tamped down to goodnatured blandness, we have to ask, despite the talents involved, why is this film made and, more pertinently, why is this the kind of feature chosen by the most influential film festival in the U.S?