Note: I was challenged by a reader to begin this conversation. So...
"If they call me, I'm going. But not for any bullshit money."
This was Junior Seau's answer to Chris Hale's comment, "Damn, man you look ready!"
Chris Hale has a great personality, a million-dollar smile, and a wry sense of humor. He's 5'7" and, as he would tell you now, no one would mistake him for an NFL vet. But he is. In 1989, Hale went 193rd in the 7th round to the Buffalo Bills and played in three of their four Super Bowls. He was a corner/special teams guy. My father had a picture of him on his wall. Although he made it to the show, it was his sheer will to win that kept him in the league for five years.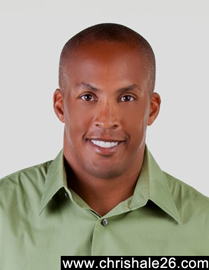 Hale was also my teammate and one of my best friends at USC. We talked for almost three hours, because about two weeks ago he was playing golf with another determined friend, Junebug Seau.
Twice last night I heard two different people call him that. I'm told that if you really knew Seau, that's what you called him. Makes perfect sense to me.
Hale's personality is important here. Everybody likes Hale. Everybody liked Junebug. But Junebug has died and Hale is still alive. So everybody called Hale.
"Rodney was crying," he said, speaking of Rodney Peete. "Tim Ryan [of Fox] just kinda sat on the phone. Guys I hadn't heard from in years. Guys I saw just yesterday. Even you [Brandon] called. Everybody's trying to find answers."
Seau had a bad divorce, but he still had kids, a highly-touted foundation, and he was media savvy. He had golf tournaments, possible network analysis positions, motivational speaker prospects. Hell, maybe even a future in politics.
And one more thing: Junebug was one of those rare players who could leave for another team and still be welcomed and claimed by his first city. Seau owned San Diego and much of Southern California.
Hale's road ended roughly. After the Bills, he had a chance to go to San Francisco but was lured by Houston because three of their young secondary unit hadn't signed. He signed for a small bonus in anticipation of a large salary and the great opportunity for a vet to shine and boost his brand for another season. Then, the younger, cheaper men signed and, almost immediately, he became 4th on the depth chart. Just so you know... there is no 4th on a pro depth chart.
Hale had become a "practice" or expendable player. A 'camp' guy. Not good for a vet whose body was on the clock. With limited plays left in him Hale felt that using his resources in a game and not practice made more sense. However, the exclamation point arrived in a scrimmage between Houston and Dallas. While playing field-side corner, a tight end caught a shallow route. This "man" was 6'7", weighed 267 lbs, and was headed right for Hale.
"I knew what was up. I had seen 'camp' guys practice all out and take this hit to make the roster, and they never do."
Junebug took on the best athletes in the world every play. I can't help but wonder how he did it for 20 years without medication... or steroids. Today, if I run without stretching, my knees will actually call my name halfway through my gait. Every injury I've ever had has come back in some form or another. How did he do it? And did that have anything to do with his state of mind that fateful evening?
The tight end bore down on Hale.
"What did you do?" I asked.
"I took him on," he said.
"I saw stars and bars! As I went back to the huddle I could feel the knot growing under my helmet."
After that he was cut, "before the sun came up." He traveled around and then his agent stopped returning calls. Soon he knew. It was over.
"I didn't do shit for about a year after that. Nothing was getting paid. I barely even showered. I mean, I made a few moves but... Once I went to a game and some players asked if I was gonna try out again. I said no. It was crazy. I felt like a failure."
Trying out wasn't an option. The marketplace had no buyers for his greatly-honed skills.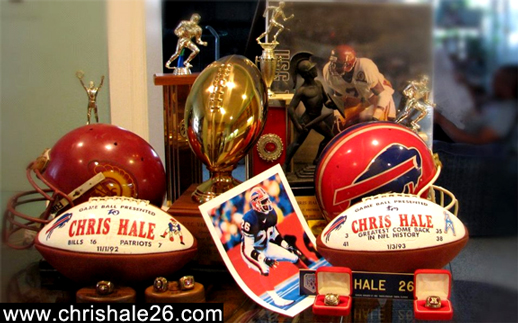 "You don't leave," Hale says, "They take the game away from you."
I've taken a poll and so far, if you love the game, most say it takes about five years to get over not playing. Doesn't mean everyone locks themselves away -- but five years to dampen that drive. That thing. Some cats get bitter. Some turn away from it. Others sit in a kind of darkness... even in broad daylight.
The younger you are the easier it is to move beyond it. I went from graduation straight to London on an acting scholarship and didn't look back. Yet, I haven't been to a homecoming game since. The snag? There was no one better in his time than Junebug. Now, try and get over the mechanisms that created that legacy in a weekend.
Hale recovered by breaking down. He sold his house. The car. Left his girlfriend and moved back home. Full disclosure: Hale has great parents.
"I started reading. Motivational stuff. Competing ideas. Also stuff like Tim Greene's The Dark Side of the Game. I'm sure that critical thinking helped to motivate me."
Hale is now a sports analyst on radio and television and has his own blog. " I deal with all levels. I love it. Especially the high school stuff."
"Wish you would've gotten into it sooner?"
"Nah. I wasn't ready. I wasn't listening. Going through that. It's an individual thing. I mean dedicating most of your life to something and then being forced into retirement is a shock. For anyone."
Especially for the rare Junebugs in the world.
SUBSCRIBE TO & FOLLOW THE MORNING EMAIL
The Morning Email helps you start your workday with everything you need to know: breaking news, entertainment and a dash of fun. Learn more