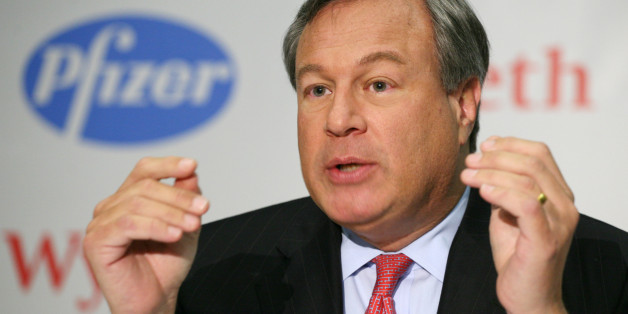 As 2014 came to a close, so, too, did the exodus of the tech sector from the American Legislative Exchange Council (ALEC). But ALEC is still vulnerable to defections in 2015, as similar conflicts of interest also apply to the healthcare sector -- most notably, Pfizer.
Tech companies dumped ALEC because of its anti-climate agenda, led by the fossil fuel interests that dominate its membership, a clear contradiction to Silicon Valley's deep roots in clean energy.
In the race for the door, Google fired the starter pistol when Chairman Eric Schmidt said ALEC was "literally lying" about climate change and, "making the world a much worse place." In the following weeks, Facebook, Yahoo, Yelp and AOL left as well. Just before the New Year, eBay also parted ways with ALEC after CEO John Donahoe said, "we're not with them" on climate change.
Momentum from this exodus even extended to Occidental Petroleum, the fourth largest oil company in the country, who opted out of ALEC citing concerns that they could be "presumed to share the positions" of the organization on climate change.
The climate change controversy that precipitated the tech sector's split from ALEC begs the following question: how can companies from the historically pro-climate healthcare sector justify their continued ALEC memberships?
Pfizer, for example, has been a fierce public advocate of Federal action on climate change. As the company notes in a brief posted to its website, "Pfizer believes that climate change is a global environmental and public health issue that requires more action on the part of industry, the government and the public." Citing research by the World Health Organization, Pfizer lists the potential health impacts of climate change including increasing rates of cardiovascular and respiratory diseases, diarrheal disease, malaria, dengue fever and others.
Despite these concerns, Pfizer remains one of ALEC's biggest supporters. Josh Brown, the company's legislative affairs director, sits on ALEC's private enterprise advisory council, which includes representatives from Exxon and Koch Industries. Internal documents have shown that Pfizer has contributed more than $54,000 from 2006 to 2008 to a travel fund used to send state lawmakers' to posh ALEC events.
One such event was ALEC's 41st Annual Meeting in Dallas, sponsored by Pfizer. The event featured a presentation by Joseph Bast, president of the Heartland Institute, who argued that, "The likely benefits of man­made global warming exceed the likely costs," and proposed dismantling the Environmental Protection Agency, a position ALEC members later adopted as one of its model policies.
Pfizer's ALEC membership undermines its own environmentalist objectives. If Pfizer wants to retain credibility on its commitment to stopping climate change, the company should follow the lead of the tech industry and leave ALEC in the same way it left the notoriously anti-climate Heartland institute.
Over the past year more than 30,000 thousand Forecast the Factsmembers have signed petitions encouraging corporations to drop ALEC, and we will continue to push companies like Pfizer to do the same.
SUBSCRIBE AND FOLLOW
Get top stories and blog posts emailed to me each day. Newsletters may offer personalized content or advertisements.
Learn more