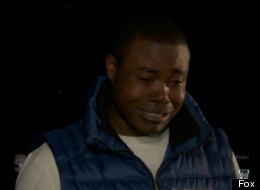 It's Hollywood Week at "American Idol" and the pressure is on. They might have made it through the first round, but things aren't getting any easier for the "Idol" contestants. Each contestant has to make it through an individual audition and group number in order to continue on to the next round, and the judges aren't messing around. Nicki in particular seems to be taking her judging role to the next level and will not tolerate any nonsense (a truly effective drinking game could be
made out of the number of times Nicki tosses out a condescending "my darling" after
crushing the dreams of a contestant). So who actually impressed Nicki?
Last night was a guy's night on "Idol," with only male contestants auditioning in front of the judges. The solo auditions saw some old favorites make it through to the next round, including Micah Johnson, the victim of a botched surgery that left him with a speech impediment, and Lazaro Arbos, the man who can only overcome his crippling stutter when he sings.
Cortez Shaw, who impressed the judges in Dallas, left them split with his rendition of "I Will Always Love You." While the rest of the judges enjoy his performance, Nicki declares that she was "disgusted by it." Luckily for Cortez, Nicki's opinion is not quite as important as she thinks it is and he makes it through.
Unfortunately, Karl Skinner, who charmed the judges in Oklahoma city, could not get by on his "killer dance moves" alone and is cut in the first round, along with an extensive list of hopefuls.
Those who managed to make it through the solo round couldn't relax just yet; they had the dreaded "Group Night" ahead of them.
Each contestant was assigned to a random group and forced to select a song to perform in front of the judges together. With large personalities and differing musical styles, the task leads to a sleepless night of tears and off-key "One Direction" harmonies.
The first group, which includes Matheus Fernandes, sang an energetic "Somebody to Love" and all managed to make it through.
The next group doesn't get off quite as easily. After making the very poor decision to sing "Reach Out I'll Be There," a song that none of the group members actually know, the contestants fumble through the lyrics and lose it on stage. The judges still believe in the group, which includes Johnny Keyser, and send all of them but Kareem Clark on to the next round.
Curtis Finch Jr., Charlie Askew, and Nicholas Matthis were up next and performed a rousing rendition of Bruno Mars' "Lazy Song." The judges loved it and easily approved all three for the next round.
The next few groups all perform well and get pushed through, including Nate Tao and Micah Johnson.
Unfortunately, not everyone pulled off their group number with ease. Several groups struggled to keep the lyrics straight, leading to a very botched version of One Direction's "What Makes you Beautiful" that sends everyone packing.
A disastrous but spirited rendition of "Payphone," however, impresses the judges when the contestants manage to keep it entertaining despite the fact that they clearly have no idea what the lyrics are (apparently Maroon 5's demographic does not extend to male "Idol" hopefuls). All four group members are sent through, including Gupreet Singh or the "Turbanator," as the judges prefer to refer to him.
Lazaro Arbos, who was unfamiliar with most of the songs, struggles to integrate with his group. When performance time rolls around, the group is not quite ready to bring their Beach Boys number to the stage and their harmonies and lyrics are off. Though the performance sends two of the members home, Lazaro will continue on.
The self-titled group "Country Queen," consisting of divas JDA and Joel Wayman, and country singers Trevor Blakney and Lee Pritchard, is one of the most eclectic groups of the evening. With opposite musical styles, the group clashes initially but comes together for their performance of "More Than Words." Unfortunately for Trevor and Lee, it's the end of the road for them, but Joel and JDA make it through.
The youngest performers of the night take to the stage with the Billy Joel classic "For the Longest Time." The performance is sweet if not perfect, but the inspirational Kayden Stephenson and Kevin Quinn are not quite ready for "Idol". David Leathers, who almost made it onto the show the previous season, and Sanni M'mairura, however, are both put through, continuing their "Idol" journey.
The final group of the night, which includes Frankie Ford, Charles Allen, Adam Sanders, and Papa Peachez, is easily the most dramatic. Frankie is not technically trained and can't keep up with the group. Right before they go onstage, Frankie breaks down and can't fully pull himself together onstage. They sing a decent rendition of "American Boy," but Frankie's still sent home, despite the fact that the judges love and believe in him. The rest of the group makes it through, finishing off the night on a high note.
"American Idol" airs Wednesdays and Thursdays at 8 p.m. EST on Fox.
American Idol Judges Through The Years
Name: Randy Jackson Seasons: 1-12 Known for: Coining the phrases "Yo dawg" and "It's a little pitchy."

Name:Paula Abdul Seasons: 1-8 Known for: Crying while judging.

Name: Simon Cowell Seasons: 1-9 Known for: His brutal judging tactics.

Name: Kara DioGuardi Seasons: 8-9 Known for: Introducing the world to "neckitude."

Name: Ellen DeGeneres Season: 9 Known for: Walking away from her five-year contract after only one season.

Name: Jennifer Lopez Seasons: 10-11 Known for: Stealing the spotlight from the contestants.

Name: Steven Tyler Seasons: 10-11 Known for: Criticizing and hitting on contestants with confidence.

Name: Nicki Minaj Seasons: 12-? Trademark: Feuding with Mariah Carey whenever possible.

Name: Keith Urban Seasons: 12-? Known for: Making country references whenever possible.

Name: Mariah Carey Seasons: 12-? Known for: Trying to compete with Nicki Minaj's diva lifestyle.