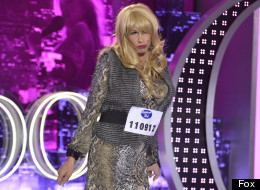 "American Idol" visited Oklahoma City in their final round of auditions for the twelfth season. The city found an interesting assortment of talent, outlandish characters, and one too many attempts at banter from the judges. So what were the highlights?
Karl Skinner nervously kicked off the night and was able to win the judges over with his guitar and an original song. Though his voice wasn't the best, his personality pushed him through to the next round.
Nate Tao, who grew up with two deaf parents, said his parents were initially unsure of his choice to pursue music because they had no idea if he had any talent. Nate did them proud with his rendition of "For Once in My Life" by Stevie Wonder, earning him a golden ticket to Hollywood.
Things got interesting when Halie Hilburn took to the stage with Oscar ... her puppet. The judges were impressed with her voice and passed her through, but they told the ventriloquist it might be time to ditch Oscar and go it alone.
Halie's ventriloquism act was nothing compared to the insanely confident and ridiculous Zoanette Johnson. As soon as Zoanette took to the stage, it was evident it would be an interesting performance, but whether she was good or bad was up for debate. Zoanette belted out the National Anthem at full volume, forgot the words one to two times, and managed to fit in a quick bout of tears. But somehow Zoanette ended up with a ticket to Hollywood. It's hard to say why exactly Zoanette got passed through, but Nicki seemed convinced that she will be the next big superstar. We'll see how that goes.
"American Idol" airs Wednesdays and Thursdays at 8 p.m. EST on Fox.
Vesta Tilley was a pioneer who became Britain's most popular male impersonator in the late 19th and early 20th centuries. Tilley, whose real name is Matilda Alice Victoria Powers, eventually took her act to the U.S. in 1894, performing in major cities like New York City and Chicago. During World War I, Tilley teamed up with her husband who wrote patriotic songs for her to perform as "Tommy," to recruit people to join the military. This effort got both of them knighted. Courtesy of Wiki Commons / Amphis

Murray Hill, "the hardest working middle-aged man in show business," is a New York City mainstay. The drag king has received numerous accolades. Some include being named "Downtown's New 'It' Boy" by The New York Times in 2005 and making "Best of New York" lists in Time Out and New York Magazine. Hill works as Dita Von Teese's exclusive host for her burlesque shows, travels and performs throughout the country for various other events and has an essay in Dan Savage's "It Gets Better" book. With a cameo on HBO's "Bored To Death," a spot on a TV series in the UK last year and role on a pilot currently being shot in the US, Hill may be the drag king closest to achieving mainstream success.

Performance artist and drag king Diane Torr was born in Scotland and moved to New York City in 1976, where she got highly involved in the city's lively art scene. Torr created 35 original performance works, videos and installations but is best known as an internationally recognized pioneer of drag king performances. She teaches her renowned "Man for a Day" workshops around the world and was featured in the "Venus Boyz" documentary. Torr also co-wrote her book "Sex, Drag and Male Roles; Investigating Gender as Performance."

Dred, which stands for "Daring Reality Every Day," is one of the nation's premier drag king artists who's been praised by critically-acclaimed author and LGBT activist Kate Bornstein. Dred's many accomplishments include starring in the award-winning documentary "Venus Boyz," being seen on networks such as MTV, HBO and Oxygen, and having been written about in books such as "The Drag King Book" and "Female Masculinity."

Spikey Van Dykey has been performing for 10 years now as one of the country's premier male illusionists and drag kings. Dykey, whose real name is Jamie, is featured in a documentary "Me as He," and performs throughout the nation at pride and charity events.

Herbie Hind has been performing in drag with the DC Kings, reportedly "the longest-running monthly drag king show in the World," since September 2007. Hind, 28, who also calls himself a gender performer, said in a 2007 Slate interview, "Men don't care, they just move. Women are much more intentional," speaking about the subtleties on how men and women carry themselves.

Gladys Bentley said in an Ebony magazine article, "It seems I was born different. At least, I always thought so... From the time I can remember anything, even as I was toddling, I never wanted a man to touch me... Soon I began to feel more comfortable in boys clothes than in dresses." Bentley, who often wore a suit and top hat, became a popular entertainer in the 1920s through '40s and was known for being openly gay and for her powerful voice.

As one of the first drag kings of the '80s, Shelly Mars has had an illustrious career that spans 20 years. Mars, who was dubbed by some as the "granddaddy of drag kings," shocked audiences. One such performance was her infamous beer bottle masturbation number, which was documented in Monica Treut's 1988 film "Virgin Machine." Mars has also made appearances on film and television and is currently New York City's Museum of Sex artist in residence.

Leigh Crow, perhaps better known as Elvis Herselvis, first performed as the late king of rock and roll in 1989 and brought her act throughout the U.S. and Australia. Crow calls Elvis a lesbian icon, much like how Marilyn Monroe is a gay icon for the boys. Crows once said, "Drag is great, It's a great way to express yourself. I don't just mean boys doing girl drag, I mean leather and uniform and stuff. It can really free you. It can be an empowering experience, definitely."

Filipino-Canadian drag king artist Carlos Las Vegas began performing in drag in 1994 at a University of Winnipeg fundraising event. Beyond her own acts, Las Vegas (born Reece Lagartera) choreographs for the International Drag King Community Extravaganza event and is an LGBTQ activist, speaker and writer. Two books she's written are "Shout Out Against Homophobia, Biphobia, Transphobia & Heterosexism" and "Gender Diversity in Schools: Questions and Answers."

Similar to "houses" for male drag artists, drag kings form troupes but perform together even more so than their male counterparts. The San Jose, Calif. based Gender Queer Society, which started in 2009, won the renowned San Francisco Drag King contest in 2011. The group aims to not only entertain but to also address social and political issues that affect the LGBTQ community.

At about the same time as Vesta Tilley, Baltimore-born Ella Shields became a prominent male impersonator in Britain's music hall scene, performing often in male military attire. Her most famous hit was "Burlington Bertie From Bow," which Julie Andrews would later reprise.

When Liz Ellis's cousin dressed her up as Boy George in fourth grade, there was no turning back. Since then, Atlanta-native Ellis created her drag king persona, Owen McCord, imitating the likes of Elvis, Tim McGraw, George Michael and Tom Jones.

Mo B. Dick's drag career started when she saw her mentor, Mistress Formika, perform in Provincetown. Convinced that she was too femme to imitate guys, she found inspiration after reading an article about a drag performer in San Francisco, and became Mo B. Dick in December 1995. She started Provincetown's drag king party Club Casanova in 1996 and starred in John Water's film "Pecker." Mo B. Dick once said in a Philadelphia paper, "Straight women are afraid of us, straight men don't know what to do, and gay men are frustrated because they can't have us."

Mr. San Francisco Drag King 2009 and Mr. Gay East Bay 2009 Delicio Del Toro can be found performing all over the "Trans Francisco Gay Area." Del Toro has brought her act to the National Queer Arts Festival, International Ms. Leather, Butch Voices and serves on the International Drag King Community Extravaganza's steering committee.

Pete Sake, who won the 12th annual San Francisco Drag King contest in 2007, took the title dressed as a corrections officer, performing to '60s tune, "Bird on the Second Floor," with Paris Hilton, Nicole Richie and Martha Stewart look-alikes as backup dancers.

Valentino King is one of Europe's most successful and well known drag kings who recognized her love for performing at the age of 12. The entertainer frequently appears at gay pride events in the U.K. and works with the George House Trust, which seeks to raise HIV awareness. "I was intrigued and slightly envious of the Drag Queens in respect of their open creative expression," King said on her website's bio page. "With this in mind I began to explore the possibilities of myself being accepted as a transgender performer. I wanted to create an alter ego to rival any queen."

Boston-based drag king troupe All The Kings Men started bringing their act across the U.S. in April 2002. The group was named to GO magazine's 2011 list of "100 Women We Love," the Boston Phoenix's "Best Kept Secret" in 2004, and was one of ten winners of Curve magazine's "Best Lesbian Theater" awards.

Switch N' Play is "a Brooklyn-born, New York City drag alliance" that was established in January 2006. The group is composed of not just drag kings, but also drag queens, burlesque performers, poets and musicians. In 2008, the ensemble earned the "best performance" award at the Heritage of Pride fest and were voted "best drag kings" by GO magazine readers in 2009 and 2010.

Along with Vesta Tilley and Ella Shields, Hetty King was another drag king and male impersonator in the English music hall scene. The daughter of a comedian, King began dressing and performing as a boy in 1905 and was hailed the "King of Male Impersonators" or the "queen of the kings."

Pixie Truffle gained recognition among the drag king and lesbian communities for starting Lesburlesque, Europe's only lesbian burlesque troupe. She hopes the group will "promote cherished drag kinging out of an exclusive gay market and into the mainstream that the genre will become considered an authentic cabaret mainstream genre."

Drag King and male illusionist Gage Gatlyn is best known for her 10-year-old Tim McGraw impersonation. Gatlyn who started performing in 2004 and has won many national and local awards is also the country's most booked drag king in history according to her website.

Damian Matrix started his drag king career 10 years ago in Oklahoma City. While not performing himself, Matrix coaches aspiring drag kings and queens with his fiancee across the U.S and frequently participates in LGBT fundraisers. He is the current Mister USofA MI 2012.

Freddy Prinze Charming made her way into the drag king scene in 2005 in Tucson, AZ and has won numerous awards since, including the 2012 Echo Readers Choice Award for Outstanding Drag King. Charming also works with Sisterzz Twisted, a performance troupe that only performs twice a year

Phoenix, AZ native drag king performer and entertainer Gunner Gatlyn's career began in June 2006. Formerly known as Luke Mighway, Gatlyn has won numerous awards including Master Male Illusionist in October 2011.

Ken Vegas, a performer with the drag king troupe DC Kings, started performing in 1996. Vegas, the 2011 BYGays Ponies Choice Award for Drag King winner, produced the Great Big International Drag King show in 2001, which brought the world's best drag kings to DC.

Dante DiFranco began dressing in drag in 1999. Although not performing anymore, DiFranco became an international artist, headlining a solo tour, "Gender Distortion" and with "Club Casanova," which was started by drag king Mo B. Dick. DiFranco also served as a board member for the International Drag King Extravaganza event and authored the highly referenced, "The Art of Drag Kinging: 'Drag'ging Out Your Inner King."

Fudgie Frottage, "the man with the biggest balls in show business," co-hosted and emceed the annual 2012 San Francisco Drag King contest. The drag performer has made numerous television appearances including "The Tyra Banks Show," "Dog Eat Dog" and "The Maury Show."
Anastacia Freeman, on the other hand, was not able to impress the judges. Though she claimed to be sent to the "Idol" auditions by God, her tone-deaf version of "Unbreak My Heart" could not be saved.
Tonight's inspirational story came in the form of Kayden Stephenson, a 16-year old boy living with Cystic Fibrosis. Kayden chose a Stevie Wonder number and charmed the judges with his positivity and sweet voice.
The evening ended with a surprise appearance from former judge Steven Tyler dressed in full drag. Tyler claimed to just be stopping in to say hi, but let's be real, he obviously came by to keep the divas of the season in check.