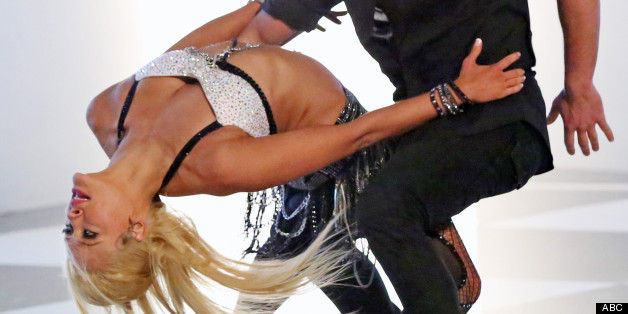 It was "Latin Night" on "Dancing with the Stars," which meant an evening jam-packed with sassy salsas and romantic rumbas. With only seven remaining couples, each contestant was desperate to prove they have what it takes. If that wasn't enough pressure, the competition added another twist: the dance-off challenge. The couple with the highest score of the night (or accumulative points in the case of a tie) earned automatic immunity from elimination and were safe from the challenge, but all six other contestants were forced to dance off against each other in the hopes of earning extra points. So who brought it on Latin Night? And who might have danced for the last time?
The Dance of the Night:
Kellie Pickler and Derek Hough: Kellie's samba had all the right moves, but Carrie Ann felt it lacked an emotional connection. Len and Bruno loved it, however, with Len calling it brilliant and Bruno declaring it to be everything you would want from a samba.
Score: 29 (Earned immunity)
Aly Raisman and Mark Ballas: A back injury left Mark out of commission for the week, so the pressure was on for Aly, who couldn't rehearse with Mark. Luckily, Mark was able to perform come Monday night, and the couple brought everything they had with their sassy salsa. Bruno called it a "delicious cocktail" and Carrie Ann exclaimed over the routine, telling her "this is the Aly that I always knew was in there, ready to come out."
Score: 29 +3= 32
The Standouts:
Zendaya and Val Chmerkovskiy: Zendaya's powerful paso doble had all of the judges raving, with Len telling her he felt like he was at the bullfight, and Bruno calling her a magnificent dancer. Despite the beautiful routine, Carrie Ann thought she needed a bit more strength to back up the power.
Score: 27 +3 = 30
Jacoby Jones and Karina Smirnoff: Jacoby's suave moves perfectly suited his salsa with Karina, with Len asking, "was that an earthquake or did you just shake this place?" Carrie Ann got creative with her critique, telling him that the dance was so in his body, "it's like you fart salsa." Hmm, interesting way of putting it, Carrie Ann.
Score: 27
The Good:
Sean Lowe and Peta Murgatroyd: Sean and Peta took on a sensual rumba, and had the judges split. Len compared the performance to a match, calling Peta hot and Sean wooden, but Carrie Ann was very impressed. She thought the chemistry was great and that the music was pulsing within him. Bruno agreed with Carrie Ann, telling Sean that he had improved greatly.
Score: 24
Ingo Rademacher and Kym Johnson: Ingo's rumba didn't quite grab the attention of the judges. Bruno felt it lacked fluidity and Carrie Ann thought that it didn't have the sensuality or connection necessary for the rumba. Len tried to keep things positive, telling him, "it wasn't great, but it was good."
Score: 22 +3=25
The Mediocre:
Andy Dick and Sharna Burgess: Andy attempted to bring out his inner sexy with the rumba, but his performance fell a bit short. As usual the judges loved the entertainment value, but Bruno told him that he wished he could forget the dance (harsh) and Carrie Ann said that at this point in the competition, it wasn't enough.
Score: 17
The Dance-Off Challenge:
Aly and Mark vs. Andy and Sharna (Cha Cha)- Winner: Aly and Mark
Zendaya and Val vs. Jacoby and Karina (Jive)- Winner: Zendaya and Val
Sean and Peta vs. Ingo and Kym (Rumba)- Winner: Ingo and Kym
Who has your vote after Monday's "DWTS"? Which team do you hope gets the encore? Who do you think will go home? Sound off in the comments!
"Dancing With The Stars" airs Mondays at 8 p.m. ET and Tuesdays at 9 p.m. ET on ABC.
PHOTO GALLERIES
Dancing With the Stars Season 16 Cast Stills