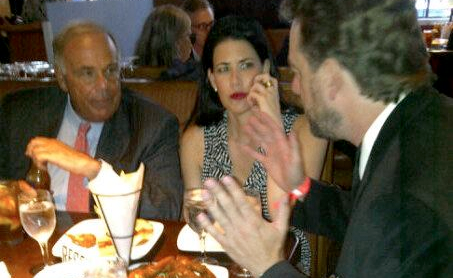 Breaking the rules of the modern campaign
PHOTO: Gov. Ed Rendell and actress Melissa Fitzgerald with candidate Brent Roske during the Democratic Convention in Charlotte
Right now I'm the only candidate in California's 33rd Congressional District running against Rep. Henry Waxman. It's still early, but with only six months before the filing deadline, I thought there would be other people on the list by now.
On Friday, August 9th I'm giving my official campaign announcement speech at an event regarding runaway production (that's a term we use here in Los Angeles when a tv or movie films elsewhere). Similar to Alison Lundergan Grimes, my campaign was written about last month but this is our first campaign event, to be held at Creative Visions, overlooking the Pacific in Malibu.
Let me tell you: people have strong opinions about political campaigns. Hollywood is the Critic Capitol of the world, but I'm learning now that Washington, D.C. (or at least the part of people's brain that thinks about politics) is a close second. The most recent kerfuffle is regarding my decision to give my speech at an event for the entertainment industry; that my campaign speech may be viewed as an 'afterthought or an asterisk' to the other goings-on.
My idealistic flag may be flying too high, but the fact is the issue of runaway production is important to me, and if my joining forces with the event raises more awareness then that's a good thing. I spent nine years at NBC Universal and saw firsthand the effects tax incentives in other states have had on our local film and tv business, with many above and below-the-line talent living on the road year-round, chasing productions. Save LA Film and Shoot Movies In California are great groups with great people, showing the not-often seen community side of this industry. I'm going to use my time as a candidate to do as much educating as I can about issues that are important to me and to the District. And it's my name on the stickers.
There have only been 113 elections for the House of Representatives so maybe it's time somebody breaks the so-called rules of campaigning. In fact, our campaign is doing several things that have never been tried before:
1) This is the '2 for 1 Campaign,' meaning that if I win, I'll job-share the position with Rep. Henry Waxman. In regards to this idea, according to Roll Call Waxman said: "I also appreciate Mr. Roske's novel proposal and will think about it some more, but I suspect there would be workability issues." This isn't exactly an endorsement of the idea, but an opening none-the-less. When I first came to Los Angeles I found a mentor. If I go to Congress I want all the help I can get.
2) Do you remember Senator Margaret Chase Smith? In addition to being the first woman elected to the Senate, she also never accepted campaign donations. Ever. Even when she ran for president, every $5 bill, every quarter, every check got mailed back. To run in the New Hampshire primary she spent $250 of her own money, and for Illinois she spent another $85. She was a senator for almost 30 years -- spent the 8 before that in the House -- and she never raised a dime. My campaign is only spending $4,000 dollars. This isn't because I don't want to win. This is because I believe, as Senator Chase Smith believed, that it's harder to govern fairly when you've been helped out financially by interested parties. I'm only asking for people's vote (and a tweet and an email now and then). Current campaign fundraising is out of control and it's not just Republicans. So far the two parties have raised over $59 million for mid-term elections, with Democrats at $37.9m and Republicans at $15.6m. $59 million that will go right down the drain into the pockets of big media, consultants, and candidates. It's criminal.
3) Earl Warren was one of the great California governors and went on to become Chief Justice of the Supreme Court. When he ran first for Congress he 'cross-filed', which means he ran on both tickets -- Democrat and Republican -- and won both primaries. You can't 'cross-file' anymore, but I'm running for votes across the whole political spectrum. In my speech on August 9th, I'll be highlighting compelling reasons that Democrats, Republicans, Greens, Libertarians and Independents can vote for me in the upcoming Primary with a clear conscious. Our political parties and their members have been pigeonholed. I think there's room in my campaign for many of them.
I've been getting California and international emails from people already inspired by my race. Oftentimes I think people see government as a far-away, unreachable place, designed to keep We The People out. We have to remember that our government was built by the people with one purpose which is to serve the people. It exists for us. If you really want change, then let's make history and put an Independent in the House on a virtually 'no-money' campaign and get the two sides talking again. The U.S. government is supposed to be a representative government, and I'm asking for your support (but not for a check).
Brent Roske is an Independent Congressional candidate for California's 33rd District. Learn more at RoskeForCongress.com
SUBSCRIBE TO & FOLLOW TRUMP'S FIRST 100 DAYS
How will Donald Trump's first 100 days impact YOU? Subscribe, choose the community that you most identify with or want to learn more about and we'll send you the news that matters most once a week throughout Trump's first 100 days in office. Learn more