Six of Chicago's own top chefs and their teams arrived at the Calphalon Culinary Center in the early hours Wednesday morning, eager to prepare three dishes using fresh local ingredients from the Green City Market.
They did not, however, have a clue what ingredients they were to use.
Just a few hours before throngs of eager foodies would arrive, the chefs learned which main protein "mystery" ingredients they would be tasked to work with (items such as lamb, pork tenderloin, bacon, duck, halibut, scallops, baby octopus and the formerly illicit foie gras), and rushed to Green City Market to purchase the fresh veggies, fruits, seasonings, and herbs they required.
Picture "Iron Chef" judged by a crowd of appreciative Chicagoans, and you'll have some idea.
The six chefs--Roger Herring of Socca, Michael Taus of Duchamp and Zealous, Rick Gresh of David Burke's Primehouse, Chris Pandel of The Bristol, Giuseppe Tentori of Boka and Bill Kim of Urban Belly--and their teams envisioned, prepped, concocted and assembled three dishes each, using only the protein they'd been assigned and the produce they'd purchased from Green City Market.
Each team used the fresh ingredients acquired at the Green City Market to emphasize and enhance the protein in original ways. Chef Tentori of Boka, whose team drew the mystery ingredient "halibut," chose to poach his fish over a puree of English peas, garnished with fresh radish. This delicate preparation was quite opposite what Chef Kim's (Urban Belly) team envisioned for the fish. Urban Belly also drew halibut as a mystery ingredient, but seared the fish and used Asian seasonings, tomatoes, and black beans to give it some zest.
Socca's Chef Herring was assigned baby octopus, which was marinated in red wine, braised and then grilled, and served atop a salad of assorted greens and veggies. Chef Pandel and The Bristol were also given baby octopus, which was served alongside a light and delicious potato salad.
Chef Gresh and the David Burke's Primehouse Team were given scallops, which they seared and served over a lightly-herbed angel hair and sweet garden peas. Chef Taus (representing both Duchamp and Zealous) drew scallops, which he served pan-seared over an heirloom tomato gazpacho with a lightly-fried blossom stuffed with citrus-zested ricotta cheese.
First Course "Huff Post Green Spoon" Winner: Chef Michael Taus and Team (Duchamp and Zealous)
Chef Taus' scallops were immaculately cooked, seared for only 20 seconds or so to maximize the scallops' natural sweetness. His tomato gazpacho and clever integration of a blossom pastry took his dish to a delicious and innovative level.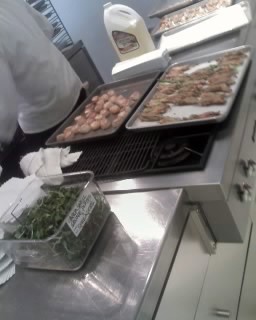 (Chef Taus' prep station)
The second course featured bolder flavors and substantive proteins. Chef Taus and his team, which was tasked with lamb, prepared slices of tender lamb served atop a flawless phyllo dough and root vegetable pie. Chef Gresh and team also drew lamb, and served their exceptionally prepared meat alongside a beet and cherry sauce.
Urban Belly drew pork tenderloin, and created a pork taco fused with Asian flavors, such as kimchi and Sriracha. Chef Tentori of Boka drew pork tenderloin and bacon, and served the tender pork alongside a homemade mustard and melt-in-your-mouth, decadent bacon gnocchi.
The Bristol and Chef Pandel received duck, and ground their own duck sausage, served in generous portions alongside a decadent cherry and foie gras mustard cream sauce. Chef Herring and his sous chef also combined duck and foie gras in a mouthwatering manner, spreading foie gras over crostini and topping it with duck tenderloin.
Second Course "Huff Post Green Spoon" Winner: Chef Roger Herring and Team (Socca)
Each team brought their "A" game to the second course, but Chef Herring's dish was the best integrated of the six. The foie gras was as smooth as butter, and the duck tenderloin was prepared perfectly. Even the crostini were memorable.
Each team incorporated fresh strawberries into their dessert, the majority of the dishes relying on strawberry shortcake-style presentation with a cake, bread, or cookie and freshly whipped cream.
Third Course "Brett's Green Spoon" Winner: (TIE) Chef Roger Herring and Team (Socca); Chef Bill Kim and Team (Urban Belly)
It is impossible to choose one of these two teams over the other, but they stood out from the pack because of their innovation. Chef Kim's team created a strawberry bubble tea, made with fresh strawberries, tapioca, and organic green tea. Chef Herring made a butter croissant bread pudding, which while containing strawberries, did not rely solely upon them to flavor the dish.
Outside of the kitchen, each team had a skilled cocktail master mixing, shaking and pouring. Drinks were not excluded from the ingredient challenge, and herbs such as fennel, cilantro, and tomato preserves made their way into glasses. Additionally, Just Grapes Wine Shop in the West Loop poured six food-friendly wines that paired nicely with the items being dished out in the kitchen.
Huff Post's "Green Swizzle Stick" Winner: Boka's Senior Mixologist Daniel de Oliveira
Daniel's drink hit the spot on a particularly humid day in downtown Chicago. Using gin, fruit juice, seltzer, a splash of bitters, and--seriously--tomato preserves, he mixed a refreshing, crisp, and food-friendly summer cocktail. Daniel even slapped sprigs of fresh mint to release the oils before garnishing each drink.
FOLLOW HUFFPOST