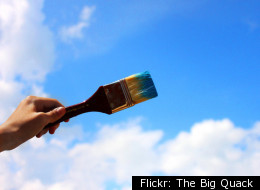 In a recent, engaging series of articles for Hyperallergic, writer John Yau proposes a re-examination of artists outside the mainstream narrative, a narrative he finds to be "based on the rather flimsy, narcissistic assumption that the art world got it right the first time, with its own obsession with surface and spectacle..." In Yau's profiles of Sylvia Plimack Mangold and the San Francisco Bay Areavisual art scene of the 1950s and 60s, he convincingly argues that these alternative narratives are historically significant and influential in the work of contemporary artists.
April's top painting posts reflect an interest among contemporary artists in a broader narrative of painting. In addition to an excellent Brooklyn Rail interviewwith painter Katherine Bradford (another artist profiled by Yau), many of the most popular Painters' Table posts were those that focused on the work of underknown artists including abstract expressionistCharles Seliger, west coast abstract painter Frederick Hammersley, and the figurative painter Avigdor Arikha, as well as abstractionist-turned-landscape painter Tom Goldenberg.
Enjoy these and other great painting posts below. You can find more everyday at painters-table.com - the magazine of the painting blogosphere.
Painters' Table: Top Ten Best Posts, April 2012
Sylva Plimack-Mangold, Floor with Light at 10:30 am, 1972, acrylic on canvas, 52 x 61 inches (courtesy Alexander and Bonin, New York) John Yau reflects on the significant achievements of painter Sylvia Plimack-Mangold. Yau writes: "It seems to me that Plimack-Mangold's early investigations of space should be credited with initiating a dialogue in opposition to Frank Stella's stripe paintings, which squeezed space out of paintings altogether, and the flat, grid-like floor sculptures that Carl Andre began after 1965." He continues: "In focusing her attention on the tight geometric patterning of a parquet floor, or the skewed rectangles of light cast by a window onto a wide pinewood floor, she literally cleared a space for herself. By using nothing but paint to build a believable space on a two-dimensional plane, thereby openly critiquing work widely regarded as upholding a narrative of progress that was implicitly patriarchal in its telling, she also challenged the received viewpoints and well worn tropes that dominate (and continue to dominate) art history." Sylvia Plimack Mangold: Recent Works was recently on view at Alexander and Bonin, New York. Read the full post on Hyperallergic

Katherine Bradford, Sargasso, 2012, Oil on canvas, 56

Tomory Dodge, Washington State, 2011, 14 x 16 inches (courtesy of the artist) Jonathan Beer interviews painter Tomory Dodge about his work and process. Dodge remarks: "I like the formal tension that comes from the inclusion of different approaches to painting on one surface. But I think a lot of that tension comes from my own doubt in the adequacy of any single approach or system of painting. There is often a simultaneous doubt and fascination by the last mark or action I've made. I'm often driven to alter it by doing another action on top of it, not to obliterate or eradicate it, but to make it not so easily absorbed into a preconceived system or approach to painting. I try to make it a hybrid in a way." Read the full interview on Art Rated

Tom Goldenberg, Italian Rhapsody, 2012, oil and charcoal on linen, 78 x 96 inches (courtesy the artist) Mario Naves blogs about the work of painter Tom Goldenberg. Naves writes that "It's as if Goldenberg found his way back to the land through the examples set by Jackson Pollock and Clyfford Still. Goldenberg knows that influence is contrary and fluid. As a painter, he thrives on its surprising pliability. You'd best look elsewhere for the Arcadian. The natural world, as seen in a Goldenberg, is dense with bone, grit and muscle... Goldenberg isn't inclined to tidy or systematize nature. He'd rather revel in its unruly, almost Byzantine complexity and independence." Read the full post on Too Much Art

Charles Seliger, Runic Veil, 1989 (courtesy Michael Rosenfeld Gallery) With the work of Abstract Expressionist Charles Seliger (1926-2009) in mind, Addison Parks considers "that the painting is something that happens through the very act of painting, and not the result of some preconceived image that through careful effort produces the desired result. What we are talking about is the painting that evolves, changes, even appears to the painter in the act of painting." He continues, noting that Charles Seliger "was as addicted to this experience as any painter I can think of. At the end of a painting he had arrived somewhere that changed him. That is the addiction. To be changed by making a painting." Parks also wrote a remembrance of Charles Seliger in 2009. Read the full post on Artdeal

Dana Schutz, Drowning, 2011, Watercolor monotype with colored pencil, crayon, and pastel on Lanaquarelle watercolor paper, 46 x 60 inches (courtesy Two Palms, New York) Sarah Kirk Hanley writes about the exhibition Götterdämmerung at the Arnold and Marie Schwartz Gallery Met, New York, on view through May 12, 2012. Kirk Hanley writes: "Schutz's own extravagantly creative and somewhat outlandish imagination, as well as her exuberantly gestural style, is well-matched to Wagner's outsized narrative and grandiloquent score. Yet the artist took the assignment as a general guideline, noting, '…I worked only loosely from the themes in Götterdämmerung. Most of the images came from drawings in the studio. After drawing for many hours you start to forget the story and focus on the specifics of how to make an image work. I hadn't seen the production at the Met Opera before I started making the work so that made it easier to imagine what these characters could look like and be doing' " Read the full post at Art 21 Blog

Avigdor Arikha, Self-Portrait in a Fuchsia Shirt, 1987 (courtesy Marlborough Gallery, New York) Jonathan Wilson reviews the exhibition Avigdor Arikha: Works from the Estate was recently on view at Marlborough Gallery, New York. The post also includes an extensive interview with Noga Arikha, the artist's daughter. Wilson writes: "Its tempting to view Arikha's work as that of a gorgeous throwback, as Michael Kimmelman parsed it a few years ago, the production of an artist who reminds us 'what craft means and how pleasurable it is to see.' But there's something at once darker and more forceful going on in his work: The empty armchair and the black corner of a portfolio resist narrative, but the objects signify nonetheless. Here's the way in which I think they do: In Rilke's ninth Duino elegy, the poet writes, 'Perhaps we are here in order to say: house, bridge, fountain, gate, pitcher, fruit tree, window … but to say them … more intensely than the Things themselves ever dreamed of existing.' There is precisely this heightened intensity in Arikha's baskets of fruit, pots of flowers, files and boxes, suitcases, and coats on pegs." Read the full post on Tablet

Frank Bowling, Mauveblaise, 2011, Acrylic and mixed media on canvas, 42 x 30 inches (courtesy Spanierman Modern) Painter Frank Bowling discusses his work in a new video filmed in his studio. Bowling remarks: "In my youth I tended to look at the tragic side of human behavior an try and reflect that in my work, but gradually, as I became more involved in the making of paintings, I realized that one of the main ingredients in making paintings was color - and geometry - and I found this was the place I felt the most comfortable, and I've been going along this track ever since." He continues, describing his painting process in detail, noting: "It all happens very much in an extemporary way. I don't have any pre-plan idea about how I'm going to make a painting." Frank Bowling: Recent Paintings was recently on view at Spanierman Modern, New York and Bowling's Poured Paintings are on view at Tate Britain through March 1, 2013. Watch the interview at Tate Shots

Yevgeniya Baras, Untitled 8081, 2012, Mixed media, 20 x 16 inches (courtesy of Allegra LaViola) Jason Stopa reviews two painting exhibitions, Materiality and Grid List, both recently on view at Allegra LaViola Gallery, New York. Stopa writes that the exhibitions "comprise two strains of abstraction whose barriers are quickly disappearing. And judging by the prevalent use of non-traditional mediums, supports and surfaces-many of these artists fall outside easy categorization." Read the full post on NYArts

Frederick Hammersley Growing game, #1 1958, oil on canvas, 40 x 30 inches (courtesy LA Louver) Steve Roden writes about the work of painter Frederick Hammersley, whose work is on view at LA Louver through May 12, 2012. Roden writes: "when i discovered hammersley's organics they felt not only like the perfect antidote to the bombastic gargantuan works of painters like anselm kiefer and julian schnabel, but they also felt like an ally... a lot of decisions in [Hammersley's] work revolved around intuition, and i believe that because of this, the work is open in terms of readings and/or experience. an intuitive process - as opposed to a 'plan' or a 'propaganda'; offers the viewer a potential intuited response - creating meaning through experience, as opposed to creating meaning through knowing... this is what makes the work so generous." Read the full post on Airform Archives

painters-table.com Catch up on what's new in painting everyday. Painters' Table features daily posts from around the painting blogosphere.
Follow Brett Baker on Twitter: www.twitter.com/painterstable