Yesterday I was one of the judges for the 5th
annual Colorado Inventors Showcase.
The showcase is a creative way to highlight amazing talent in the Denver
area. I was expecting an adult version of the school science fair, but was greeted with a much bigger spectacle.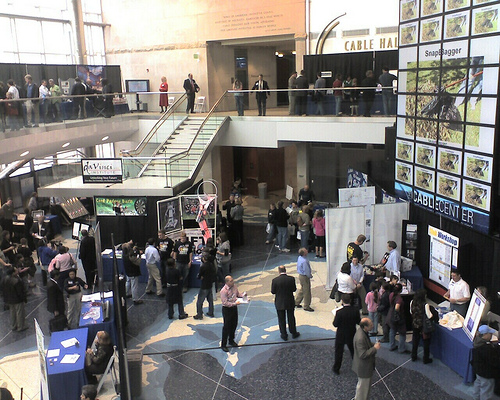 Over 600 people,
including hundreds of local area school children, came to see 42 exhibitors. The kids were asked to bring a can of food for admission
though it was not mandatory.
All of the food that was collected is going to the FISH Food
Bank in Broomfield. The food bank
is almost empty right now and they're reporting that people who donated food
last year are now coming in needing food. FISH of Broomfield welcomes
volunteers and cash donations. People interested in helping FISH should call 303-465-1600.
The reason that I mention the food bank donations is that it
ties into the community-minded spirit of the Colorado Inventors Showcase. The DaVinci Institute, which holds this
event, is powered by a passion to help people working on their dreams.
The Colorado Inventors Showcase came from a need that arose in
the DaVinci Intitute bootcamps for
entrepreneurs. The participants
needed a way to bring their products out in front of a lot of people so this event was born to serve that need.
Thomas Frey, the DaVinci Institute's founder, says, "We've learned
that there's great value in the struggle these inventors go through. We take inventors and put them on a
pedestal because they've been through hardships by giving a lot of their lives
to create products to benefit the lives of everyone. These people are heroes making a difference even though few of
their inventions will survive, because that's just the nature of the business
world."
In judging some of the inventions I noticed how easily it is
to be inspired by how energized the inventors are. They are average people who
saw a need and filled it. The inventors have dreams and know that if they don't act on
their dreams they'll regret it the rest of their lives.
Three of the inventions were created by parents who had a
problem that other parents had.
Instead of complaining, they created solutions and are now bringing
those solutions to the marketplace for others to utilize.
One example was a baby shower that holds the baby up in a
way to give you a free hand. It
also gives the baby's back warm water when you lay it down so that the baby
won't get cold. It's a simple
solution for keeping a slippery baby warm while easily bathing her. Another example is the Ready Bottle by Shop Salus. The powdered formula sits in the bottom of bottle while the water is in the top of the bottle, and there is a seal between them. This allows you to create your baby formula when you need it rather than having to worry about it going bad soon after mixing it.
Deb Frey, Founder of Colorado Inventors
Showcase, summed up the value of the event by noting, "It's a rush being with
all these people in one room at one time saying 'I wish I would've thought of
that.' It stimulates the visitors
thinking. And in this economy it's
a neat way to say 'if I can do it, you can do it too."
SUBSCRIBE TO & FOLLOW THE MORNING EMAIL
The Morning Email helps you start your workday with everything you need to know: breaking news, entertainment and a dash of fun. Learn more