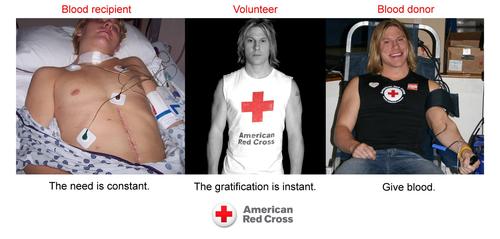 When a loved one is seriously injured or very sick, your life is effectively interrupted and placed on hold. Suddenly you're thrown into an alternate universe, a world with pumps, mechanical beeps, breathing equipment, unknown medical terms, life-threatening procedures, and unfathomable uncertainty. You find yourself having to focus all of your energy on the recovery of someone you love so deeply and never ever want to lose. In this unfamiliar realm you come face to face with the strength of the human spirit and the perseverance of the mind and the body.
As a former ICU patient, I experienced this first hand by observing the love and support from my parents, family, friends, and medical team. In my darkest moments in the hospital, they were there to help guide me through, and they did.
As the healing progressed, I became aware that there was also another group of people that played a very important role in my survival -- my blood donors. Before the accident these 36 people were strangers, yet, their blood was now running through my veins and allowing my lungs to breathe and my heart to beat. They were no longer strangers to me, but heroes.
I think about these people every single day.
I received 36 blood transfusions over the course of my emergency treatment and recovery. That is 36 people who took one hour of their time to help save the life of someone they would never have a chance to know. I would not be alive today if it was not for these selfless people, who I do not know and will never meet.
My goal since leaving the hospital has been to show my sincere gratitude for the gift of life that my donors gave to me by bringing awareness to the lifesaving capabilities of blood donation.

If you have donated blood once or even a hundred times, please know how much your support is appreciated. If you haven't donated before, I would like to extend a very special invitation to do so during this holiday season. In the short amount of time that it takes to donate, you are helping give somebody else the chance at a lifetime.