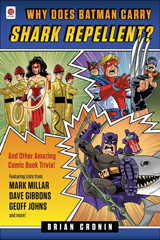 Brian Cronin is the author of "Why Does Batman Carry Shark Repellent: And Other Amazing Comic Book Trivia!" (Plume Books, $15.99)
The comic book cover is a unique form of art, as it must be at once both a teaser for the story within but also a piece of art of its own. For comic book fans, the covers of classic comic books are often the only part of those comics that they will ever get a chance to read. Certain cover images become an ingrained part of the comic book fan experience and very often become representations of certain comic book characters and/or eras in comic book history. Here, then, are the 10 most iconic comic book covers of all-time.
10 Most Iconic Comic Book Covers
This Blogger's Books and Other Items from...
SUBSCRIBE TO & FOLLOW UK DAILY BRIEF