Oh dear -- one of the greatest of all is gone, a singer who for my generation was a defining light, a miraculous singer, and as Luciano said, "the voice of the century."
She was a member of the Covent Garden Company when I first started going to the opera in the 1950s. She was just an ordinary young member of the company in the good old days when there was such a thing. Jon Vickers was a member too, and Geraint Evans, and and and... she sang around town on every kind of gig -- the St Pancras Town Hall and the Handel Opera Society for Alcina and Rodelinda, bits and pieces here and there, nothing too small for her - she loved it all, and everyone loved her. And at Glyndeboune of course, First Lady in the 1956 Flute, and the Countess that same season. And then in February 1959 the astonishing Lucia in Zefirelli's new production at the Royal Opera House. She returned to Glyndebourne for a sensational Donna Anna in 1960, and Puritani the following year. Then that was that for Sussex as Joan was in demand globally.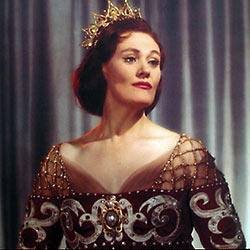 But she never changed. I last encountered her in Aldeburgh a dozen years ago when she was teaching at the Britten-Pears School -- we had a hilarious lunch in her little rented cottage. Fish and chips from what she maintained was the best fish and chip shop in the world -- just 100 yards down the street.
Link to the story -- there will be many many more!
And here is Anthony Tommasini's obit in the New York Times -- as usual with him completely excellent.