Tis the shopping season and the retailers rely on these weeks between Thanksgiving and the end of the year for their profits, and therefore their livelihoods. It did not look to me like a very auspicious time for them as I diverted to Magnificent Mile and Oak Street on my way home last night. Apart from a healthy line in Williams-Sonoma, business was quiet. In some stores the Christmas sales have started already......not a good sign. And the iconic Tod's store (below) had a sole male customer at 6pm this evening (not me!)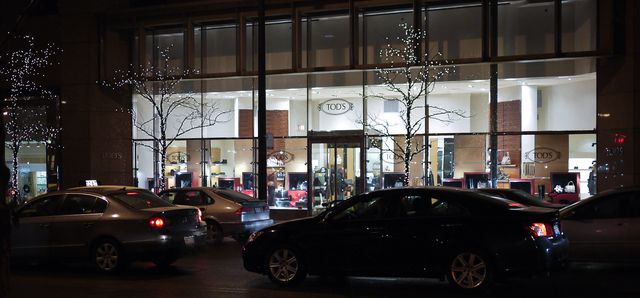 And the relevance to opera? Well, it's obvious isn't it? Disposable incomes are down, the middle income people who used have a few dollars to spare for the purchase of tickets, and maybe a donation as well, are feeling the pinch. It's the bankers who are doing quite nicely. A bonus of a few million at the expense of a good many honest hard working people will do nicely - thank you so much!
This week will remain quiet as we tidy our desks (I made real progress today, long overdue) in preparation for the three months of intense activity before our Spring Festival Season.
SUBSCRIBE AND FOLLOW
Get top stories and blog posts emailed to me each day. Newsletters may offer personalized content or advertisements.
Learn more