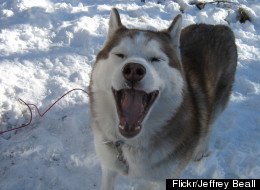 It might seem like a challenge to find genius in a species that will happily drink out of a toilet bowl. Forget Shakespearean sonnets or e=mc2, the smartest thing a dog does on any given day might include licking every wrapper in the trash or chasing their own tail until they fall over.
However, we have never been more sure that dogs are geniuses. We have learned more about how dogs think in the past decade than we have in the last century. How they are geniuses is not always obvious, but uncovering the answers is all part of the fun. The full story of this journey is in our new book The Genius of Dogs, and if you are curious, you can find the genius in your own dog here. Until then, here are a few cases of canine cleverness that may surprise you.
Why Dogs Are Smarter Than You Think
The pooch drooling on the sofa may look less impressive than a wolf howling at the moon, and for years people assumed that domestication dulled an animal's intelligence because they couldn't survive in the wilderness as well as their wild relatives. However, we now know that far from making dogs dumber, domestication gave them a very special kind of intelligence – they communicate and interact with us in ways that are similar to human infants. This social savvy has made them the most successful mammal on the planet, besides us. Photo courtesy of flickr user markhillary.

We often take it for granted that a quick point of our fingers, or even feet, can send dogs scampering in the direction of a lost ball or a hidden morsel of food, but this ability is extremely specialized. Even one of our closest relatives, chimpanzees, cannot read our gestures as well as dogs can. In the same way that pre-verbal infants start paying attention to adults when they point, dogs understand that when we gesture, we are trying to cooperate and communicate with them. Photo courtesy of flick user hotfield.

It's the classic technique of clueless husbands – look apologetic even if you have no idea what you've done wrong. Seems like dogs use the same strategy. In a study by Alexandra Horowitz of Banard College, if an owner was told their dog had been disobedient, whether or not it was actually true, the dog always showed 'guilty' behavior. Although dogs may not actually feel guilt, they are smart enough to react to cues like a glowering glare or a disapproving voice. Photo courtesy of flickr user Andrew Morrell Photography.

Dogs may be capable of memorizing a Shakespearean sonnet after all – or at least one made up of nouns. A few clever dogs have learned the names of hundreds of objects, sometimes after hearing the name just once. Julianne Kaminski from Portsmouth University found that a dog called Rico learned new words similarly to the way children learn new words. Not long after, a dog called Chaser memorized the names of over a thousand objects – giving her a bigger vocabulary than all the Kardashians combined. Photo courtesy of flickr user epSos.de.

While we are occasionally advised to be the 'top dog' and dominate our dogs in order to win respect and obedience, it seems that dogs don't follow a leader who acts like the big bad wolf. While some feral dog groups (dogs who live without human interference) have a dominance hierarchy that predicts priority to resources such as food and mating partners, this hierarchy is not as strict as in wolves. In feral dogs, the pack does not follow the most dominant dog, instead they follow the dog with the most friends. Flickr photo courtesy of phphoto2010.

If you think your dog won't obey you because they are stupid, think again. In a study by Christine Schwab from the University of Vienna, dogs decided how obedient to be, depending on what their owners could and couldn't see. For instance, dogs were more likely to obey when their owner was looking directly at them, than when their owner was in exactly the same position but reading a book. This ability to distinguish between such a subtle difference in body language is quite impressive, and shows that dogs are not above using their genius to get their own way. Flickr photo courtesy of user Acinapurag.

When left to their own devices, dogs can be surprisingly dense. For instance, when a treat was put on the other side of a U shaped fence, dogs made 10 times more errors trying to get the food than wolves. However, the real genius of dogs lies in their social skills – and they quickly solved the problem if they watched a human go around the fence first. Flickr photo courtesy of USAG-Humphreys.

It's a battle that's been raging since Garfield first pushed Odie off a counter top – how could dogs possibly be smarter than superior felines? Crafty as cats may be, they have yet to outcompete a dog in a cognitive experiment. As one example, a dog or a cat watched while an experimenter hid a reward in one of four boxes. Dogs remembered where the food was for four times longer than cats. But dog owners shouldn't be too smug. Dogs were outsmarted on a similar memory problem by rats. Flickr photo courtesy of user normanack.

Why have one mating season when you can hump legs all year round? While sex for wolves is a serious business (only one season a year, solely for reproductive purposes, and usually in winter - brrr!), dogs are much more relaxed. They have several mating seasons a year and have non reproductive sex (sex for fun) throughout the year. Activities like bottom sniffing in dogs is the whole point of going to the dog park, while it would never be tolerated in wolves. Also, while male wolves become extraordinarily aggressive when competing for females in heat, dogs are more likely to turn a romp into a ménage a trios. Or quatre. Or cinq. Flickr photo courtesy of MamboZ.

In the new millennium, intelligence isn't just about quantum physics and rocketing to the moon. There is also emotional intelligence. For instance, empathy is your ability to feel what someone else is feeling. We all know dogs can look empathetic, but is there anything behind those soulful eyes, or are they just begging for food? A simple measure of empathy is yawning. If you see, hear, or even think about someone yawning, you will probably feel an irresistible urge to yawn. Contagious yawning is related to empathy scores in adults. In one study, over 70% of dogs yawned when they saw someone yawning. Flickr photo courtesy of Jeffrey Beall.