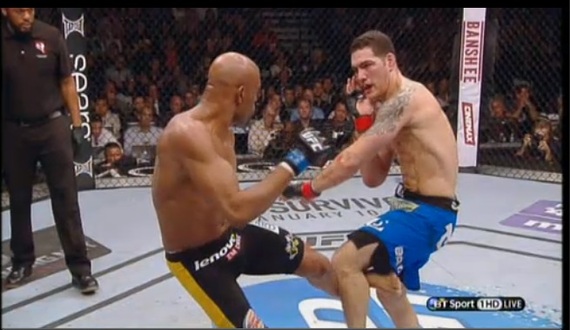 UFC 168 was promoted as an event filled with grudge matches. For the uninitiated, a grudge match means the two athletes have fought before. While this type of hype makes for great marketing, the actual event was a mixed bag. The final UFC event of 2013 was filled with enough minute men to make Missy Elliot blush. Where most of these matches were over in the first round, it was the rematch between the UFC's top female fighters, rowdy brawler Rhonda Rousey and smiling underdog Miesha Tate, that nearly stole the show. The only thing that upstaged them was the disabling injury of an MMA legend.
The Caged Bird Sings...
Unlike the other so-called "grudge" matches of the night, Tate and Rousey seem to have a genuine dislike of each other. Judo expert Rousey threw more punches than you'd normally see from a Karo Parisyan or Pick-Your-Gracie. She looked like she was out for blood. In the second round, when she extended Tate's arm and tried to lock it in, I was sure she was going to break her arm like she did the first time they met. Even Rousey's simple judo throws looked vicious. Tate held on until Round 3, when she finally succumbed to Tate's judo armbar.
This match was an opportunity for both women to show off how evolved women's MMA has become. A decade ago, you'd be hard pressed to find women in sports, but these days, they're competing in some of the largest venues in the country. In UFC 168, one of the largest events in combat sports, the three-rounds of action between these two women easily outdid everything else on the card before it. Rousey did a great job of playing a heel and soliciting boos from the crowd, as color commentator Joe Rogan did his best not to sound sexist while illustrating how women's MMA is every bit as good as men's.
Silva and Gold...
The main event of UFC 168 is the rematch of legendary Middleweight ex-champion Anderson Silva and Chris Weidman, the man who knocked him out in dubious circumstances. Like Usain Bolt running backwards at light speed, Silva is known for clowning around in the octagon. He dances, feigns injury, and plays with his opponents like nobody in the game before him ever has. At UFC 168, however, Silva entered the ring looking serious and focused. He sat in meditation backstage as "No Sunshine" blasted in the arena. Gone was his normal playful demeanor; Silva knew he had something to prove.
Weidman started off the first round strong, looking almost as though he would knock Silva out again. He landed a few shots, got Silva on his back, and easily took the first round, but he was unable to capitalize on it, and Silva recovered, lasting into round 2 easily. Suddenly 1:16 into the second round, as Silva was going for a leg kick, his shin snapped in half, and the legendary former champion, widely considered as one of the pound-for-pound greatest fighters in the history of the sport crumbled.
This may be the end of Silva's certain to be hall of fame career. If not for this career-ending injury, the highlight of the night would've gone to Rhonda Rousey's incredible submission victory, but Silva's shin will live in our memories much longer than Weidman's title run in one of the UFC's toughest divisions.