A Wonderful Wizard of Oz Wedding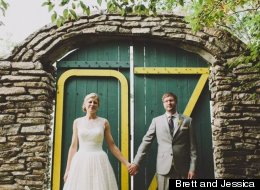 In honor of the release of "Oz the Great and Powerful", which hits theaters on Friday, take a look at Anna and Brandon's beautiful wedding held at the Land of Oz, a mostly-defunct "Wizard of Oz" theme park in North Carolina.
The theme park, which operated from 1970 to 1980, featured a cyclone experience ride within Dorothy's house, a yellow brick road leading to a show at Emerald City, an artificial balloon ride (a modified ski lift), and a museum with props and costumes from the 1939 film. Today, the park can be booked for private events.
A Wonderful Wizard of Oz Wedding
Anna's father worked in the park in the '70s, and her parents have such happy memories from their time spent there. With a little digging, her mom discovered that the park still operates for special events.

The park was the perfect fit for Anna and Brandon's big day!

Anna and Brandon pose in front of the doors to Oz.

The approach to the Land of Oz.

Toto couldn't make it, but this precious cat roams the property. See more adorable photos of pets in weddings.

One of the rides in the park was a cyclone experience at Dorothy's home.

The inside of Dorothy's house.

The inside of Dorothy's house.

Ding-dong! The witch is dead.

Anna, of course, wore ruby slippers. Inside Dorothy's home is a sketch of her and her friends. Related: Tried & Tested Designer Wedding Shoes

Anna carried a brooch bouquet that she made herself. Learn how to make your own brooch bouquet.

A little peek at Anna's ruby slippers.

As a homage to Dorothy's hot-air balloon ride home, the couple released balloons after saying "I do." See more fun ways to personalize your wedding.

The balloons floating away.

After the ceremony, the couple and their guests followed the yellow brick road.

Follow the yellow brick road.

Follow the yellow brick road.

We welcome you to Munchkin Land!

Whimsical props in Munchkin Land.

The Wicked Witch's hat and bicycle.

The Scarecrow and Tin Man are represented through these fun props.

Lions and tigers and bears, oh my!

Dance The Jitterbug with the trees.

The reception was held on Dorothy's farm.

Emerald City bottled water.

Wizard of Oz-themed cocktails. Get creative drink recipes.

The bridal party in front of the wizard's castle.

A map to the Land of Oz.

After a long journey through Oz, the couple shares a first dance.
More Theme Weddings on Bridal Guide:
Amazing Harry Potter-Inspired Wedding
Hunger Games Wedding Ideas
Video Game-Themed Weddings
Glamorous Gatsby-Inspired Ideas
An Up-Inspired Disney Wedding

Photography by Brett & Jessica. Written by Kristen O'Gorman Klein, Bridal Guide blogger
Follow Bridal Guide on Twitter: www.twitter.com/bridalguidemag