Bridget Moloney is a blogger for Bon Appetít's Project Recipe.
THE RECIPE: Roast Beef Tenderloin with Port Sauce
This week over at Bon Appetít's Project Recipe we made a Roast Beef Tenderloin with Port Sauce. Now I usually wouldn't say this, but it's Valentine's Day: That beef really did it for me.
Move over rib roast there's a new favorite cut in town!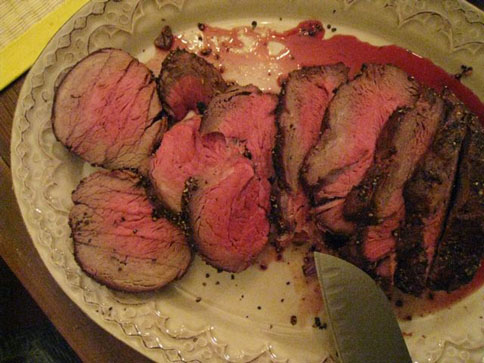 I loved this recipe. I loved making the tenderloin, I loved salting the meat, I loved (LOVED) the port reduction—I did NOT love the price. Ah, love! Every rose, does indeed, have its thorn. (But not to worry, the BA Test Kitchen suggested a way to make it cheaper. More on that later.)
This recipe is perfect for the impending romantic holiday. But first, a few notes:
-The recipe calls for a 4 or 5 pound roast, which can serve 10 people. I'm sure there are home cooks out there who might have a romantic evening for 10, but I'm old fashioned. I opted to get a 2 pound tenderloin cut.
-I salted my roast (reduce the amount of salt, too) a day and a half before I was going to cook it. I think this was one of the reasons for the dish's success.
-I experimented with tying the roast a couple different ways, but I think I missed something. I tried to do the linking of the butcher twine--instead of tying individual knots, but it looked the roast had been caught in a fishing net. Let me know if you have any tips.

-THE PRICE: The butcher cut me a PRIME roast, and after speaking with the Bon Appétit Test Kitchen, it's pretty clear that for beef tenderloin, I didn't near prime meat, choice would have been fine. But here is the good news—none of this matter. IT'S SO DELICIOUS YOU WON'T EVEN CARE!
I'm feeling ecstatic! Can you tell? That's what my love of this tenderloin does! It makes me exclaim via the computer!
This got me thinking about other meals that have inspired romance if not love:
1. Fondue.
Unfortunately, if you go out for fondue you have to wash or dry-clean all of your clothes afterward. So I enjoy some fondue at home—just cheese and chocolate. (Bon Appetít has a new recipe from their March issue for gruyere and cider fondue. I'm currently without a fondue
pot, so I make it on the stove and serve it in my crock-pot. I'm not making this sound very romantic. But there is something about swirling cubed bread into melted gruyère that feels very aprés-ski and therefore: romantic.
2. Ethiopian food.
If you can find a low lit restaurant this meal is very sexy: you eat with your hands (with injera--a sourdough flatbread) and it's spicy. If you are interested in my menu recommendation, here it is: beef special tibs.
3. Anywhere with the one who love, within reason.
Eating turkey jerky in the cab of a tow truck on the way to Las Vegas after your radiator melts--well, that's not romantic ... but it's tolerable if you're with someone you enjoy seeing naked.
4. Margaritas.
I know that cocktails are not a meal ... or rather not a socially acceptable substitute for a meal, but margaritas are romantic in my book. Even at home in a snowstorm. It might be the salted rim.
5. Cioppino.
The Cioppino I made some months ago for Bonappetit.com was so delicious, and so labor intensive that it's practically a marriage proposal. It's silken, rich and full of seafood. Hot.
Now, while these meals are romantic, they're not love. This Roast Beef Tenderloin with Port Sauce inspired true love—love for the meat, love for me for having prepared it, love for my boyfriend who did all the dishes, all of them. Try it, and let me know if you feel the same way.
More on bonappetit.com:
Beef Recipes
Chocolate Desserts
Valentine's Day Guide