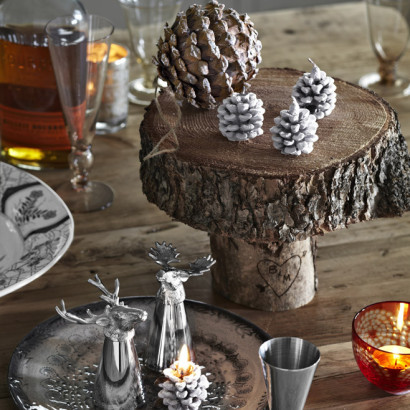 Truly unique finds from Country Living's December/January issue: A rustic cakestand and animal head shot-glasses (which look better than they sound). Photo: Anna Williams.
The holidays tend to be a time when most magazines want to give you an anxiety attack. Sure, a Faberge-inspired ornament made from a hand-carved (and hinged) egg is beautiful, but will probably drive you to tears faster than you can say "Dremel drill." I mean, hinge an egg? Only if I've added "be a martyr" to my to-do list.
Which is why I always love Country Living's holiday issues. Or really, all their issues. I don't care if I seem partial, but Country Living is the one of the few magazines that doesn't make me feel as if I live in squalor and have the buying power of a 5-year-old with an allowance. It does away with the "You should do..." suggestions and instead draws you in with great ideas that won't a. cost lots of money and b. take up all of your time. And it doesn't make things like entertaining or crafting seem like chores.
Their secret is knowing what their reader wants, but also having amazing editors. Like Jourdan Crouch, Country Living's Senior Associate Editor, who is responsible for the accessible (yet imaginative) crafty and entertaining ideas. I got to chat with her about the latest issue, which goes on sale today.
So, as someone who lives, breathes and eats craft/entertaining ideas, do you find your personal gatherings influenced by what you see in the magazine?
Jourdan Crouch: Totally. This year I'm thinking about adopting an idea that a writer included in a recent personal essay. Basically, her mother has every guest sign the Thanksgiving tablecloth, which she then embroiders over. She's been doing this for years, so it's like a lovely time capsule of all the holiday gatherings. I'd like to start this as a new tradition, especially as I'm bringing my fiance to Thanksgiving this year!
Adorable. The Idea Notebook, which you edit each issue, was double the usual size...it was pretty much packed with holiday entertaining tips. And they weren't the standard "Oh, everyone should just relax and have fun!" tips, but good ones from a ton of amazing bloggers. If you had to pick one favorite tip, what would it be?
Jourdan: If I had to narrow it down, it would have to be the one from Libbie Summers [author, chef and all-around entertaining expert]. She clears out her living room to create a dance floor and uses a projector to show old music videos via YouTube.
That's the good, but what about the bad: What's the biggest entertaining faux pas you've observed?
Jourdan: Well, two things. One is when people who don't normally do DIY stuff try to do a ton of projects or try to go above-and-beyond on everything, and they just get burned out and frustrated. Which means no one has fun. Second, though probably biggest faux pas, is not having enough food. It doesn't have to be fancy, but you have something else besides a bowl of chips and dip.
The food thing is pretty important. I've been to too many parties that had plenty of drinks but so little food...people just end up getting drunk super-fast and leave miserable. Do you have go-to recipes?
Jourdan: For my own parties, I'm a big advocate of takeout. Like chicken tenders...everyone loves those, and I don't have to do extra work. I'll say that the most successful recipe I've seen was for BLT dip. Basically, it's crumbled bacon, mayo, chopped lettuce and tomato all mixed together. I know it sounds weird. But it was gone in two seconds...you'd see really skinny girls too, just digging in.
That sounds intense. Like, I can't quite get that image out of my head of people wolfing down bacon dip. I don't think this interview can progress beyond bacon, but I'll try. What are your must-have supplies for the holidays?
Jourdan: For me, it's more like craft supplies that can be used all year, but can be customized for the holidays. Like brown kraft paper, twine, stamps and ink pads, cut tape and scissors with decorative edges. If you only buy these things, you can create so many cute, customized gift wrapping looks year-round.
For more fabulous decor, entertaining and craft tips, visit Country Living. And be sure to check out the December/January issue, out on newsstands today. Look out for this cover: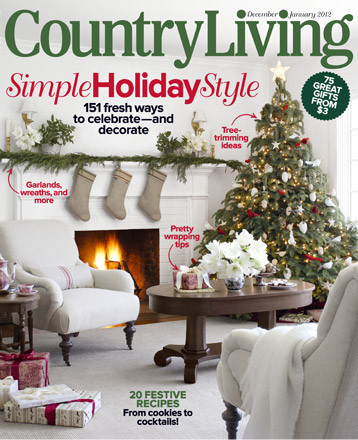 SUBSCRIBE TO & FOLLOW LIFESTYLE
We're basically your best friend… with better taste. Learn more