I think curated consignment stores are the best thing ever, so I'm loving Bravo's Fashion Hunters. Everyone who has an even passing interest in vintage should watch it. Of course, as I write this I'm wearing a '60s shift modeled after a stewardess uniform, so I'm biased. But I don't care, it's a great show.
If you've missed Fashion Hunters so far, here's the concept in a nutshell: A gorgeous lady (Tara Muscarella) has a consignment store (Second Time Around) that's a bit of a rarity, because it's not filled with St. John suits. (It's always St. John suits, isn't it? [Editor's note from Anya: Yes! When I was thrifting in Palm Springs they had racks marked "St. John"]) Instead, she caters to a decidedly younger clientele with a good mix of designer clothes, shoes and accessories. Of course, since it's consignment, the emphasis is more on designer items from the past 20 years versus genuine vintage.
And this being a consignment store, the truly interesting moments come from the people who bring in their stuff to sell.
Like Andre J.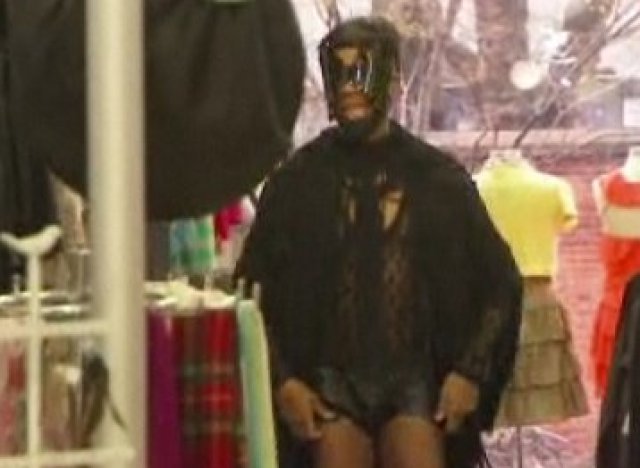 Do I even need to comment?
There was also this...older...lady who was consigning some Stephen Dweck jewelry. This was the conversation that happened between her and Karina, one of the showgirls:
Karina: "So why are you consigning?"
Lady: "You see, I need more hair extensions and they're very costly."
[Karina has no response]
Lady: "Guys in their 20s just love extensions..."
[Karina still has no response]
Lady: "My boy toys will love my new hair!"
Dear Bravo, Extensions Lady needs her own show.
OK, so one of the real stories in this week's episode involved Louboutins. A consigner brought in two pairs, both were made expressly for her by Christian Louboutin. Sounds amazing, right? Well one of the pairs was completely worn-out, but the other pair was never worn. Karina, sucked in by the story, bought the worn-out pair for $350 and the never-worn pair for $500.
Tara finds out about the pricing and is livid--she thinks the prices are far, far, far too high.
And here's where I differ. Vintage shoes, designer or not, seem to be incredibly undervalued in the realm of vintage. I really think that a never-worn, custom pair of Louboutins are worth $500. But that's a special scenario. I've seen gorgeous '60s pumps go for $50, but a terrible '80s Jessica McClintock prom dress go for $200. Ridiculous. So the lesson here is: If you're looking to start a vintage collection, start with shoes.
I will give Tara one thing, though. Those flats were far too worn to be resold.
The other big story was this vintage dress.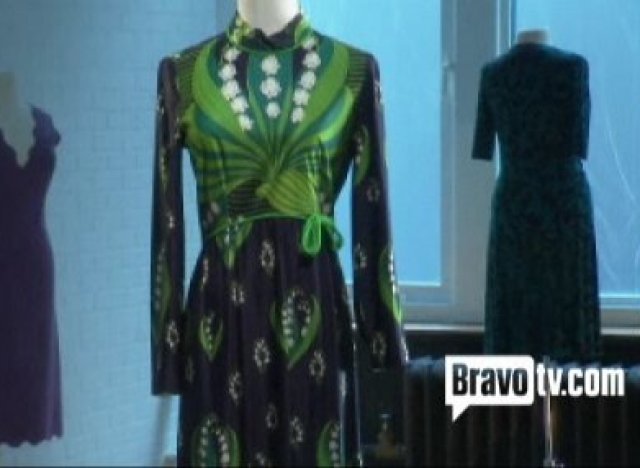 The consigner thought it was a Valentino, but I never did. Yeah, I get it, Valentino made polyester dresses in the '70s. And it looked just like an archival photo of the suspected Valentino dress. But something about it seemed "off" and it wasn't because the dress had no label. There was still a chance it could be authentic, so in comes vintage expert Kenny Valenti to authenticate...
If I saw the inside of the dress, I would have no doubt that this dress was NOT a Valentino. I mean, the seams and stitching were terrible. Here's the lesson, ladies: Look at the inside of a garment before a. paying lots and b. consigning.
Next week's episodes are, unfortunately, the last this season for Fashion Hunters. But they're sure to be good ones, because one episode involves "Real Housewives Of New York" star Kelly Bensimon, who always gives us something to talk about. Tune in to Bravo December 6 at 10 pm to watch.
SUBSCRIBE AND FOLLOW
Get top stories and blog posts emailed to me each day. Newsletters may offer personalized content or advertisements.
Learn more