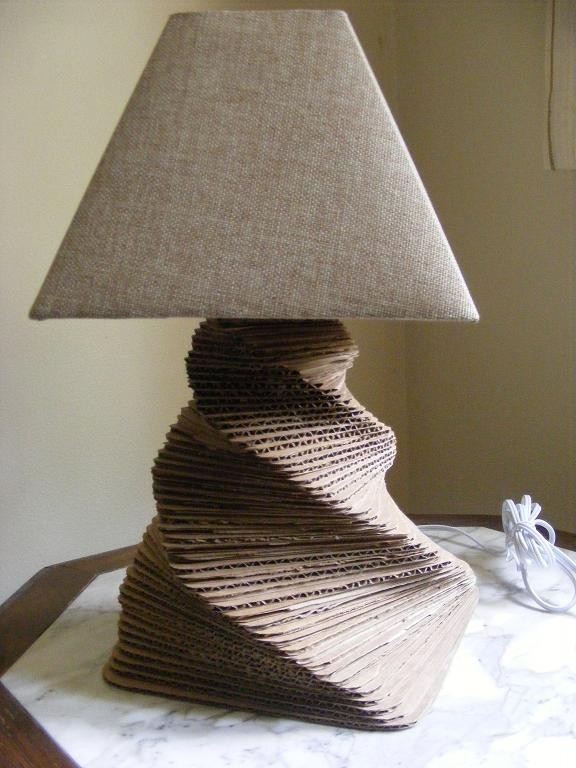 In Random Recast, I find new ways to upgrade the ordinary things in our lives. And this week, it's all about cardboard.
Talk about going from drab to fab. I love this cardboard lamp base, designed by Etsy artisan ToastiMilwaukeeCraft, that makes even raw cardboard look sculptural. And, it's not that hard to try to recreate - all you need is a basic lamp, cardboard, an x-acto knife and some diligence.
First, decide how wide you want the base to be - this base looks to be about 10in x 10in. Using a ruler, outline a perfect 10in x 10in square on your cardboard and cut it out with your x-acto knife. You can round edges or leave them sharp according to your preference. Repeat these steps, but reduce the size of the square by 1/4 inch each time. Remember to cut holes in the center as you go, so the pieces can slide onto the lamp stem.
Once you have all the pieces, stack them up by size, adding a slight 1/4 curve. You can super glue the pieces as you go, or leave them detached so you can alter the shape of the base when you feel like a change.
Trying to cut cardboard can be frustrating at times, so don't be afraid to leave it to the professionals if you find yourself fighting the urge to throw your x-acto knife down in anger!
Looking for more ideas on how to turn everyday items into something a little more stylish? Check out these previous Random Recast project round-ups...
SUBSCRIBE AND FOLLOW
Get top stories and blog posts emailed to me each day. Newsletters may offer personalized content or advertisements.
Learn more