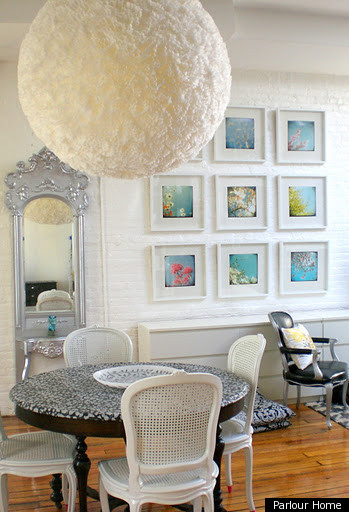 In Random Recast, I find new ways to upgrade the ordinary things in our lives. And this week, it's all about coffee filters.
So, how's this project for impressive? Here, the designer behind Parlour Home takes an incredibly ordinary (some might go as far as to say boring) oversized paper pendant light and transforms it into a spectacular focal point using...wait for it...coffee filters. Lots of them. For this lantern, about 500. (Luckily coffee filters are cheap.)
To create the pendant, she essentially crumpled up the coffee filters and attached them to the lantern using hot glue. The key is to make sure they are nestled tightly, to give that intensely ruffled effect.
Missed yesterday's Random Recast: Coffee Filters? Catch up here...
SUBSCRIBE AND FOLLOW
Get top stories and blog posts emailed to me each day. Newsletters may offer personalized content or advertisements.
Learn more