BGG Weekender: Hyde At The Beach, A Party That Starts At 4 A.M., And Corey Feldman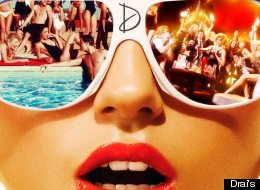 Good morning! And yes, we say that with an exclamation mark because we know that when today is done, there's a 3-day weekend waiting for us on the other side.
We also know that we have two pretty killer exclusive offers for you today. The first is from Aura Cycle on West 3rd Street in WeHo. Between now and June 30, your first class is free and you'll get 20% off any purchase using promo code "brokegirlsloveaura."
The second offer is from Juice Crafters. In honor of National Strawberry Month (yes, that's a thing), they're offering two smoothies--the "East West" and the "Slim N Fit"--for 10% off at any of their three LA stores. Just mention "Broke Girl's Guide" to get the discount between now and May 31st!
With that out of the way, let's get on with the itinerary for your long weekend...
Memorial Day Weekend Guide
We suggest starting the night off early to take advantage of the new 3-course menu for $30 at Muddy Leek, which is only offered at the early bird hour of 5-6:30 p.m. That'll give your food plenty of time to settle before you partake in the Electric Run 5k, which starts at 8:20 p.m. downtown. Along the route, "music will pump and lights will dance, creating an electric wonderland," according to the website. Proceeds go to benefit Smile Train.

If you've had as long a week as we have, and that sounds a smidge too aggressive for you, opt instead to take in one of the following shows: the Cold War Kids at The Fonda (which is technically sold out, but tickets can still be found on Stubhub)

The Shout Out Louds at The El Rey

Amanda Jo Williams at El Cid

Sir Sly at the Troubador

Trouble and Bass at Avalon

For something a little more mellow, catch a screening of Vertigo at the Egyptian instead. Then, before wrapping up the evening, grab a late night dessert at newbie resto Ramekin.

There are four different ways to start your Saturday. The first is at Food Truck Haven at Angel City Brewery, which is exactly what it sounds like it would be.

The second is at Hyperion Public's new Booze & Barbecue Weekends. Seating is at 1 p.m., and items off the grill include skirt steak skewers and portobella burgers.

If you'd rather skip right on over to the drinking, and are in the mood to seriously par-tay, get to Drai's for a poolside shindig set to tunes from our friend DJ Vice.

Or, spend the day in Long Beach at 4th Street's Spring Retro Ramble, a sidewalk shopping event with live music and lots of food.

Later, you've got a two great options on the westside. The first is a screening of The Princess Bride via Eat See Hear.

The second is a raucous Yacht Week Pool Party at the Shangri-LA Hotel.

If you're staying east, you might want to splurge on a 5-course dinner via This Is Not A Pop-Up.

Those of you who can't front that ticket price (we can't!) should just grab a little taco dinner at Petty Cash instead, especially if you haven't done that yet.

Later, we're dying to see Fleetwood Mac play The Hollywood Bowl. Tickets are sold out, but it appears that those dedicated to the cause can still nab them on Stubhub. Other options for the night include the following: Up In Smoke at The Greek, but tickets are pricey; a screening of Stand By Me with a special guest appearance by Corey Feldman via Street Food Cinema; a Haunted Hollywood Scavenger Hunt; a show by Imperial Teen at The Satellite; or a show by Stornoway at the Bootleg.

If you're feeling especially crazy (and flush!) on Sunday, wake up at 4:30 a.m. and head to Shutters for a viewing party of the Monaco Grand Prix. Tickets are $55 but include unlimited champagne, a continental breakfast spread, and a signature brunch entree.

We understand if you're not nuts enough to do that, and those of you who aren't should catch the Hyperion Public BBQ, if you missed it on Saturday, instead. Then, you have a few daytime options. The first is to head back to Drai's for another pool party, this one featuring Posso. Or, head downtown for Grand Park's Sunday Sessions, featuring Wolf + Lamb with Baby Prince.

If electronic music is too intense for your Sunday morning, try the 27th Annual Jazz Reggae Fest instead, which features performances by Santigold and others

Or, beat the heat while listening to live DJ sets at the Summertramp Water Park downtown (water slides! water guns!). Your final option for Sunday daytime (whew!) is a show featuring Klymaxx and Loose Ends at the Baldwin Hills Crenshaw Plaza.

Later, from 5 to 8 p.m., Red O will play host to a guest bartender during Street Food Social Hour. After, grub some more via the Red Sun BBQ at Katana anytime between 6 p.m. and 11:30 p.m.

Then, catch one of the following events: The Damned at the El Rey; The Dustbowl Revival, etc. at The Satellite; Paul Oakenfold at Avalon; a screening of All About Eve at the Electric Dusk Drive-In; or Haunted Summer at The Echo.

You could also skip all of this in favor of watching the entire new season of Arrested Development in your pajamas. Or, throw a premiere party.

Start the final day of your long weekend with a special brunch at Tortilla Republic between 11 a.m. and 3 p.m. Then, hit up LACMA, admission to which is free today thanks to Target.

Or, go back to the 27th Annual Jazz Reggae Fest, which today features performances by Ziggy Marley and others. You could also get more aggressive with one of the following options: the WET Los Angeles pool party featuring Miguel Migs at The Roosevelt or the Hyde Malibu Beach party featuring Vice and EC Twins.

Later, catch Robert Schwartzman at The Satellite, Criminal Hygiene at the Bootleg, or party it up via School Night at Bardot. As another alternative, you could call it quits early and get back in bed with your Netflix account and those new episodes of Arrested Development. After all, you're going to be exhausted, and tomorrow is (the agony!) a workday.
Follow Broke Girls Guide on Twitter: www.twitter.com/brokegirlsguide